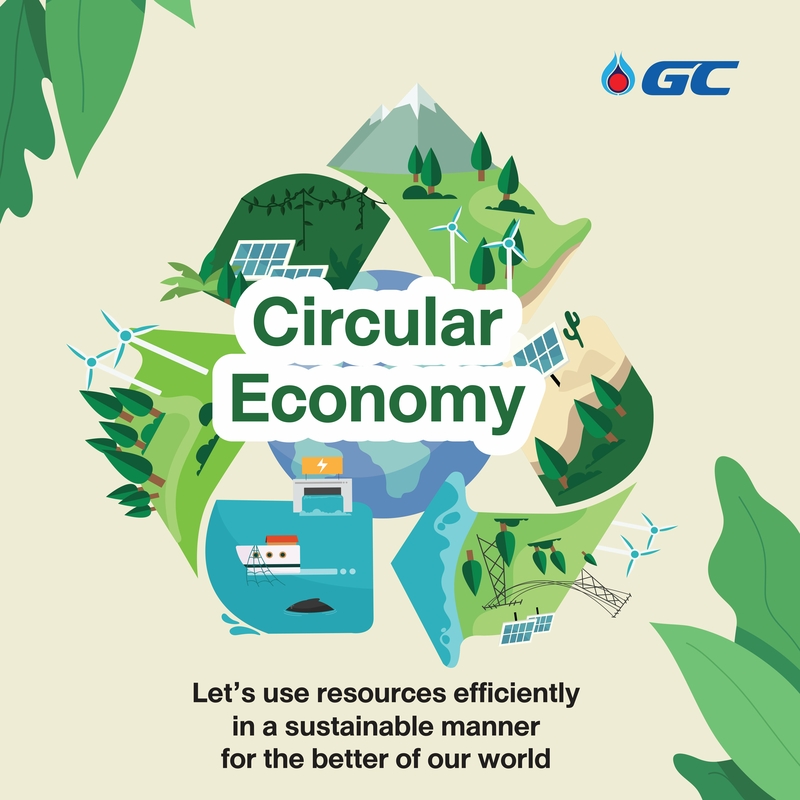 The global population is projected to increase to 9.9 billion by 2050. This astonishing figure ties in with an increasing rate of consumption which underscores concerns over the planet's limited resources as well as the impact of large amounts of waste. If we continue to live and operate our businesses in the way we have been doing, we will be hurting ourselves and affecting future generations.
One of the solutions is circular economy, which turns the linear use of resources into an infinite cycle.
Circular Economy As the Solution
The economy was originally viewed as taking resources to produce, use, and then dispose of in a linear system without recycling. However, this results in the rapid depletion of resources and increasing volumes of waste which negatively impact our ecosystems and the environment.
The circular economy, in contrast, circulates resources systematically and efficiently. Waste is turned into a resource for production, which in turn, helps reduce the amount of waste and promotes the efficient use of available resources through increased circulation. Using innovation, technology, and collaboration to manage each stage of the process can address the limited natural resources available and increased demand benefiting society over the long run.
Positive Outcomes from Circular Economy
The circular economy is in fact, not a new concept, but a combination of business management ideas from the 1960s up until today – most recently supported by the Ellen MacArthur Foundation (EMF), an organization that plays a pivotal role in driving the principles of circular economy globally. The concept makes a distinction between biological and technical cycles. The biological cycles is concerned with the management of renewable resources. This ranges from producing organic fertilizer from food waste, bio-chemical extraction, anaerobic fermentation, biogas production, and the production of renewable resources. While the technical cycle allows for minimal leakage to the system when producing value-added new materials.
The practical nature of the circular economy enables product design to have a positive impact while reducing negative impacts. It also helps organizations explore new business opportunities, effectively meet the needs of their customers, increase cooperation while minimizing infrastructure costs to boost profits, and most importantly, reduces waste thus protecting the environment. The sooner companies adopt these approaches, the stronger their businesses can be in a competitive environment with focuses on creative change and sustainable business development.
GC Adapts to Circular Economy
GC believes that the circular economy can greatly benefit employment, production, and finance leading to broader changes by maximizing limited resources and ensuring the optimum benefits in every process. Consequently, innovation and technology are integrated in various dimension of circular economy covering both biological and technical cycles dealing with the design and production process, recycling, networking, and setting clear and shared goals to develop a business ecosystem that drives industry to grow sustainably.
GC has integrated the principles of circular economy in its business through the following three mechanisms:
Smart Operating Sustainably improving management and operations by creating a new business model that optimizes resources while minimizing waste using new technologies to develop and improve manufacturing processes that efficiently use available resources. GC is targeting a 20% reduction in greenhouse gas (GHG) emissions generated by manufacturing processes by 2030 and reducing GHG emissions per unit of production by 52% by 2050. The company also plans to expand its scope of operations to the related value chain, GHG Scope 3, all of which contribute to the UN's Sustainable Development Goal 13 - Climate Action.
Responsible Caring Developing eco-friendly products that promote sustainability by innovating, developing, and designing products that are environmentally friendly and provide optimum benefits and long-lasting applications. This includes the use of bioplastics which are compostable, light-weighted, and durable as well as resources used in industries such as automobiles or buildings and construction which require less resources or light-weighted and durable materials.
Loop Connecting Linking all associates within the supply chain by partnering with stakeholders and integrating businesses in line with the principles of the circular economy. Some examples include the Bang Kachao preservation and development project which involves the collaboration of multiple agencies in the public and private sectors together with the general public; supporting waste management efforts of Chak Daeng Temple in Samut Prakan province's by producing monks robes made from recycled plastic; a pilot integrated plastic waste management project for national parks in partnership with the Department of National Parks, Wildlife and Plant Conservation to create a Circular Economy model for the country; and most recently, an integrated platform for waste management through a chemical recycling project with Suranaree University of Technology.
Circular economy cannot be successful from one organization alone. It requires the collaboration of all sectors. Everyone should therefore take part supporting its development and success. GC's Circular Living approach, which is adapted from circular economy is contributing by connecting loops and bringing the circular economy to life.
#GC #ChemistryForBetterLiving #GCCircularLiving