Process Safety Management
Process Safety Management GRI 403-2 (2018), 403-4 (2018), 403-7 (2018)
GC uses Process Safety Management as a part of our GC Management System (GCMS). The system covers all processes from design to operations, using a Hazard and Operability Study (HAZOP) to conduct risk assessments. The objective is to ensure a proper plan for risk management, prevention, and control in production processes, both for normal operations and emergencies, while carrying our constant reviews and updates on the emergency plan, maintaining performance standards and developing efficient and safe production processes.
GC Management System (GCMS)
Process Risk Management, Prevention and Control GRI 403-2 (2018)
GC has adopted the Hazard and Operability Study (HAZOP) to assess risks in the production process and prioritize them. This technique contemplates hazards that could potentially occur in the production process to seek risk prevention methods and control possible disruptions in the operating system. It also establishes plans to mitigate any severe impacts from potential incidents. Process risks are assessed to authenticate the efficiency of current safety systems, and install additional equipment or occur effect changes to the production process. The entire procedure has been assigned under the responsibility and governance of the Technical Safety and PSM Team to ensure efficiency throughout the production process.
GC HAZOP Study Process
According to the occupational health and safety risk and hazard evaluation in 2021, key risks included 1) Safety Risk (Process Safety Event): gas leak and product overflow, and 2) Safety Risk (Personal): accidents from factory operations, maintenance and other supporting tasks.
Furthermore, to support GC's dedication to be at the forefront in the field of occupational health and safety for petroleum and petrochemical industries with international-level standards, 5 Years Roadmap (2017-2021) has been established in cooperation with DuPont, a leading global company that is internationally renowned for safety. In parallel, Operational Area Core Team (OACT) and Process Safety Management Taskforce (PSMT) have been appointed for each production unit to drive Process Safety Management and support each working area. This contributes to GC's target of becoming the leader that can maintain international standard in OHS within chemical industry.
Moreover, GC has conducted measures for managing reliability and integrity of machineries at all factories and established Reliability Improvement Team (RIT). Machineries at all factories will be assessed through the Asset Integrity Assessment by an internal specialist, to analyze and set an improvement plan for reliability and integrity. The improvement plan covers all factors, which are potential causes of accidents as well as reducing the number of unplanned shutdowns.
Besides process safety management and operations, GC also reinforces an occupational health and safety culture (OHS Culture) in tandem with conducting process safety projects for operators, such as Smart Process Safety Event (PSE) and Field Risk Assessment (FRA), 3 Operational Discipline (OD)/B-CAREs Projects Implementation, Operational Discipline (OD) Baseline Assessment และ PSM Self Internal Audit and Bow Tie Barrier Validation.
Process Safety Projects GRI 403-2 (2018), 403-4 (2018)
GC has emphasized in the mindset of employees which could influence the safety behavior of employees in the working process. As a result, GC has incorporated the Operational Discipline into process safety in order to strengthen the good understanding in process safety for employees of all levels and subcontractors through projects, such as, Inspirational Leadership Program, Contractor SHE Management Program, Safety Stand Down Day Program, and Health Pre-Screening Program in order to ensure the company's production processes are safe and comply with the laws and internationally-recognized standards.
Smart Process Safety Event (PSE) Project
GC has developed a digital system to support maximum efficiency and effectiveness in Integrity Operating Window (IOW) management. This digital system tracks the Process Safety Near Miss (PSE Tier3b), from which data is used to monitor and predict accident probabilities and establish appropriate risk mitigation measures. This contributes to the prevention of equipment damage or production process disruption. Furthermore, the system can be adapted to evaluate the equipment age and plan for inspections.
Field Risk Assessment (FRA) Project
GC has collaborated with DuPont on conducting an FRA (Field Risk Assessment) and organizing training for employees to understand and identify the risks from any deviation from standards of production activity. The FRA is expected to increase the effectiveness of Barrier of Protection and reduce risk in process safety particularly in 3 dimension: Personnel, Facilities and Technology.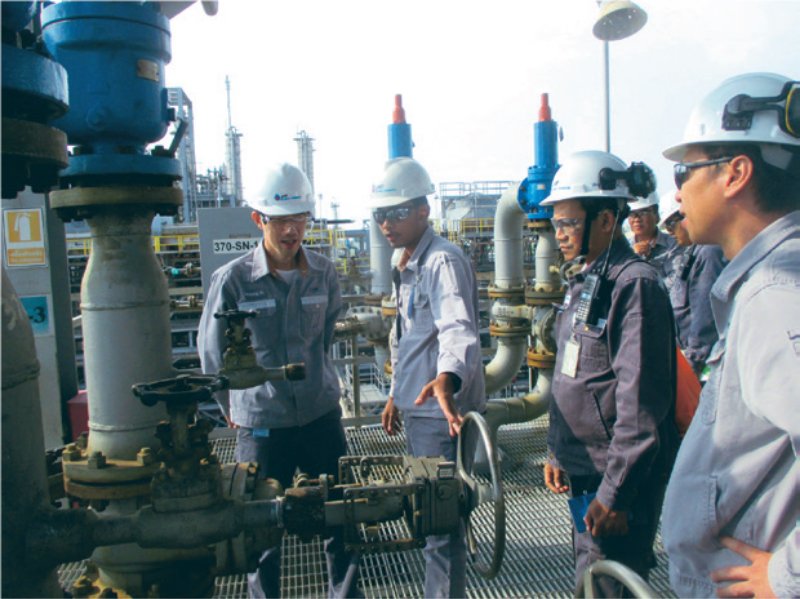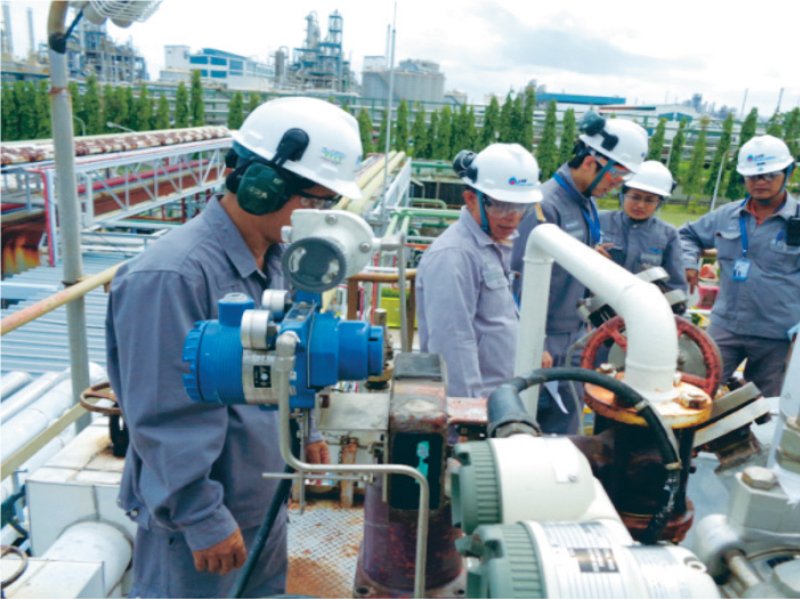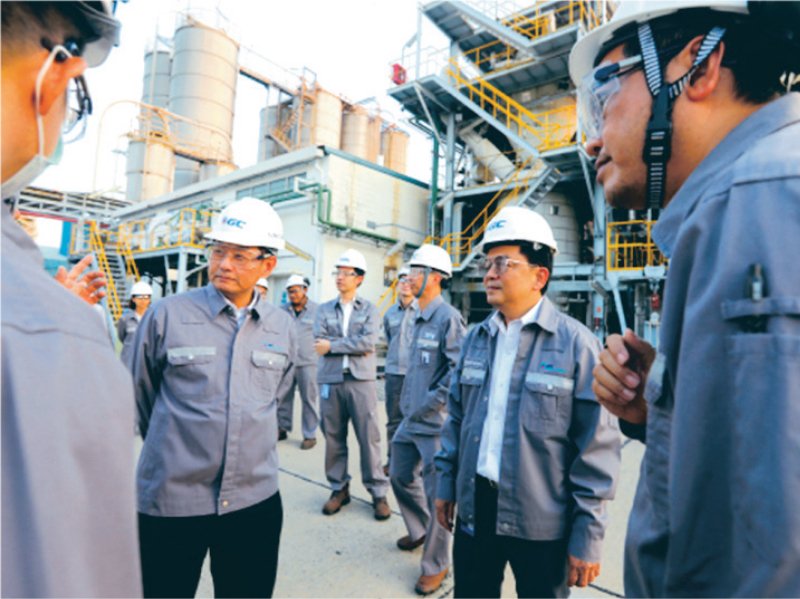 In addition to the aforementioned process safety operations, GC also implements an internal audit system that covers occupation health, safety and environmental issues, namely Daily SHE Inspection, whereby the safety inspector verifies that onsite communications are carried out in line with the measures established in the Job Safety and Environmental Analysis (JSEA). This includes auditing the performance and readiness of supervisors, equipments, car conditions and transportation of objects within the operating area, and after-the-job cleanup as well as COVID-19 prevention and control measures.Then, the safety inspector establishes a Daily SHE Inspection Report. Furthermore, GC has established the Occupational Health, Safety and Workplace Committee which consists of representatives from employees to oversee the company's safety operations and organize monthly meetings to monitor performance progress.
GS is intent on continually upgrading safety standards in our operations, monitoring the progress, and evaluating the results from relevant function to minimize accident rate in the production process as much as possible.
More information on other related highlight projects is available in GC Integrated Sustainability Report 2022, such as
3 Operational Discipline (OD)/B-CAREs Projects Implementation: Improving or correcting problems related to operational discipline or safety culture in operating areas. Each operating area is required to implement at least three projects.
Operational Discipline (OD) Baseline Assessment: Assessing and analyzing data from the GC2 pilot project to formulate the Operational Discipline (OD) Baseline and learn about any flaws before implementing such data to assess other operating areas so that they can be developed and considered as an operational discipline of each area.
PSM Self Internal Audit and Bow Tie Barrier Validation Verifying the effectiveness of the Bow Tie Assessment prior to implementation.
Process Safety Event Tier 1 (Case)
Process Safety Event Tier 1
Performance
Target
2019
2020
2021
2022
2022
Process Safety Event Tier 1 (Case)
1
2
2
3
0