GC continuously invents, researches and develops new products under the concept of "Chemistry for Better Living" in order to response to customers expectations, maintain the market shares, increase the growth of the business as well as support business to achieve Net Zero target.
GC also listens to the Voice of Customers (VoC), including all stakeholders, via the Customer Relationship Management (CRM) system in order to indentify the Pain Points and acquire products or solutions that truly answer to consumer demands and expectations.
The Examples of the current development of product innovation are as follows:
Bioplastics Toothbrush
GC developed bioplastics to replace conventional plastic used to form the handle of "Venture" toothbrushes which are sold at all 7-Eleven outlets across Thailand. This bio-based product can lower the use of conventional plastic toothbrushes by more than 1 million units per year.
Plastic Compound for Automotive Industry
GC has developed plastic compound for autoparts, which has passed durability tests and met the specifications standard of the automotive industry. Additionally, GC has also collaborated with customers to define product injection condition. In 2022, Solution Creation Company Limited began commercial distribution of the plastic compound under the brand "PlastMate" for four consecutive years. This is considered GC's first step into the automotive industry.
Post-Consumer Recycled (PCR) Resin
The PCR resin is produced from post-consumer plastic waste, which are transformed into recycled resin and delivered to customers to be remanufactured into plastic products. This is in accordance with the concept of Circular Enconomy. The PCR Resin can replace conventional plastics as raw materials, helping to reduce resource consumption, energy use and plastic waste problem in Thailand.
It is estimated that the PCR resin will generate a revenue of approximately 750 million baht and decrease plastic waste destined for landfill disposal by over 50,000 tons in 2024. The PCR resin is used in a variety of products, for example, lotion bottle packaging of "Mistine" brand, which uses HDPE PCR in 25 percent of its raw materials.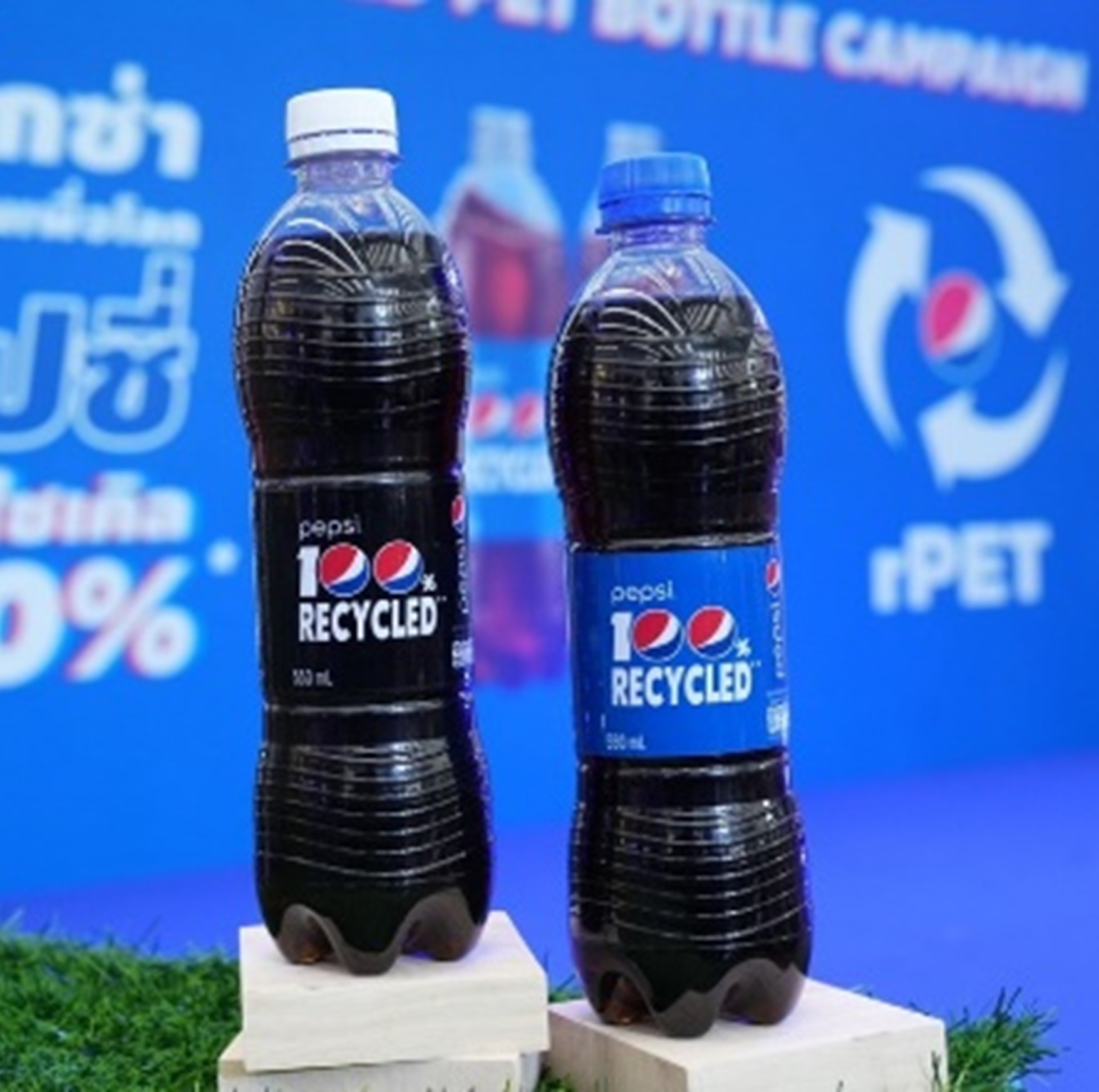 Pepsi, manufactured by Suntory PepsiCo Beverage (Thailand) Co., Ltd., in cooperation with the Office of Property Management of Chulalongkorn University (PMCU) and ENVICCO Co., Ltd. (GC Group subsidiary) has declared its readiness to become the first beverage producer in the market to use 100% recyclable plastic bottles (rPET bottles). This has launched new trends among consumers while meeting the demands of environmentally conscious teenagers. Under the project, specially designed waste bins for PET bottles have been installed in Siam Square through the cooperation with PMCU. The company has also joined forces with ENVICCO, producer of international-standard PCR PET resins with certification from the Thai Food and Drug Administration (FDA), to bring plastic waste into the recycling system.
More information is available at: https://www.pttgcgroup.com/en/newsroom/news/1257/pepsi-pioneers-as-the-first-producer-of-beverages-in-thailand-to-utilize-bottles-made-from-100-recycled-plastics-produced-by-envicco-a-subsidiary-of-the-gc-group
Monofilament for High-Speed Production Machine
GC has modified the properties of plastic resin to be more compatible with its customer's high speed monofilament production machine. The enhanced plastic resin yields tougher and stronger monofilament, which has contributed to reducing costs and process loss for customers. GC is expected to generate a revenue of approximately 900 million baht from this project. The company has also anticipated to expand its market beyond existing customers.
Epoxy for Composite Rebar
From the company's expectation to expand to construction industry, port infrastructures, government buildings, private buildings and housing within 2023, GC has developed Composite Rebar, which has the properties of good tensile properties, strong adhesion ability, light weight, non-conductive characteristics, rust-proof properties, and chemical corrosion resistance. It also provides a spark-free cutting attribute to the rebar. GC estimates that Epoxy formulation sales in 2020 will generate a revenue of approximately 1.3 million baht.
High Flow Rotational Molding Grade
GC has collaborated with "Matrix Polymer" to develop Revolve 6105U LLDPE and Revolve N-1010 LLDPE resins with excellent engineering properties. These plastic resins are easy processing, require 11-20 percent less moulding time and render smooth surface with bright colours. Energy used in the production of these resins is lower than that is required for the moulding of conventional plastics by up to 20 percent, resulting in less greenhouse gas emissions in the production process and lower costs.
This product is suitable to be moulded into high quality products, such as furnitures, plant pots, garden accessories, children's toys or engineering parts. At present, the product has generated over 45 million baht in revenue per year and is expected to grow to 150 million baht per year in 2025.
Bioplastic Resin to Support National Environmental Policy
GC responds Thailand's policy to reduce plastic use. Hence, it has developed degradable bioplastic for packaging, which is up to 15 percent cheaper than imported bioplastic. This biodegradable plastic has been widely embraced by leading supermarkets and has been put into circulation to replace conventional plastic bags. Furthermore, GC has developed more flexible and impact resistant biodegradable plastic, which is suitable for toothbrush handle production. This development meets customers' needs to develop and offer environmental friendly products to consumers.
Additionally, GC has also created other types of BioPBS products, such as mulch films, film packaging for food, biodegradable bags including bioplastic straws which can retain shape, do not become soggy or change the taste of food when used.
HDPE for Truck-bed liner
Conventional truck bed liners generally have a smooth and slippery surface. They are installed to prevent items from slipping and to protect a vehicle's interior from potential damage.
GC, as a leading manufacturer of plastic resins and chemicals, developed Innoplus Grade HD7000H and HD7800B (new grade) for the production of truck bed liners with highlight features including:
Resistance to impact and abrasions to protect vehicle's surface.
Resistance to diverse environments.
Easy to produce and mold.
Lightweight and easy installation.
As the development of products and technology for the automotive industry continues to grow, GC does not cease to innovate new products with world-class quality and standards to meet the diverse needs of the market. Currently, this genre of product has generated more than 192 million baht per year in revenue and is expected to grow to 210 million baht per year by 2024.