Water Management Partnership
GC has collaborated with PTT Group Water Management Team (PTTWT)
governments and stakeholders to develop the effective water management strategy and plan through War Room Committee. Additionally, GC has identified the key stakeholders to establish the plan for managing their water concerns. These enable GC to develop water usage plan for all sectors in the next 20 years (2017-2037). Furthermore, GC has monitored the changes in relevant laws and regulations through the working group of the Federation of Thai Industries (FTI).
GC monitors quality of water that utilized within GC's facilities every day. This is to ensure that quality of effluent is acceptable according to industrial effluent standards. Additionally, GC bi-weekly investigates water quality around the facilities to ensure that water resource of area around GC's plant is still in good quality, and not affect to ecosystem.
GC has implemented external water management through integrated collaboration with stakeholders, and water conservation. The example of project that GC has been continuously carried out is Khao Huai Mahat Forest Restoration and Closed-System Groundwater Banks.
GC has regularly implemented water management projects with key stakeholders, which can be summarized as the following
Local Community

GC is striving to restore water source within community areas and conserve the water source sustainably, which consists of Water Related to Community and Water Conservation. For examples
Innoplus Water Tank Project: GC has provided the Innoplus water tanks to help communities experiencing water shortages or lack of water storage facilities.
Reforestation and Water Conservation Project at Huai Ma Haad in Rayong Province by collaboration with Air and Coastal Defense Command and the Konrakpa Club under the Charklukya - Huai Mahat community. GC has implemented this project to promote integrated sustainable water management. Additionally, the plastic flapped sacks of GC are used for construction of check dam to restore water sources. In addition, GC encourage community consciousness in resource conservation through reforestation activities.
Closed-System Groundwater Bank Project: GC has collaborated with Map Ta Phut Municipality and King Mongkut's University of Technology Thonburi (KMUTT) to establish a Groundwater Bank in orchard areas of Krok Yai Cha and Nong Taeng Mae communities in Mueang district, Rayong province to solve water scarcity during drought season, flooding during rainy season, and seawater incursion on agricultural lands. The project has been in operation since 2020. In 2022, the Groundwater Bank Project won the Communitas Awards 2022 from USA in the category of Excellence in Corporate Social Responsibility for Ethical and Environmental Responsibility (Sustainability).
Activities to Reduce the Impacts of Flooding and Drought in Rayong: GC has sponsored plastic flapped sacks to minimize effect of flooding, and this activity becomes water management model by using plastic flapped sacks in Rayong.
Non-Governmental Organization (NGOs)

GC has conducted an annual materiality matrix analysis, and considered the stakeholder's concerns (e.g. NGOs) regarding water use, and level of potential impact on its business. Thus, GC has engaged NGOs to reduce the community's concerns on water used.
Government Bodies

GC has joined in the working group of the Water Institution for Sustainability and Federation of Thai Industries (FTI) to coordinate and create a sustainable collaboration between government and public sector in water management. Therefore, GC has been part of the rules and regulations amendment regarding water management in Thailand.
Large Water Users

GC actively engages with large water users through participating in the Water War Room of Rayong to reduce water conflict with communities by establishing water usage plan for all sectors for the next 20 years (2017-2037). Additionally, GC monitors water related risks and effectively manage water availability in Rayong.
Customer

GC reports evaluation result of water-related risk to corporate risk management team and marketing team. GC also evaluates water footprint throughout the life-cycle of products. Additionally, GC continuously surveys customer's demands on water, and regularly analyze critical area that might be exposed to flooding around GC's main customer.
Employee

Employee is considered as a key internal stakeholder and included in our water-related risk assessment. We strive to continually improve our water performance through training all employees and raising the water efficiency and water saving awareness in organization annually. Additionally, GC has designated potential employee to work in water savings with external parties e.g. Federation of Thai Industries and Office of The National Water Resources.
Supplier

GC has risk management systems for both feedstock and non-feedstock suppliers. This covers processes, such as supplier selection and supervision, capability determination as well as monitoring and evaluation of supplier's performance. GC encourages employees and suppliers to uphold and abide to Supplier Code of Conduct and engaged with suppliers to promote water conservation. As most of GC's suppliers are in PTT Group, we can collaborate with them through the PTT Group Water Management Team (PTTWT) to include them in our water risk assessment.

Water War Room Rayong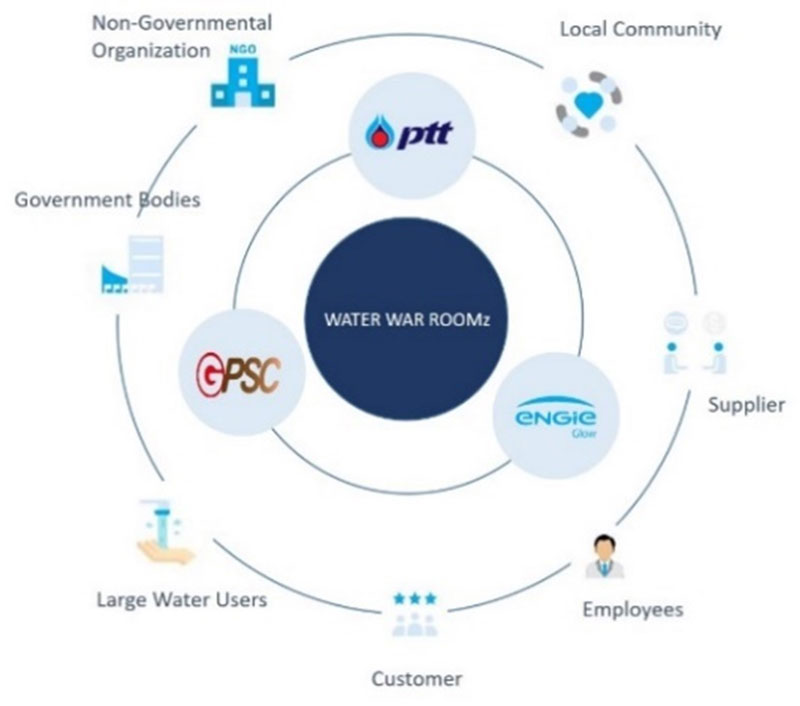 To promote sustainable water management in the basins and avoid water crisis, GC collaborates with PTT, GPSC, and GLOW to actively engage other key stakeholders to participate in Water War Room Rayong.
The members Water War Room Rayong consist of several sectors, including local communities, government bodies, and large water users such as GUSCO, SCG Group, Provincial Water Authority of Thailand, Utility Group, IEAT, East Water Group, etc. GC has also joined the working group of the Water and Environment Institution for Sustainability (WEIS) and Federation of Thai Industries (FTI) to seek sustainable water management.
Additionally, GC engages with its critical 1st tier suppliers through the PTTWT to prepare Business Continuity Plan against drought. The taskforce conduct impact analysis and monitor water levels and situations in the main basins in Rayong, Chonburi & Chantaburi. As a result, the taskforce successfully maintained the water level of three main basins to remain above 180 million m3. Furthermore, mitigation measures and water usage plan for all sectors for the next 20 years (from 2017 – 2037) were also formulated. As such, the taskforce achieved the target of reducing 10% of water consumption.
GC has also monitors water-related risk, including water scarcity, water quality, water-related legal enforcement water pricing structure and community conflict due to the use of water resource on a regular basis. Additionally, GC has prepared the water mitigation measures closely under the collaboration with stakeholders to avoid any community concerns in both short and long-term.
Oceans Protection and Partnership
Commitments
GC is committed to protecting marine resources through compliance with rules and regulations regarding water management and through the implementation of projects to conserve natural resources and solve environmental problems that affect marine and coastal resources using the company's expertise and innovations. GC also establishes cooperation with internal and third-party partners to build marine biodiversity and strengthen marine ecosystem security as marine ecosystems are an essential source for resources. Additionally, GC works to enhance the quality of life for locals in neighboring communities and the society as well as build stakeholder confidence in the company's operations.
GC has been pursuing achievement on the protection of marine resources by strictly complying with regulatory requirements and obligations related to water withdrawal and discharge.
As a world-class leader in chemicals that operates with responsibility towards the society and the environment in tandem with sustainable development, GC recognizes the importance of protecting and restoring marine resources. Thus, the company collaborated with the government, private sector, local authorities, and stakeholders, such as PTT Group subsidiaries, Port Authority of Thailand, Marine Department, Department of Marine and Coastal Resources, Rayong Province and local communities, etc., through the implementation of diverse projects covering various dimensions. GC works in close collaboration with local stakeholders, exchange information and needs, explore means of protecting, conserving, and solving problems on marine resources, and respond to stakeholder demands, such as conducting marine resource conservation projects along the coast of Rayong in collaboration with local fishing groups to restore marine resources, create sustainability for Rayong seas and generate income for small boat fishers. Marine habitats were also built using fish traps and crab banks as well as by releasing aquatic animals into the seas, etc.
GC has collaborated with Wat Chak Daeng Temple and partners in "Our Khung Bangkachao Project" to reduce waste problem and create awareness on waste management at the source. The project implements innovations to transform used transparent PET bottles into polyester fibers which are then woven into cotton fibers to produce various products, such as monk robes, blankets, Thai printed fabrics, shoes, etc.
In terms of marine resources protection, GC has conducted "Upcycling the Oceans, Thailand: Phase 2" to create balance in the ecosystem and solve marine litter problem in collaboration with Ecoalf Foundation, the founder of Upcycling the Oceans, partners, Marine Department, Port Authority of Thailand, and Khon Kaen Fishing Net Company Limited (KKF). The project received cooperation from the Friend in Need (of "PA") Volunteers Foundation, Thai Red Cross Society, and Qualy. Furthermore, GC also joined forces with the Royal Thai Navy to conduct a project to conserve Thai seas under the royal initiative of Her Royal Highness Princess Sirivannavari Nariratana. The project aims to create environmental awareness and encourage public participation in solving the problem of waste in Thailand's marine tourism destinations and coastal areas. Both projects hold the objective to solve marine litter problem with recycling through the YOUTURN Platform, which was initiated by GC, and upcycling the recycled waste into value-added products using modern process and technologies in accordance with Circular Economy.
In 2022, GC was able to extract, recycle and upcycle more than 75 tons of waste from seas and water sources through various project implementations, creating a value of over 9 million baht and generating community income of over 2.75 million baht. The company also employs a strict process that tracks and inspects operations affecting marine and coastal ecosystems every six month in accordance with the Environmental Impact Prevention and Correction Measure and the Environmental Quality Monitoring Measure. The performance is reported to governance-related and other relevant authorities.
More information on oceans protection efforts is available in: