GC has developed it products that are environmentally friendly and safe for consumer use, and are aligned with the principle of circular economy. GC uses the Eco-design criteria and Life Cycle Assessment and integrate these methods with the Company's technological innovation to create highly efficient.
This includes plastic products that are biodegradable which is environmentally friendly, low-carbon products, and upcycled and reprocesses plastic products. Outstanding products in 2021 are
High Performance Products.
Composite material made with 3D printing technology, which is five times stronger than Titanium, but three times lighter than ordinary composite materials. This hard composite material is also recyclable
Epoxy for composite rebar has good tensile properties, strong adhesion ability, light weight, non-conductive characteristics, chemical corrosion resistance and spark-free cutting. This is GC's first step in developing innovation for the construction industry.
Plastic resins for monofilament production using high speed machine which renders tougher and stronger fibers, reducing costs and process loss for customers.
Plastic compound for automotive industry which has passed durability tests and met standards according to the specifications of the automotive industry. Solution Creation Company Limited has begun the commercial distribution of this plastic compound under the brand "PlastMate" since 2019.
rPET and rHDPE pellets, under "InnoEco" brand, with a production capacity of 30,000 tons per annum and 15,000 tons per annum, respectively. Create circularity to provide end-to-end solutions for customers and suppliers.
High heat resistant Polylactic Acid (PLA) for cutlery which is biodegradable under natural conditions.
GC has worked to upgrade the properties of Rotomolding grade linear low-density polyethylene (LLDPE) products, including greater impact strength, decreased processing cycle time, and a more appealing post-molding texture. As a result, the products are able to respond to the demands of the new customer market both within the country and abroad.
Bioplastic and Low Carbon Products
GC developed the innovation of
%
biodegradable plastic beads or BioPBS which can replace normal plastic beads for manufacturing different packaging and products such as spoons, forks, straws, film, dry food containers and as a coating on paper cups. But most importantly BioPBS can decompose naturally due to the three fundamentals as follows: heat, moisture and bacteria in the soil, allowing it to be disposed with organic waste or food waste. Thus, after being landfilled, the materials will decompose due to the bacteria in the soil, and convert into carbon dioxide, water and biogas without leaving any harmful residue to the environment. In 2021
GC generated revenue more than
million THB per year.
GC develops Bioplastic Resin to Support National Environmental Policy and Thailand's policy to reduce plastic use.
GC develops GC compostable label to promote consumer awareness of products made from biodegradable raw materials or products with special properties. This help increase the opportunity for manufacturers to develop products that meet the market's needs, and supported government policy to reduce environmental and global warming problems.
Create R&D cooperation network with local experts and agencies in order to uninterruptedly respond to customer needs during COVID-19, for example, a partner company dealing in plastic conversion who has shown interest in utilizing PLA/BioPBS to manufacture degradable melt blown filters for surgical masks.
Transformation of Waste into New Products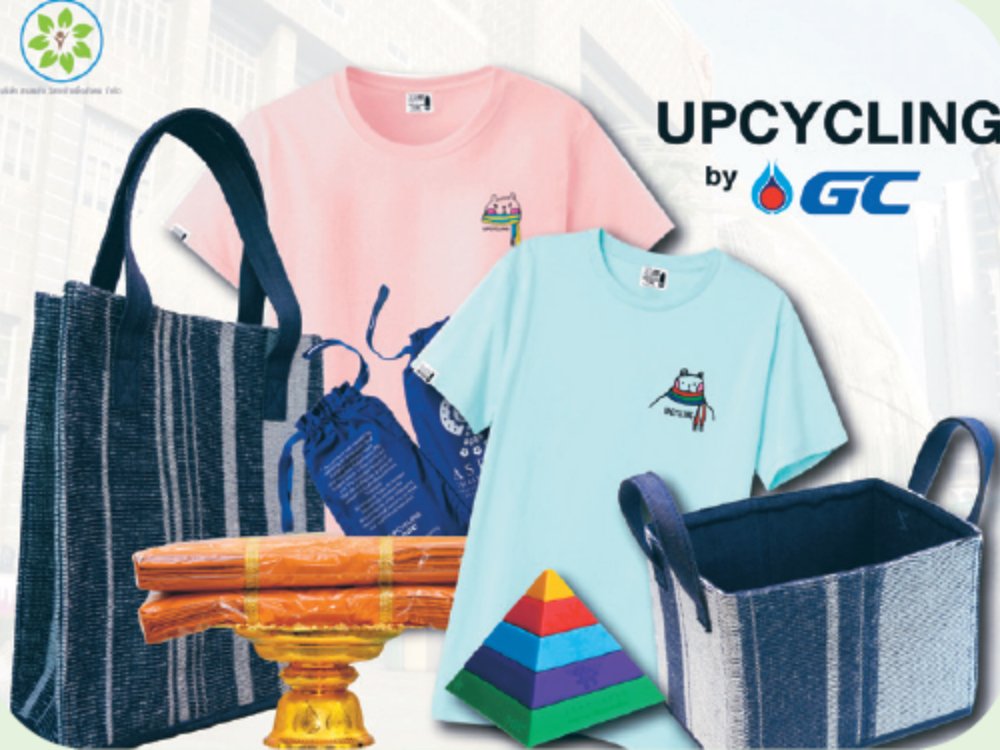 Upcycling SE project through Sarn Palung Social Enterprise (SPSE), Social Enterprise (SE) under PTT Group focusing on comprehensive treatment of plastic waste to create added value. Used plastic is recycled into fashion and daily life items under Trademark "Upcycling by GC", including 81 products with total sale for 17.8 million baht.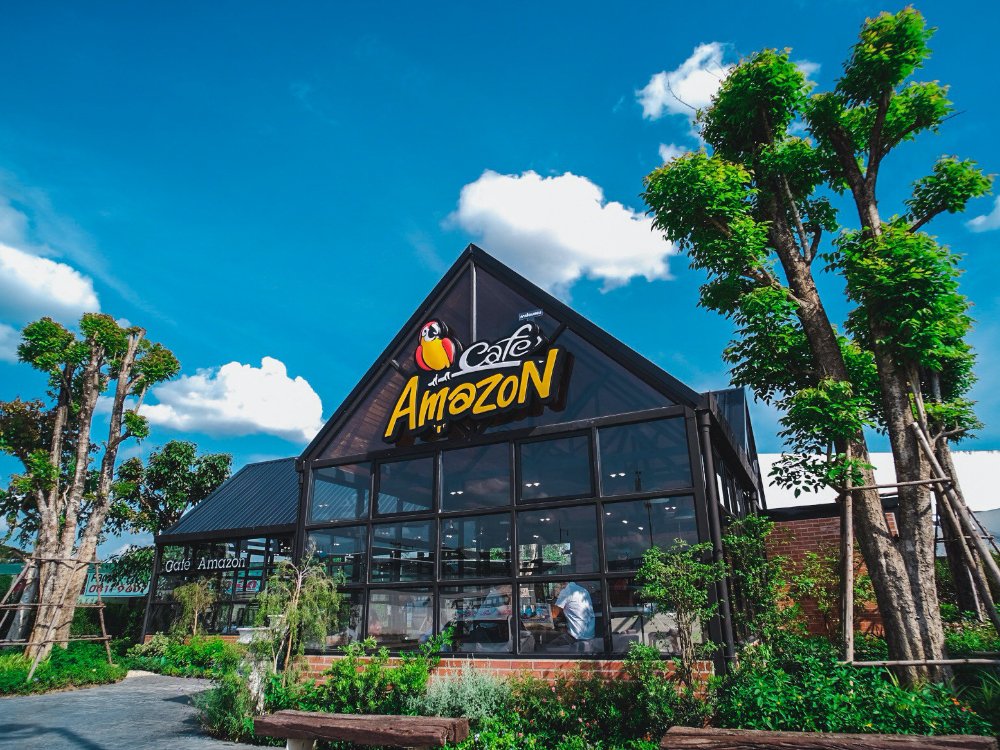 GC has collaborated with PTT Oil and Retail Business Public Company Limited, or PTTOR, to reuse waste from Cafe Amazon stores and coffee factory to create modern furniture under the "Circular Living" concept, e.g. the Macaw wall decoration made from Polypropylene plastic coffee cups, coffee tables made from coffee factory waste, and sofa textile made from used water bottles, etc. Furthermore, the Cafe Amazon Circular Living Concept store has replaced its packaging with biodegradable materials, e.g. 100 percent biodegradable Polybutylene Succinate (PBS) coated paper cup for hot drinks, 100 percent plant based Polylactic Acid (PLA) cups for cold drinks, and bioplastic straws, etc.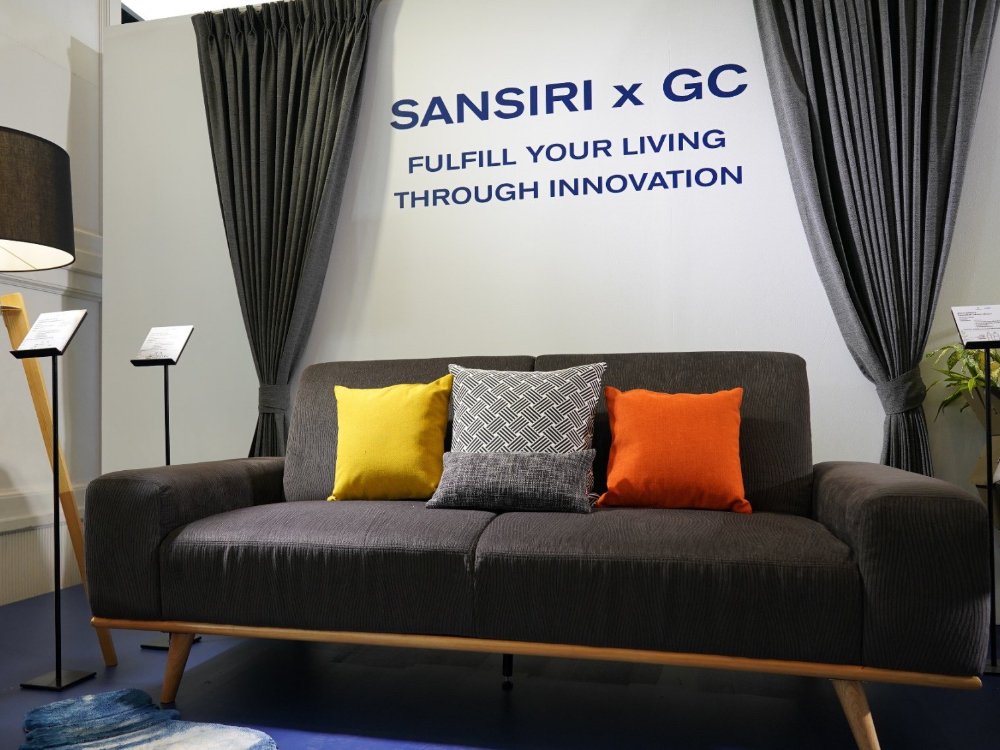 GC has collaborated with Sansiri Public Company Limited, one of Thailand's leading real estate developers, to create performance and durable products for homes, e.g. water tanks made from GC's high-quality plastic resins, non-VOC solvent for decorative paint, made from natural ingredients, which is safe for residents and is suitable for both indoor and outdoor and construction materials like wood composite. Additionally, GC has created eco-friendly furniture using recycled Polyester from the Upcycling by GC project.