GC focuses on creating the best experience for all groups of employees throughout their time with the company—starting from the first day on the job until retirement. At the same time, various projects have been organized to uplift employee happiness and well-being, which includes both their well-being while working with the company and after retirement. Furthermore, GC aims to become a Happy and Zero Accident Organization; therefore, it provides employees with a working environment that is safer than legal requirements and performs ergonomic risk assessments.
In the past year, the COVID-19 situation has prompted GC to realize the need to care for employees' health and well-being. Therefore, the company has established control policies and measures to reduce risks of COVID-19 spread and contraction. Such policies and measures are applied to all employees, contractors and visitors to the company. Moreover, GC has supported the well-being of employees during such time of crisis through various healthcare projects, with emphasis on ergonomics and stress management.

Employee Health & Well-Being Program
GC is aware of the changes in the current business sphere. In addition to developing employee skills and capabilities, GC also cares for their well-being and good working experience in order to enable them to fulfil tasks and adjust to new work formats quickly and sustainably in line with GC's business operations.
Work From Home: WFH
GC has implemented the Work From Home (WFH) policy as a normal working style, newly launching a positive policy, in order to ensure work flexibility and adaptability to the COVID-19 pandemic while adhering to the demands of new generation employees. GC has also developed the infrastructures so that employees who work from home will be able to deliver similar performance compared to working in the office, for example, GC has improved its information technology system by expanding the Direct Access and VPN systems to enable employees to optimally "Work From Home".
GC has a policy of working from home, which is incorporated in the Business Continuity Management Plan to avoid the business impacts from any circumstances when staff cannot work at the headquarter office.
Flexible Working Operations
We have policy to offer and support flexible working hours and to allow employees to work at home, so long as this can be done in a way that meets the needs of the business and there is continued compliance with the needs of employees and changes in circumstances
Family Support
The company policies are also extended to cover the well-being of our employees and their families as well.
GC provides 10 breast-feeding rooms in all company sites and support employees who are pregnant or recently have children.
GC conducted Family Day Activity to give employees a chance to relax and spend quality time with their loved children. This activity demonstrates company values in a parent-child relationship.
GC also provide health assurance for employees and their families i.e. spouse and children including vaccinations for employees' infant and dental fees for employees' children. Apart from wellness, we also support tuition fees for employees' children from kindergarten school to university (age not over 22 years old).
Paid Parental Leave
Female employees have the rights to leave for childbirth, not more than 98 days and to receive wages during the leave but not to exceed 70 days, which is beyond Thai's Labour Laws. If a pregnant employee holds a first class medical certificate that shows the employee cannot work on the usual duty, the employee has the right to ask an employer to change a job on a temporary basis before or after birth.
Male employees have the rights to parental leave for take care of their family for up to three working days per child, which is beyond Thai's Labour Laws and to receive wages on the day of leave.
In 2021, GC has launched several well-being projects that focused on uplifting health, mindfulness and wealth of its employees to create friendly working environment and happy working conditions. Examples of well-being projects such as Employee Assistance Program (EAP), Medical Treatment Support, Well-being Day, and NCD Clinic Plus project.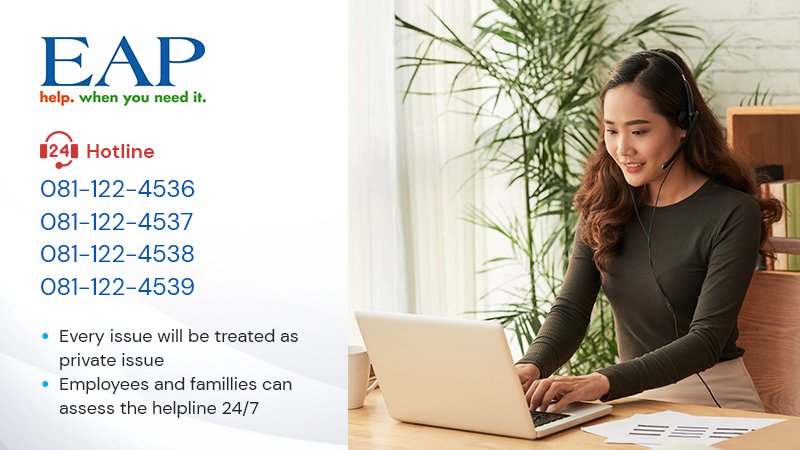 Employee Assistance Program (EAP)
GC conducts Employee Assistance Program (EAP) to promote quality of life and EQ helps counseling employees with personal issues that may affect performance in areas such as anxiety, stress at work, conflict in the workplace and financial or legal anxiety by providing professional, confidential counseling on social and mental health issues. Participation is voluntary and typically self-referred.
GC's EAP Service consists of three types; 1) Consulting by 24 hours telephone for promptly personal advise 2) Privately consulting such as stop smoking, crisis management, etc. 3) Booth activity, to create awareness of their own mental state.
Health Care Programs during COVID-19
Drive Thru COVID-19 (Real Time RT-PCR ) Project
GC has established pro-active healthcare measures for its employees and relevant stakeholders during the COVID-19 pandemic. It has given financial support for employees, contractors that are directly hired by GC, and employees in the manufacturing sector to undergo COVID-19 DRIVE-THRU test, which is fast and able to reduce infection risks. In the past year, 675 people have used the service.
GC establishes continued surveillance measures for seasonal influenza which spreads on an annual basis. However, it has imposed stricter surveillance measures in the past year due to the COVID-19 pandemic in Thailand. A Drive Thru Influenza Vaccine Service has been provided for all of its employees, contractors directly hired by GC, and their families for free. The deliverable of service was well-received with 4,409 people coming in for injections.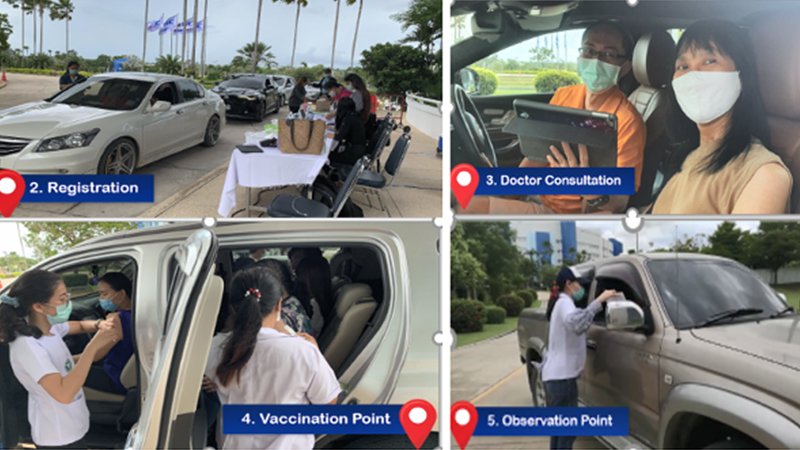 Medical Treatment Support
The Medical Treatment Assistance initiative has been carried out in conjunction with the annual employee health check-up program. Through this project, GC works to ensure that employees receive appropriate medical care in an effort to reduce their health risks, financial burden and treatment time. The Medical Treatment Assistance project is carried out under the following steps
NCD Clinic Plus
At present, the common and dangerous diseases among employees are non-communicable diseases (NCD), heart disease and stroke. Therefore, GC performs intensive health checkup for employees and categorizes them according to their risk of contracting such diseases in the future. In order to provide appropriate and effective healthcare measures, employees who have been assessed for health risks are classified into 3 groups, namely high risk, medium risk and low risk.
Risk Group
Care Measures
No. of Employees
High Risk

Provide close medical care to treat and monitor symptoms; record daily blood pressure.
Conduct health risk assessment every 3 months and every 4 months in the case of employees with NCD.
Prohibition of work in high-risk areas, such as confined spaces, work at heights, etc.

901
Medium Risk

Organize health promotion activities to recommend proper nutrition and exercise, such as Calorie Loss, Fit@work, etc.
Host Club House discussions to share and inspire love for health.

2,753
Low Risk

Host Club House discussions to share and inspire love for health.

827
After a period of 2 months, employees' health risk level has been lowered by 24 percent.