Climate Change Strategy and Target
Target to reduce greenhouse gas emissions
(scope 1 and 2) by
percent, based on Business as Usual (BAUs),
within 2030
Target to reduce greenhouse gas emission
intensity (scope 1 and 2) by
percent, based on Science Based Targets Initiative,
within 2050 compared to base year (2012)
Challenges and Opportunities
Climate Change is an important global issues, which may impact on the society and the environment worldwide. Additionally, the law and regulations enforcement that required each sectors to collaborate according to the Agreement in the 21st Sessions of the Conference of the Parties to the United Nations Framework Convention on Climate Change (COP21), may affects GC's operations
for example, increased production cost in the future or caused physical impacts on the company, i.e. flood and drought. Moreover, climate change may influences consumers' behavior to move towards environmentally friendly products and technologies, or it may be used as a trade barrier in the future.
Climate Strategy
GC has established both short-term and long-term strategies for energy management and climate change in accordance with the Task Force on Climate-related Financial Disclosures (TCFD). The plan focuses on shaping the directions of the climate change plan, investment in advanced technology to enhance process efficiency, alternative energy utilization, and Internal Carbon Pricing.
The plan is also emphasizing on the internal greenhouse gas reduction goal and possible collaboration with the community and consumers across the supply chain in order to demonstrate our responsibility to develop products based on circular economy and product's life cycle to establish proactive methods to curb greenhouse gas emissions.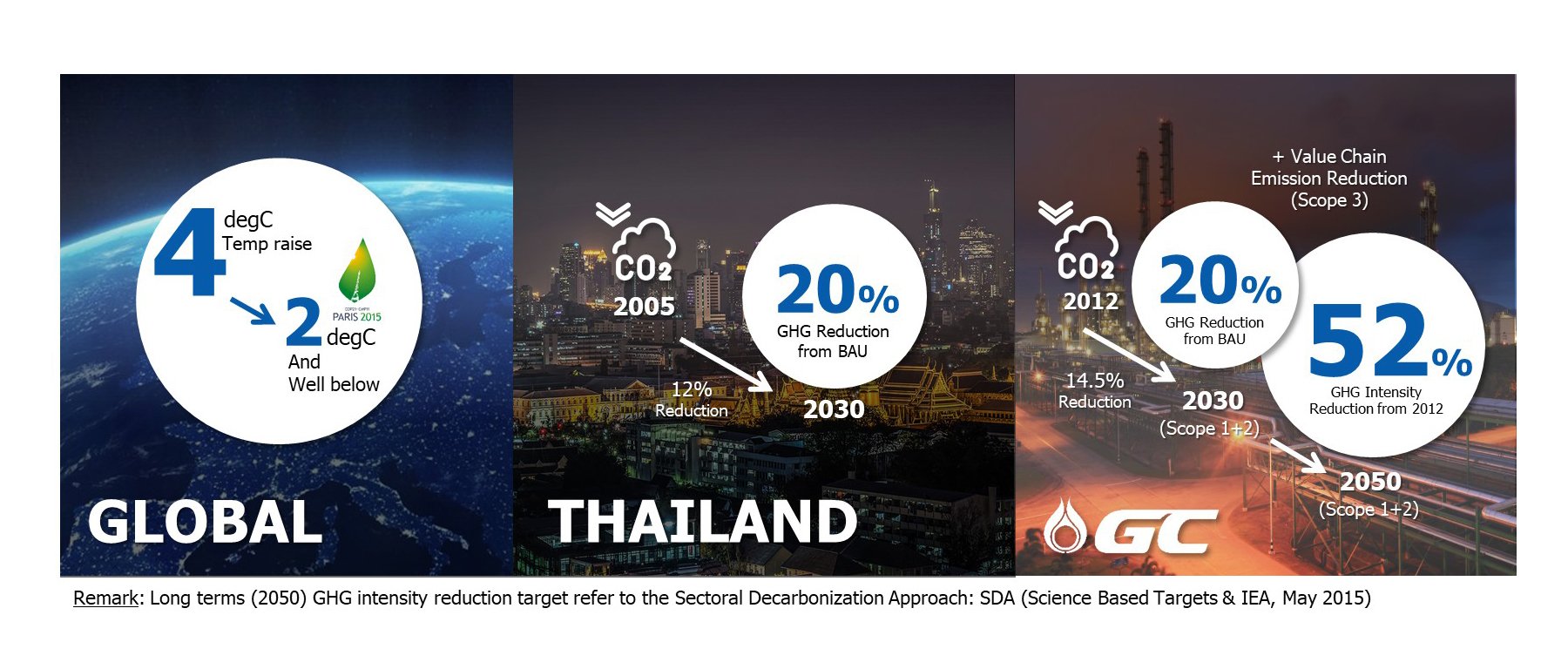 GC has set climate-related targets and Key Performance Indicators (KPI) to monitor GC's performance and support global ambition to reduce effect caused by climate change. Hence, GC's climate-related target has set in accordance with national and global targets, for instance, Thailand's Nationally Determined Contribution (NDC), Paris Agreement in the 21st Sessions of the Conference of the Parties to the United Nations Framework Convention on Climate Change (COP21) and Sustainability Development Goals (SDGs), which emphasis on reducing greenhouse gas emission from its operations by enhancing energy efficiency and encouraging alternative energy. These are aligned with the Sustainable Development Goal 7: Affordable and Clean Energy (SDG 7), and Sustainable Development Goal 13: Climate Action (SDG 13) of the United Nations, as well as Carbon Disclosure Project (CDP).
(UN SDG 7: Affordable and Clean Energy)
(UN SDG 13: Climate Action)
To achieve the mentioned target, GC has analyzed internal and external risk factors, which may affect the business operation in both short-term and long-term. Additionally, GC monitors the Emerging Risks from the Early Warning System to identify climate change risks that may cause widely impacts on GC and/or industry over the next three to five years. Therefore, GC has established risk and crisis management approaches to manage risk within an acceptable limit in response to GC's Climate Change Strategy.
Task Force on Climate-related Financial Disclosure (TCFD)
GC has become an official supporter of Task Force on Climate-related Financial Disclosures (TCFD) to pledge the commitment towards climate leadership. In this regard, we adopt the elements of TCFD recommendations, which include governance, strategy, risk management, and metric and target. We conducted a scenario analysis of the physical risk by considering base case, RCP 4.5 and 8.5 scenario to identify and forecast the potential impacts and financial implication of the physical risks on GC business in the future. We also considered AET and SDS scenario to quantify the financial implication for our refined product, Polyolefin and green product. The result of analysis has been taken into the development of our adaptation plan and measures to avoid potential impacts on GC business operation while seeking climate-related opportunities.
Climate-related Performance
Organizational Greenhouse Gas Inventory
GC has established organizational greenhouse gas inventory based on ISO 14064-1:2006, the Greenhouse Gas Protocol, American Petroleum Institute (API 2009), Intergovernmental Panel on Climate Change (IPCC) 2006 and Thailand Greenhouse Gas Management Organization (Public Organization)/TGO in order to use as a greenhouse gas management guideline and to regularly report organizational greenhouse gas emission.
Furthermore, GC has collected greenhouse gas emissions data from other related activities (scope 3) according to the Technical Guidance for Calculating Scope 3 Emissions of the GHG Protocol. This leads to the management of greenhouse gas emissions throughout the supply chain. GC has evaluated 12 activities, and other related activities within Scope 3 of greenhouse gas emissions from below eight categories.
Activity
1.
Purchased goods and service: Emissions of main raw material and Water withdrawal
2.
Upstream transportation and distribution: Main raw material pipeline transportation and Electric power transmission and distribution losses
3.
Waste generated in operations: End-of-Life Waste Treatment (Landfill & Incineration & Wastewater treatment)
4.
Business travel: Employee air travel
5.
Downstream transportation and distribution: Polymer products
6.
Processing of sold products: Polymer products
7.
Use of sold product: Sold product for (Diesel, LPG, Jet Fuel, Marine Fuel oil, Kerosene, Propane, Butane) and Biodiesel (B100)
8.
End-of-life treatment of sold product: Polymer products
The GC Greenhouse Gas Report related to direct GHG emissions and energy indirect GHG emissions and other indirect GHG emissions are assurance by the third party verification in accordance with the ISO 14064-1.
Through the outstanding implantation of GHG reduction programs, GC can continuously reduce GHG emissions and intensity as follows
Greenhouse Gas Emissions (Scope 1 & 2)
Performance
2017
2018
2019
2020
Greenhouse gas emissions
(million tons CO2 equivalent)
8.4
8.01
8.26
7.88
Remarks:
1.) Greenhouse gas emissions target has been revised due to business expansion.
2020 Target
Greenhouse gas emissions
≤
million tons CO2 equivalent
Greenhouse Gas Emissions Intensity (Scope 1 & 2)
Performance
2017
2018
2019
2020
Greenhouse gas emissions intensity
(kg CO2 equivalent per ton production)
332
317
334
328
2020 Target
Greenhouse gas emissions intensity
≤
kg CO2 equivalent per ton production