Climate Change Strategy and Target
Target to reduce greenhouse gas emissions
(scope 1 and 2) by
within 2030
Achieve net zero emissions (scope 1 and 2) by 2050.
Halve scope 3 emissions by 2050.
Challenges and Opportunities
Climate change remains one of the top priorities for both the global community and GC as it can potentially disrupt business due to physical impacts, such as floods and droughts, raw material shortage, change in consumer behavior, and international trade barriers. Additionally, awareness about the effort to cap the global temperature rise at 1.5 oC has increased as a result of the laws, rules and regulations stipulated by the government to require the engagement of each sector in implementing the agreements from the 26th Session of the United Nations Convention on Climate Change (COP26). This, nonetheless, may cause production costs to soar and hinder GC's business growth opportunity in the long run.
Climate Strategy
GC has established both short-term and long-term strategies for energy management and climate change in accordance with the Task Force on Climate-related Financial Disclosures (TCFD).
Our climate change action plan focuses on enhancing the production process, energy management and energy conservation to achieve optimal efficiency. We also consider the possibility of utilizing alternative energy to uplift our performance in greenhouse gas reduction while planning to expand the scope of operations to incorporate scope 3 value chain emissions.
1) Efficiency-Driven: Enhance process efficiency to optimize resource and energy consumption.
2) Portfolio-Driven: Adjust long-term business structure towards low-carbon business while preserving the company's growth.
3) Compensation-Driven: Adopt nature-based solutions and explore technology for carbon absorption to support operations and achieve established goals with maximum efficiency.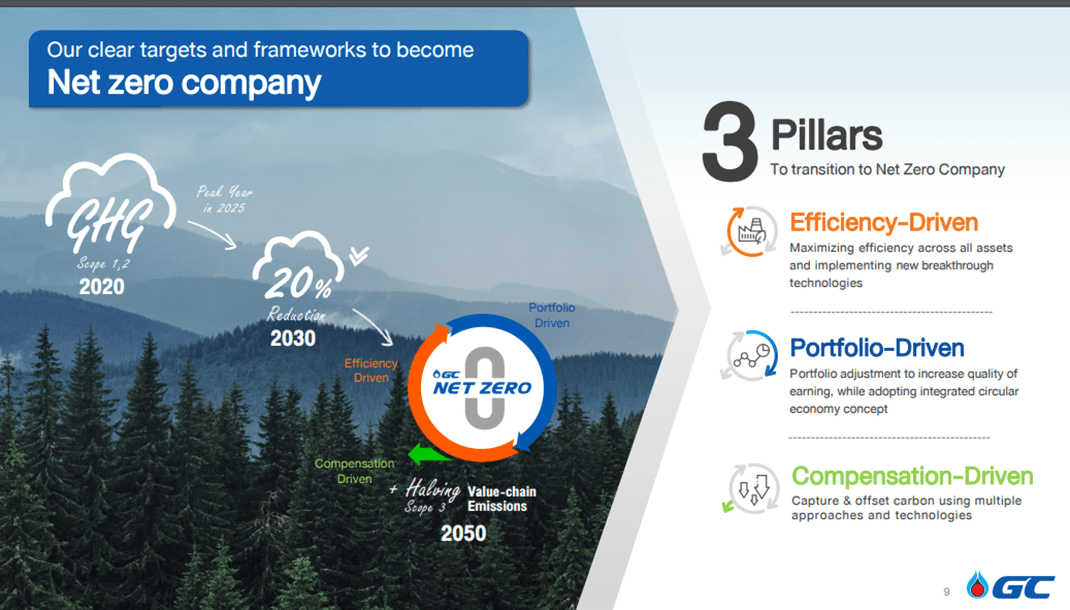 GC has a clear roadmap and are increasing our medium-term targets to reduce by 20 percent within 2030 on the journey to achieving Net Zero by 2050 in line with the Paris Agreement. GC propelling our customers and suppliers to participate in this commitment together. Moreover, GC looks forward to continued engagement with various players in the global markets. With this regard, it is GC's best interest that the roadmap of the Low Carbon Transition Framework has included activities of engagement with relevant stakeholders, which is also aligned with the ambition of Paris Agreement, to push forward the company to achieve low carbon business.
GC has set climate-related targets and Key Performance Indicators (KPI) to monitor GC's performance and support global ambition to reduce effect caused by climate change. Hence, GC's climate-related target has set in accordance with national and global targets, for instance, Thailand's Nationally Determined Contribution (NDC), Paris Agreement in the 26th Sessions of the Conference of the Parties to the United Nations Framework Convention on Climate Change (COP26) and Sustainability Development Goals (SDGs), which emphasis on reducing greenhouse gas emission from its operations by enhancing energy efficiency and encouraging alternative energy. These are aligned with the Sustainable Development Goal 7: Affordable and Clean Energy (SDG 7), and Sustainable Development Goal 13: Climate Action (SDG 13) of the United Nations, as well as Carbon Disclosure Project (CDP).
(UN SDG 7: Affordable and Clean Energy)
(UN SDG 13: Climate Action)
To achieve the mentioned target, GC has analyzed internal and external risk factors, which may affect the business operation in both short-term and long-term. Additionally, GC monitors the Emerging Risks from the Early Warning System to identify climate change risks that may cause widely impacts on GC and/or industry over the next three to five years. Therefore, GC has established risk and crisis management approaches to manage risk within an acceptable limit in response to GC's Climate Change Strategy.
Climate-related Performance
Organizational Greenhouse Gas Inventory
GC has established organizational greenhouse gas inventory based on ISO 14064-1:2018, the Greenhouse Gas Protocol, American Petroleum Institute (API 2009), Intergovernmental Panel on Climate Change (IPCC) 2006 and Thailand Greenhouse Gas Management Organization (Public Organization)/TGO in order to use as a greenhouse gas management guideline and to regularly report organizational greenhouse gas emission.
Furthermore, GC has collected greenhouse gas emissions data from other related activities (scope 3) according to the Technical Guidance for Calculating Scope 3 Emissions of the GHG Protocol. This leads to the management of greenhouse gas emissions throughout the supply chain. GC has evaluated 9 activities, and other related activities within Scope 3 of greenhouse gas emissions from below nine categories.
Activity
1.
Purchased goods and service; Raw material, Chemical, Catalyst, and Packaging
2.
Capital goods
3.
Fuel-and-energy-related activities (not included in scope 1 or scope 2)
4.
Upstream transportation and distribution
5.
Downstream transportation and distribution: Polymer products
6.
Processing of sold products: Polymer products
7.
Use of sold product e.g. aviation fuel and biodiesel
8.
End-of-life treatment of sold product: Polymer products
9.
Investment
The GC Greenhouse Gas Report related to direct GHG emissions and energy indirect GHG emissions and other indirect GHG emissions are assurance by the third party verification in accordance with the ISO 14064-1.
Through the outstanding implantation of GHG reduction programs, GC can continuously reduce GHG emissions and intensity as follows
Greenhouse Gas Emissions (Scope 1 & 2)
Performance
2018
2019
2020
2021
Greenhouse gas emissions
(million tons CO2 equivalent)
7.6
7.8
7.8
9.0
2021 Target
Greenhouse gas emissions
≤
million tons CO2 equivalent
Greenhouse Gas Emissions Intensity (Scope 1 & 2)
Performance
2018
2019
2020
2021
Greenhouse gas emissions intensity
(kg CO2 equivalent per ton production)
305.0
317.1
313.8
351.6
Remarks:
The above data are estimates of greenhouse gas emissions. GC is currently in the process of verification and application for ISO14064-1 certification, which will be finalized in May 2021.
2021 Target
Greenhouse gas emissions intensity
≤
kg CO2 equivalent per ton production