Climate Change Strategy and Target
Material Topics
Climate Strategy and Energy Management
Impact Level
Very High
Stakeholders
Investor
Customer
Public Sector
Employee
Supplier and
Business Partner
Target to reduce greenhouse gas emissions
(scope 1 and 2) by
within 2030
Achieve net zero emissions (scope 1 and 2) by 2050.
Halve scope 3 emissions by 2050.
Challenges and Opportunities
Climate change remains one of the top priorities for both the global community and GC as it can potentially disrupt business due to physical impacts, such as floods and droughts, raw material shortage, change in consumer behavior, and international trade barriers. Additionally, awareness about the effort to cap the global temperature rise at 1.5 oC has increased as a result of the laws, rules and regulations stipulated by the government to require the engagement of each sector in implementing the agreements from the 26th Session of the United Nations Convention on Climate Change (COP26). This, nonetheless, may cause production costs to soar and hinder GC's business growth opportunity in the long run.
Management Approach GRI 3-3 (2021)
Climate Strategy
GC has established both short-term and long-term strategies for energy management and climate change in accordance with the Task Force on Climate-related Financial Disclosures (TCFD).
Our climate change action plan focuses on enhancing the production process, energy management and energy conservation to achieve optimal efficiency. We also consider the possibility of utilizing alternative energy to uplift our performance in greenhouse gas reduction while planning to expand the scope of operations to incorporate scope 3 value chain emissions.
1) Efficiency-Driven: Enhance process efficiency to optimize resource and energy consumption.
2) Portfolio-Driven: Adjust long-term business structure towards low-carbon business while preserving the company's growth.
3) Compensation-Driven: Adopt nature-based solutions and explore technology for carbon absorption to support operations and achieve established goals with maximum efficiency.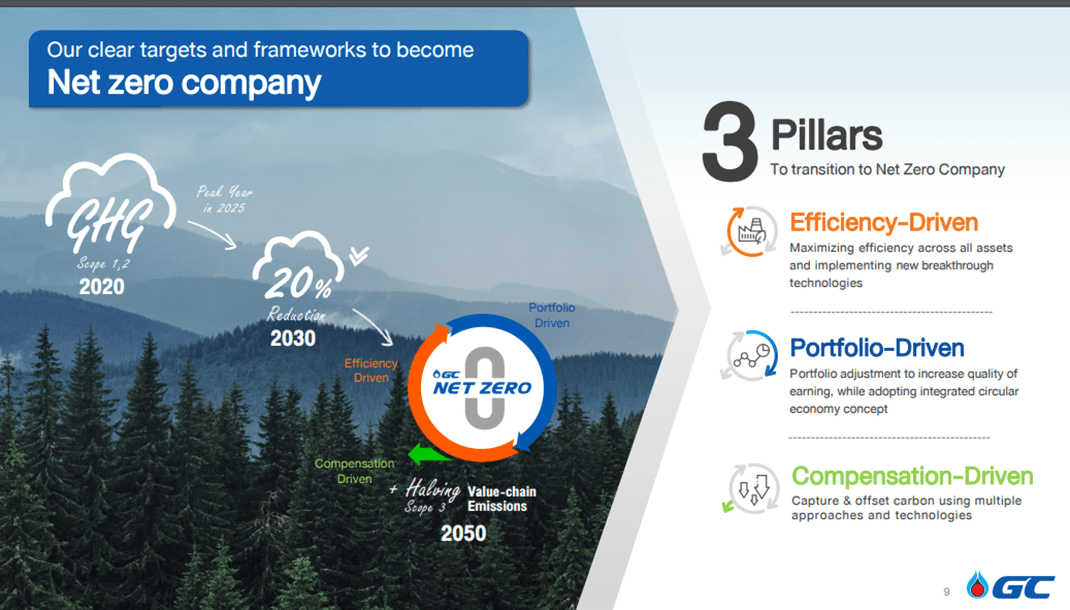 More information of GC's Decarbonization Pathways is available at Net Zero
GC has defined unequivocal management guidelines and medium-term goal to cut down greenhouse gas emissions by 20% within 2030. This is part of the process towards achieving net-zero emissions in 2050 and is in line with the Paris Agreement. Accordingly, GC supports and encourages customers and suppliers to participate in the endeavor to accomplish such a goal. Moreover, the company is committed to conducting business through cooperation and engagement with various organizations around the world to maximize operational efficiency. GC has incorporated stakeholder engagement into the low carbon pathway framework as it coincides with the goals of the Paris Agreement and can also stimulate the accomplishment of the low-carbon business goal.
GC has set climate-related targets and Key Performance Indicators (KPI) to monitor GC's performance and support global ambition to reduce effect caused by climate change. Hence, GC's climate-related target has set in accordance with national and global targets, for instance, Thailand's Nationally Determined Contribution (NDC), Paris Agreement in the 26th Sessions of the Conference of the Parties to the United Nations Framework Convention on Climate Change (COP26) and Sustainability Development Goals (SDGs), which emphasis on reducing greenhouse gas emission from its operations by enhancing energy efficiency and encouraging alternative energy. These are aligned with the Sustainable Development Goal 7: Affordable and Clean Energy (SDG 7), and Sustainable Development Goal 13: Climate Action (SDG 13) of the United Nations, as well as Carbon Disclosure Project (CDP).
(UN SDG 7: Affordable and Clean Energy)
(UN SDG 13: Climate Action)
To achieve the mentioned target, GC has analyzed internal and external risk factors, which may affect the business operation in both short-term and long-term. Additionally, GC monitors the Emerging Risks from the Early Warning System to identify climate change risks that may cause widely impacts on GC and/or industry over the next three to five years. Therefore, GC has established risk and crisis management approaches to manage risk within an acceptable limit in response to GC's Climate Change Strategy.
Climate-related Performance
GRI 305-1 (2016,) GRI 305-2 (2016), GRI 305-3 (2016), GRI 305-4 (2016), GRI 305-5 (2016)
Organizational Greenhouse Gas Inventory
GC has established organizational greenhouse gas inventory based on ISO 14064-1:2018, the Greenhouse Gas Protocol, American Petroleum Institute (API 2009), Intergovernmental Panel on Climate Change (IPCC) 2006 and Thailand Greenhouse Gas Management Organization (Public Organization)/TGO in order to use serve as a greenhouse gas management guideline and to regularly report organizational greenhouse gas emission. The company has also adopted the recommendations of the Task Force on Climate-related Financial Disclosures (TCFD) in performing financial and non-financial assessments as well as in responding to the Climate Change Questionnaire conducted by the globally recognized sustainability assessment institute, CDP Climate Change.
Furthermore, GC has collected greenhouse gas emissions data from other related activities (scope 3) according to the Technical Guidance for Calculating Scope 3 Emissions of the GHG Protocol. This leads to the management of greenhouse gas emissions throughout the supply chain. GC has evaluated 9 activities, and other related activities within Scope 3 of greenhouse gas emissions from below nine categories.
Greenhouse Gas Emissions (Scope 3)
Activity
Emission
(tons CO2 equivalent)
1. Purchased Goods and Services
5,642,268
2. Capital Goods
46,032
3. Fuel and Energy Related Activities
978,957
4. Upstream Transportation and Distribution
540,983
5. Downstream Transportation and Distribution
22,314
6. Processing of Sold Products
2,475,156
7. Use of Sold Products
22,798,563
8. End-of-life Treatment of Sold Products
990,880
9. Investments
1,808,187
The GC Greenhouse Gas Report related to direct GHG emissions and energy indirect GHG emissions and other indirect GHG emissions are assurance by the third party verification in accordance with the ISO 14064-1.
Internal Carbon Pricing
GC has applied the Internal Carbon Price (ICP) mechanism to assess the impact of carbon on our projects. This is used to support our investment decision by ensuring that projects that GC invests in can generate returns according to established goals in the long run. The ICP is implemented together with the Marginal Abatement Costs Curve (MACC) to make investment decisions on greenhouse gas reduction projects and assist GC in accomplishing the Net Zero Target by 2050. Furthermore, GC also implements internal carbon pricing for various purposes. Highlight projects include:
Evaluation of the project on CO2 pipeline installation from Ethylene Glycol plant to customers
Pushing for low-carbon projects which are applied as the shadow price in making investment decisions on solar and wind power projects
Establishment of an ad hoc task force to coordinate with PTT Group to develop and support the use of internal carbon prices among organizations
Through the outstanding implantation of GHG reduction programs, GC can continuously reduce GHG emissions and intensity as follows;
Greenhouse Gas Emissions (Scope 1 & 2)
Performance
2019
2020
2021
2022
Greenhouse gas emissions
(million tons CO2 equivalent)
7.8
7.8
9.0
8.6
2022 Target
Greenhouse gas emissions
≤
million tons CO2 equivalent
Greenhouse Gas Emissions Intensity (Scope 1 & 2)
Performance
2019
2020
2021
2022
Greenhouse gas emissions intensity
(kg CO2 equivalent per ton production)
380.0
378.0
415.0
437.0
2022 Target
Greenhouse gas emissions intensity
≤
kg CO2 equivalent per ton production
More information on other highlight projects of climate change is available in GC Integrated Sustainability Report 2022, such as
Decarbonization Pathway: Achieving net-zero emissions goal.
PDH Optimization Model: Improving production process efficiency and reducing carbon dioxide emissions.
Floating Solar: Collaborating with Global Power Synergy Public Company Limited (GPSC) to generate electricity for the company's operations from Floating Solar panels.
Reduce Water Injection at Oxidation Unit: Improving the production system to reduce costs and wastewater generated from production processes.