GC has collaborated with all sectors throughout the value chain to scale its success and link with new businesses in order to integrate its business objective. As this help strengthen business responsibility, it also help create a business ecosystem that seeks to optimizing resource utilization, reducing waste, and transforming waste into value added products. As such, projects under the 'Loop Connecting' theme are explained below.
YOUTURN Platform
The YOUTURN Platform is an end-to-end used plastic management system which supports the process of loop connecting (Ecosystem) through cooperation with inking all sectors along the supply chain to systematically collect the used plastic for recycling in accordance with the Circular Economy principles. Physical drop points and digital drop points have been established to collect the used plastic bottles in more than 120 key locations to support the circular system returning the used plastic back into the system to recycle or upcycle the plastic as a new and high-value added product, which is reusable. GC is in the process of developing a mobile application to support the use of the digital drop points. In 2021, YOUTURN project collected the hard and the stretchy plastic for 343,148.34 and 96,744 kilograms, respectively. This can reduce GHG emission for 1,034 tons CO2 equivalent.
Additionally, under YOUTURN Platform, GC has established waste management model at Wat Chak Luk Ya Community, which is the first end-to-end waste management model in Rayong province. It has collected more than 50,000 kilograms of recyclable waste per year, as well as promoted employment for the community while generating over 440,000 baht per year from the social enterprise. There are also further plans to extend the success of this project to other communities.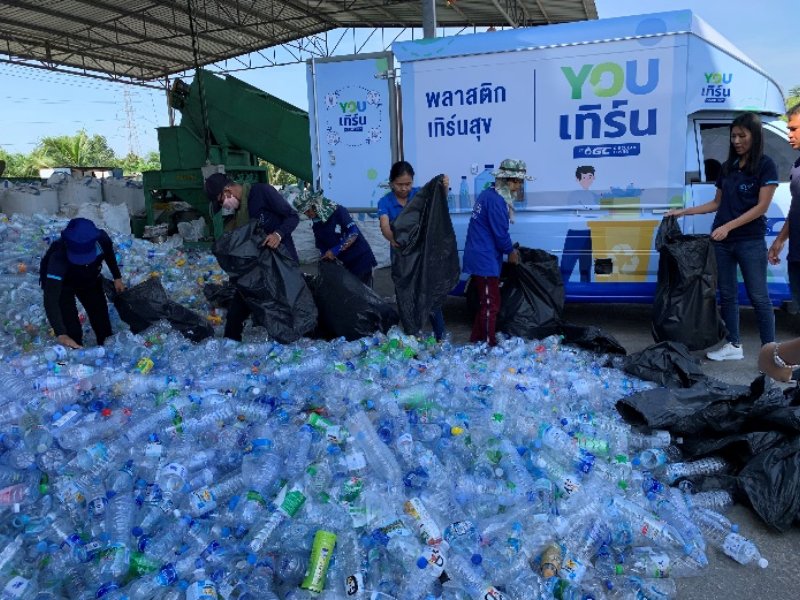 Sustainably Public Private Partnership for Sustainable Plastic and Waste Management: PPP Plastic
The company collaborates with the governments, private sectors and communities, help to manage the issue with waste and promote the use of plastics sustainably according to the Circular Economy concept. While having the goal to reduce the quantity of plastic waste in Thai seas at least 50% within 2027, based on sustainable waste management.
GC strives to reduce the volume of plastic wastes with the development of plastics that is easy-to-recycle, durable, and safe, including development of biodegradable plastics, which is environmentally friendly to substitute the single-use plastic. This will enhance the reusability rate of plastics and support the recycling process of transforming plastic waste into new product. More than 750 tons of plastic waste has been managed under this project.
generate revenue for Rayong communities over
million THB
Our Khung BangKachao
GC has applied the circular economy principle in its conversation project in Khung Bang Kachao, in order to reduce waste as well as promote responsible consumption from reduce waste at the source. The project have used PET bottles to remanufacture polyester threads which is then cut into robes for monks at Chak Daeng Temple in Khung Bang Kachao. Moreover, in 2021 GC has conducted Bottle Separation to Fight Covid Crisis project to transform plastic waste to fabric that will be tailored to PPE. These PPE were given to temple, Saleng, and garbage collector, with total 8,000 PPE clothes. The project further transforms the plastic bottle into other types of fabric e.g., monk's robes, blanket, Thai-style woven silk, shoes, etc. The project can utilize the fabric to produce monk's 86 robes, and 6,500 blankets. Moreover, this project has utilized organic waste as a raw materials to make Baijak Organic Fertilizer, which can produce and distribute over 50,000 kilograms. This project can generate revenue from all of product for 2,863,762 baht. Not only did the PET reprocessing thread provided utility value and systematic model of organic waste management that enable producing high quality fertilizer, but it also creates work and source of income for the local communities.
ThinkCycle Bank Project
GC continuously implements the ThinkCycle Bank project in order to transform waste into valuable materials in the economy. Using the online recycling bank, GC strives to tackle the waste problem at its source, hence builds understanding on waste separation, reusing waste according to the Circular Economy in additional to creating a network for waste separation from households to provincial level. Presently, helping to create awareness about waste in youth communities, educating about waste management to maximize its benefits and providing opportunities for youths to participate and earn income from recycling wastes. Throughout implementation of this project, the total youth participating in this project is 10,000 people from 21 academic institutions. In 2021, the project collected and returned the plastic waste back into the circular system for total 11,427 kilograms, which capable of generating total income for the participated schools for 28,797 bath.