YOUTURN: Turning plastic waste into valuable products
Turning plastic waste into valuable products. Easily drop-off plastic waste at any YOUTURN drop points for clean plastic.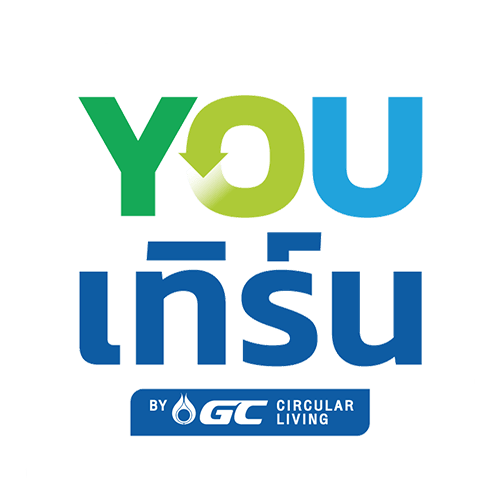 'YOUTURN PLATFORM' is a plastic waste management platform that opens up opportunities for everyone to comprehensively create value from plastic waste together. With the "YOUTURN– starts from you" concept, GC, in collaboration with civil sector organizations, is helping to make it easier for people to bring plastic waste to YOUTURN's Physical and Digital Drop-off Points for sorting and transport to ENVICCO, GC's world-class recycling plants or the standardized recycling plants of its partners. As a result of the project, plastic waste is being recycled and upcycled, transformed into value-added products.
In addition, the platform also uses a digital solution to collect plastic waste management data including the type of plastic waste and the amount of plastic waste collected into the recycling process that is transformed into new products. This will help in expanding its use with the key goal being to reduce greenhouse gas emissions and decreasing the impacts that cause global warming and climate change.


Total Weight of Plastic Waste Collected
(Ton)
Total Green House Gas Reduction
(Ton Co2e)
*
Equals the Numbers of Big Trees
**
As of September 2020 – December 2022
หมายเหตุ
* ปริมาณการลดการนำพลาสติกไปรีไซเคิลและอัพไซเคิล 604 ตัน เทียบเท่ากับการลดก๊าซเรือนกระจกประมาณ 733 ตันคาร์บอนไดออกไซด์เทียบเท่า (คำนวณด้วยวิธี LESS และ T-VER จากTGO Guideline)
** ปริมาณต้นไม้ใหญ่อายุ 10 ปี ดูดซับก๊าซได้ในเวลา 1 ปี (Care the Bear)
The YOUTURN Platform has both Physical and Digital Drop Points for PET plastic, such as clear plastic bottles and HDPE plastic, such as translucent plastic bottles, allowing people to collect points to win prizes. In the near future, the platform will use mobile application to support the expansion of plastic waste collection and separation from the source providing more convenience.
YOUTURN PLATFORM
The Platform Includes Four Processes: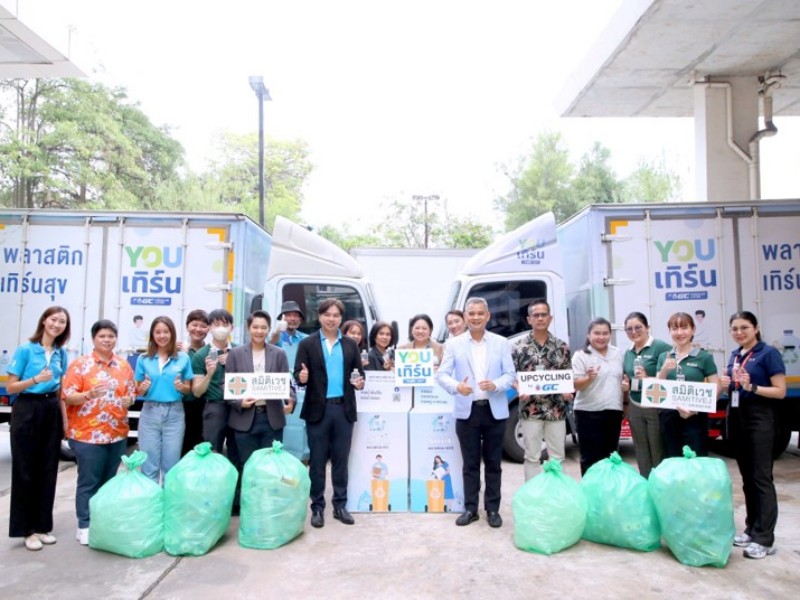 Taking recyclable waste, especially from target groups, such as the public, organizations and business partners, to the platform's Physical and Digital Drop Points or other drop points included in GC's other Circular Economy projects, and then transferring the accumulated plastic waste from GC's YOUTURN sorting center and its network ensuring that it is properly separated and recycled.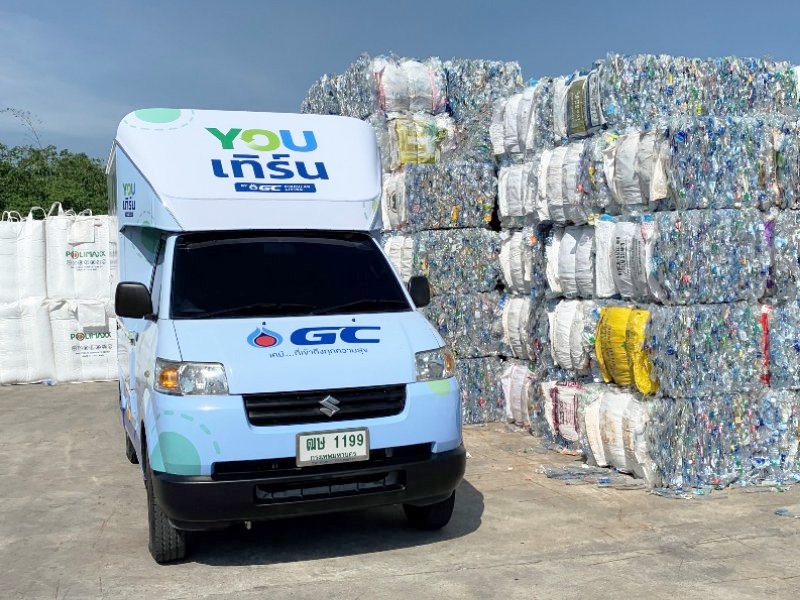 plastic waste sorting center which belongs to GC Network is responsible for properly separating the waste and its transfer to the partner's recycling plants – who are experienced in managing many types of plastic. Both PET and HDPE plastics will be sent to ENVICCO, GC's recycling plastic plant.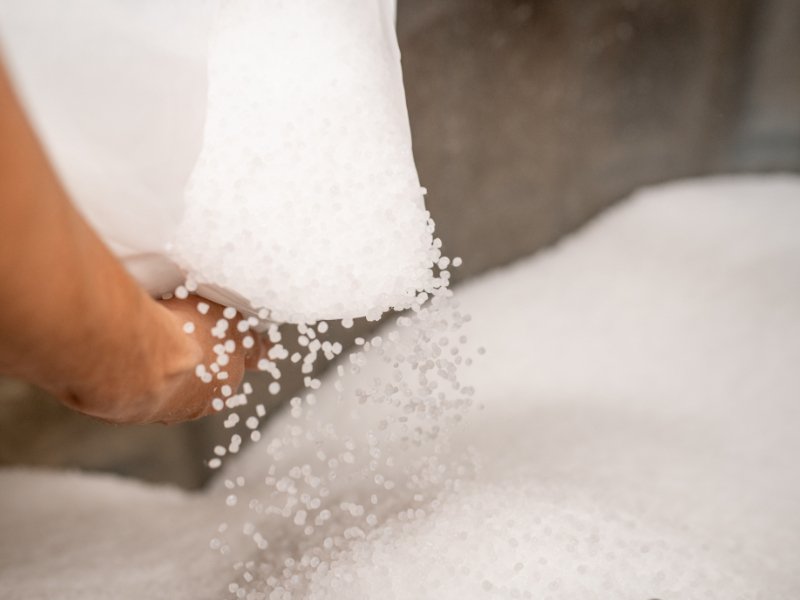 3
Turning into Recycled Plastic Resins
Recycled plastic resins and other materials can be 'value-added' and produced into different types of products through the upcycling process. Furthermore, greenhouse gas reductions that curtail global warming and climate change can be measured based on the total amount of waste collected through the platform.
4
Data collection via a digital system
Every step of the waste management process is monitored digitally through a data collection process allowing for traceability and data programming on recycling for brand owners.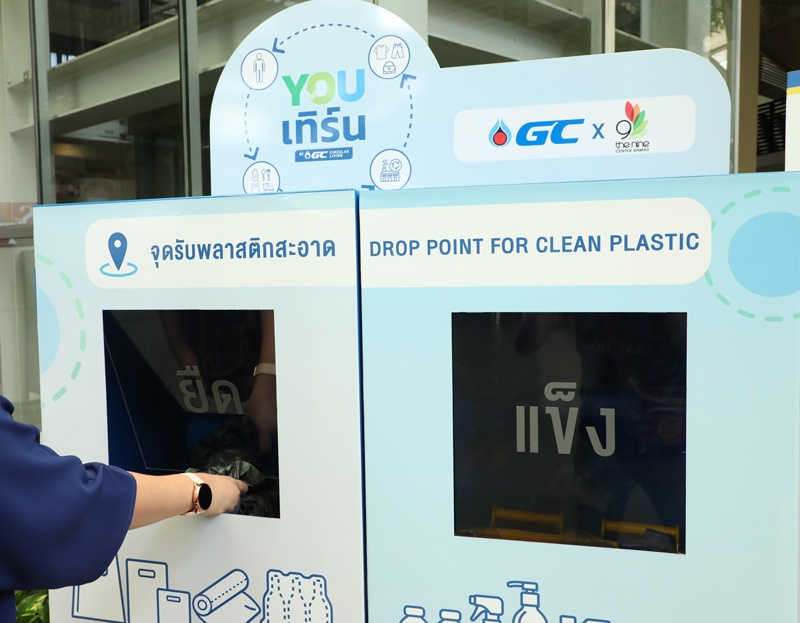 Over the years, GC has continued to be a role model in sustainability by balancing the economy, society and environment (2E1S). GC has applied the Circular Economy principles by 'connecting loops' or building partnerships to connect all parties in the process.
GC and its partners, including the public and private sectors, have installed YOUTURN Drop Points to allow the broader public to access the platform. Both GC and PTT Oil and Retail (PTTOR), joined together to initiate the 'Plastic Reborn' project at the beginning of 2021.
In addition, GC also joined with other organizations, including Muang Thai Life Assurance Public Company Limited and the Stock Exchange of Thailand, to apply the You Turn Platform to manage plastic waste and place the platform's Digital Drop Points in their office buildings.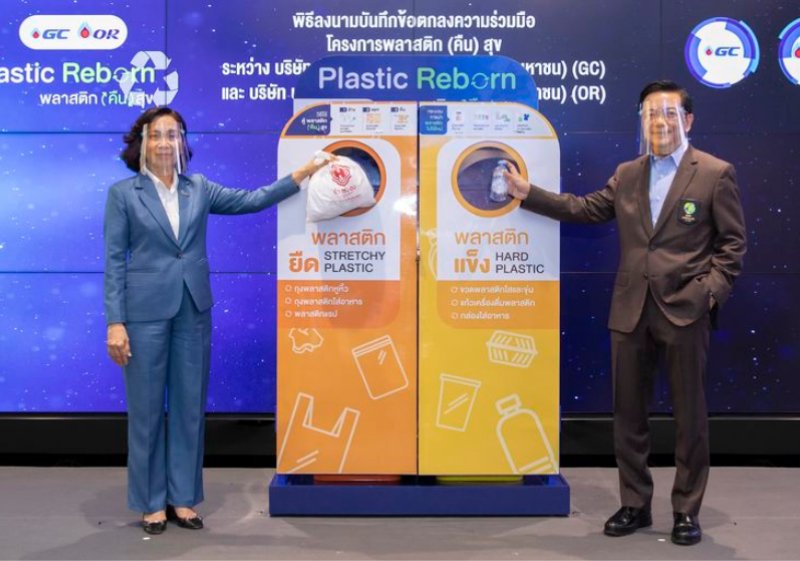 Going beyond the private sector, the platform is also partnering with the public sector and academic institutions. Mahidol University and Dhurakij Pundit University placed YOUTURN Drop Points on their campuses to collect plastic waste from students and staff. Suranaree University of Technology signed an agreement to apply the YOUTURN Platform to manage plastic waste at the university. This is a part of a study project on "Plastic waste management and adding value to contaminated plastic waste: sorting formats and management at the source." In the future, the YOUTURN Platform will be closer to everyone through GC's commitment to create alliances in all industries to jointly manage plastic waste and reduce greenhouse gas emissions and global warming together.
The YOUTURN platform is a solution to plastic waste. Recently, the YOUTURN platform joined with the Less Plastic site to support the "Sorting plastic bottles to help doctors" project, which takes used plastic bottles from YOUTURN Drop Points and its partners to recycling plants to be sewn into PPE Level 2 suits. The suits have a hydrostatic pressure barrier allowing them to be cleaned and reused up to 20 times. The suits will be presented to medical professionals to prevent COVID-19 reflecting how the YOUTURN platform can address both environmental stewardship while responding quickly to help society in a time of crisis.
The platform will continually expand its partnerships with the goal of more efficient plastic waste management leading to a concrete and sustainable Circular Economy approach. GC continues to focus on building collaborations with all sectors.
#YOUเทิร์นเริ่มต้นที่ยู #EndtoEndWaste #ไลฟ์สไตล์เปลี่ยนโลก #GCCircularLiving
โครงการพลาสติก (คืน) สุข
ความร่วมมือระหว่าง บริษัท พีทีที โกลบอล เคมิคอล จำกัด (มหาชน) หรือ GC และบริษัท ปตท. น้ำมันและการค้าปลีก จำกัด (มหาชน) หรือ OR ดำเนินการบริหารจัดการพลาสติกใช้แล้วภายใน PTT Station โดยเริ่มต้นนำร่องภายในเขตกรุงเทพฯ ปริมลฑล และจังหวัดระยอง กว่า 27 สถานี และมีแผนขยายไปสู่ PTT Station ทั่วประเทศ ผ่านการติดตั้งจุดรับพลาสติกใช้แล้วสะอาด (Drop Point ) พลาสติกแข็ง เช่น ขวดพลาสติกใสและขุ่น แก้วพลาสติก และกล่องใส่อาหาร และพลาสติกยืด เช่น ถุงหูหิ้ว ถุงใส่อาหาร และพลาสติกแรป จากผู้บริโภค ดำเนินการเข้ารับพลาสติกใช้แล้วเพื่อนำกลับเข้าสู่กระบวนการรีไซเคิล หรือ อัพไซเคิล หมุนเวียนเป็นผลิตภัณฑ์ใหม่ที่มีมูลค่าสูงมากขึ้น
ความร่วมมือระหว่าง บริษัท พีทีที โกลบอล เคมิคอล จำกัด (มหาชน) หรือ GC และบริษัท ปตท. น้ำมันและการค้าปลีก จำกัด (มหาชน) หรือ OR ดำเนินการบริหารจัดการพลาสติกใช้แล้วภายใน PTT Station โดยเริ่มต้นนำร่องภายในเขตกรุงเทพฯ ปริมลฑล และจังหวัดระยอง กว่า 27 สถานี และมีแผนขยายไปสู่ PTT Station ทั่วประเทศ ผ่านการติดตั้งจุดรับพลาสติกใช้แล้วสะอาด (Drop Point ) พลาสติกแข็ง เช่น ขวดพลาสติกใสและขุ่น แก้วพลาสติก และกล่องใส่อาหาร และพลาสติกยืด เช่น ถุงหูหิ้ว ถุงใส่อาหาร และพลาสติกแรป จากผู้บริโภค ดำเนินการเข้ารับพลาสติกใช้แล้วเพื่อนำกลับเข้าสู่กระบวนการรีไซเคิล หรือ อัพไซเคิล หมุนเวียนเป็นผลิตภัณฑ์ใหม่ที่มีมูลค่าสูงมากขึ้น
ระยะเวลาโครงการ: ธันวาคม 2563 – ปัจจุบัน
โครงการพลาสติก (คืน) สุข
ความร่วมมือระหว่าง บริษัท พีทีที โกลบอล เคมิคอล จำกัด (มหาชน) หรือ GC และบริษัท ปตท. น้ำมันและการค้าปลีก จำกัด (มหาชน) หรือ OR ดำเนินการบริหารจัดการพลาสติกใช้แล้วภายใน PTT Station โดยเริ่มต้นนำร่องภายในเขตกรุงเทพฯ ปริมลฑล และจังหวัดระยอง กว่า 27 สถานี และมีแผนขยายไปสู่ PTT Station ทั่วประเทศ ผ่านการติดตั้งจุดรับพลาสติกใช้แล้วสะอาด (Drop Point ) พลาสติกแข็ง เช่น ขวดพลาสติกใสและขุ่น แก้วพลาสติก และกล่องใส่อาหาร และพลาสติกยืด เช่น ถุงหูหิ้ว ถุงใส่อาหาร และพลาสติกแรป จากผู้บริโภค ดำเนินการเข้ารับพลาสติกใช้แล้วเพื่อนำกลับเข้าสู่กระบวนการรีไซเคิล หรือ อัพไซเคิล หมุนเวียนเป็นผลิตภัณฑ์ใหม่ที่มีมูลค่าสูงมากขึ้น
ระยะเวลาโครงการ: ธันวาคม 2563 – ปัจจุบัน
Easily drop-off and sort plastic waste at any YOUTURN Drop Point or Drop Point for Clean Plastic.
YOUTURN Drop Points or Drop Point for Clean Plastic are available at the following locations:
PTT Stations 18 branches (in collaboration with the 'Plastic Reborn' project)
MBK Center, G floor
Paradise Park, 1st floor
Paradise Place, 2nd floor
The Nine Center, Rama IV, 1st floor
The Nine Center, Tiwanon, 1st floor
The platform is collaborating with partners to expand drop points covering more areas of Bangkok and the surrounding provinces so everyone can easily drop-off their plastic waste.
Find your nearest YOUTURN Drop Point and recycle your plastic waste with us.
Follow Us on
Contact Us YOUTURN@PTTGCGROUP.COM
*The Digital Drop Point is currently only available at the Customer Solutions Center, Energy Complex, Building A, 1st floor and PTT Global Chemical Public Company Limited, Branch 1, Rayong province (the canteen)