GC has drawn up a career path and launched the Learning and Development Programs for all employees by determining the functional and leadership competencies necessary for each job position and each working level in order to develop their capability to correspond to the company's goals and human resource development strategy. GC has also established a Succession Plan to select an appropriate replacement, who possesses necessary qualifications and is a role model in corporate culture, for each job position.
Moreover, GC provides many learning and development projects such as Leadership Excellence Project, Leadership Development Program II (LDP 2), Data Science and Engineering Program Project, Change Agent's Young Blood (CAYB) Project and Productivity Improvement and Innovative Creation Training by Learning Concept of Chemical Engineering Practice School (Pi-ChEPS) Program
Leadership Excellence
With a firm belief that Leadership Excellence contributes to the strengthening of employee efficiency, helping them to deliver an above-target performance, GC, thus, conducts the Leadership Excellence Project regularly since 2012.
Leadership Development Program II: LDP 2
Leadership Development Program II (LDP 2) is for Vice Presidents (VPs) to learn the effective way to build teams, accelerate change, manage networks and maximize their executive presence. GC believes that executives in business leadership positions must develop compelling visions and strategies, lead multi-specialty teams, influence others – internally and externally, and be role models within their departments/functions. After the end of program, VPs are to demonstrate their knowledge learnt through actual practice through initiating either cost saving or revenue gain to the company by implementing Max Infinity Project.
Data Science and Engineering Program Level 2
GC has collaborated with Vidyasirimedhi Institute of Science and Technology (VISTEC) for 3 years to develop the Data Science and Engineering Program. The program aims to empower employees with knowledge that can be applied to enhance their work performance through capacity development in data analysis and management of existing corporate data, together with the application of digital technology to support the company's research and development. There have been over 200 employees since 2019. In 2020, 40 participants have jointed the program. A total of 11 use-cases had the potential to be put into leading practice and further implemented, for example, Ethylene Glycol Reactor Optimization by using Data Analytics, Advanced Analytic and Optimization for Ethylene plant, etc. These projects yield a revenue of 100 million baht per year, representing a training return on investment of 22 percent.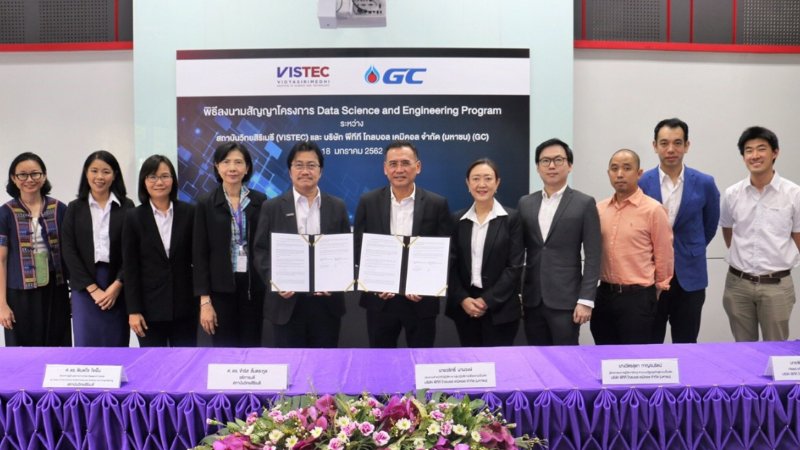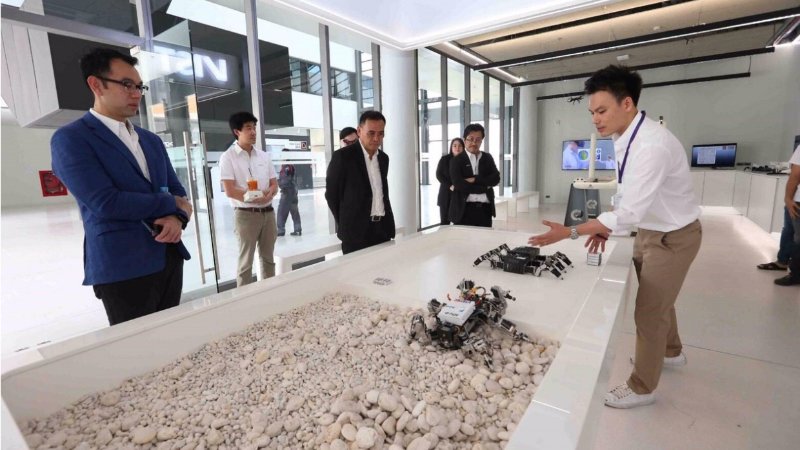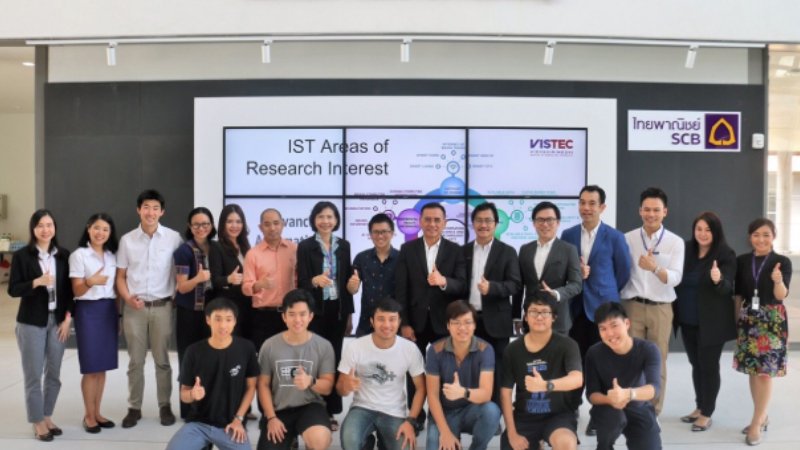 Change Agent's Young Blood (CAYB) Project
GC has organized the CAYB project to develop pioneer employees to drive the organization toward digital transformation. In the past year, 98 employees from 22 functions have volunteered as a pioneer group. The project was carried out in two phases, including Upskilling and Executing missions. GC intends to develop for skills to its employees, including design thinking, facilitation, data analytics foundations, and data governance foundations skills. Three missions comprise of hosting a Hackathon, applying advanced analytical skills and communicating digital transformation policies and activities to colleagues.
Not only did the project help develop participants' skills, but it also brought about the success of the organization's digital transformation activities. In the past year, 40 projects, which were stemmed from the hackathon of the CAYB project, had entered in the GC Tank competition. Outstanding performance included the development of the dashboard on the Power BI system based on initial data analysis. The project was expected to generate more than 80 million baht for GC. Employees have shown satisfaction towards the project with an average rate at 82.75%.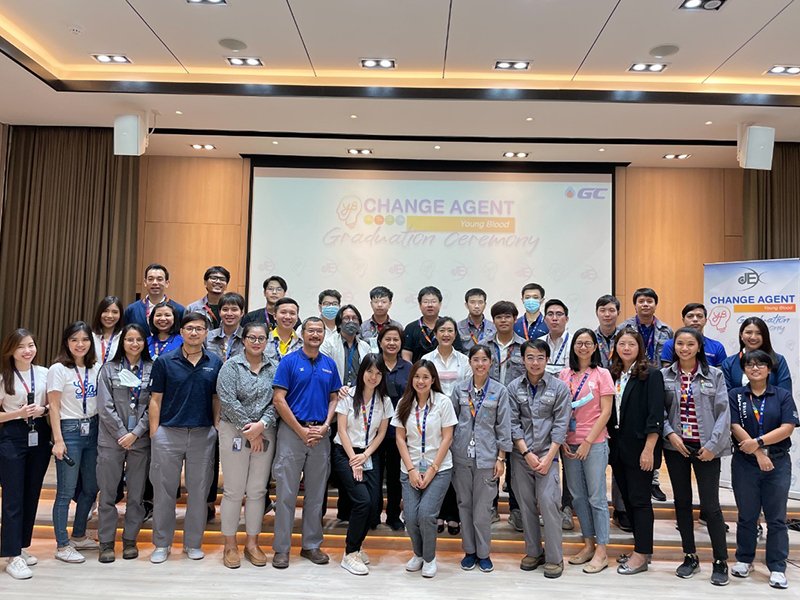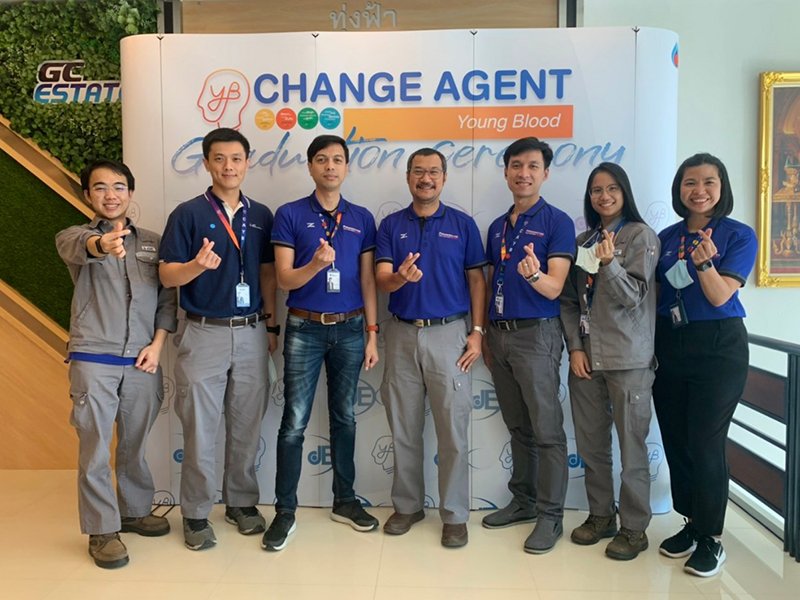 Productivity Improvement and Innovative Creation Training by Learning Concept of Chemical Engineering Practice School (Pi-ChEPS) Program
Practice School (PI-ChEPS) Program The PI-ChEPS program is designed to give GC employees knowledge about chemical engineering plus the ability to use it for practical applications. Part of our company's goal of being a learning organization, the program offers skills and processes for life-long learning.
The PI-ChEP learning process is based on a three-part constructionism concept
The first concept is learning and thinking skills such as meditation, MicroWorlds, the GOGO Board, information searching, English, and mathematics.
The second concept is technical skills for chemical engineering such as process science & calculation, mass & energy balance, fluid transport, heat transfer, unit operation, and measurement & control.
The third concept is project-based learning from problems in plant operations that can improve skills in planning, analysis, and presentation by doing individual and group projects.
Since 2013, PI-ChEPS program has been implemented by applying knowledge from this program to create many projects that have been successfully implemented and can save production costs for the company continuously. In 2020, The training ROI of PI-ChEPS was 486.90 percent.
GC determines the business benefits of our investments in employee development programs by applying a third-party methodology, which is Kirkpatrick Model & Phillips ROI Methodology to measure the return on investment for training programs. It takes into account any style of training to determine aptitude based on four levels, including 1) Reaction, 2) Learning, 3) Behavior, and 4) Results. The program in 4th level of the Kirkpatrick Model are calculated Training ROI by using the Phillips ROI Methodology have four phases are 1) Evaluation Planning to develop evaluation plans and baseline data, 2) Data Collection, 3) Data Analysis to isolate the benefit of programs and covert to monetary value for using for ROI calculation, and 4) Reporting to develop report and communicate results. The Training ROI is calculated using the project benefits and costs.
The example of program that we calculate Training ROI is PI-ChEPS Program
Training ROI is PI-ChEPS Program
(%)
Additionally, due to the COVID-19 pandemic situation in the previous year, GC has implemented the policies and various programs to support the employees' health and well-being and develop employee capability.
Digital technology was also applied to enhance employee skills while working from home, such as providing employee trainings while maintaining social distance through the Learning Management System (LMS), which is an online platform that encourages necessary skills development for employee operations. In the past year, GC has organized trainings for its employees on the topics of GC Voxy English, Application of MS Teams, and cybersecurity standard.
According to our leaning and development programs, GC illustrates the employee development performance in 2020 in the figure below.
Employee Development Performance
Types of Training
Type of Training
Percentage (%)
Average Training Hours
(Hour/Person/Year)
Average Amount Spent on Training
(Baht/Person/Year)
Technical
17
57.6
15,648.14
Leadership
11
11.8
15,648.14
Occupational Health and Safety
53
9.6
14,799.41
Support for business for expansion
19
28.8
299,673.73
Average Training Hours
Gender
Hour/Person/Year
Average Amount Spent on Training
(Baht/Person/Year)
Female
38
14,756
Male
55
Overall
93
Average Training Hours
46.18
Investment in Employee Training
136 million baht