GC has drawn up a career path and launched the Learning and Development Programs for all employees by determining the functional and leadership competencies necessary for each job position and each working level in order to develop their capability to correspond to the company's goals and human resource development strategy. GC has also established a Succession Plan to select an appropriate replacement, who possesses necessary qualifications and is a role model in corporate culture, for each job position.
Moreover, GC provides many learning and development projects such as Global Leadership Acceleration Program (G-LAP), Data DIY by Alteryx, dEX | SPARK - Data Science and Engineering Program Project, Productivity Improvement and Innovative Creation Training by Learning Concept of Chemical Engineering Practice School (Pi-ChEPS) Program), and GC Group Talent Project.
Global Leadership Acceleration Program (G-LAP)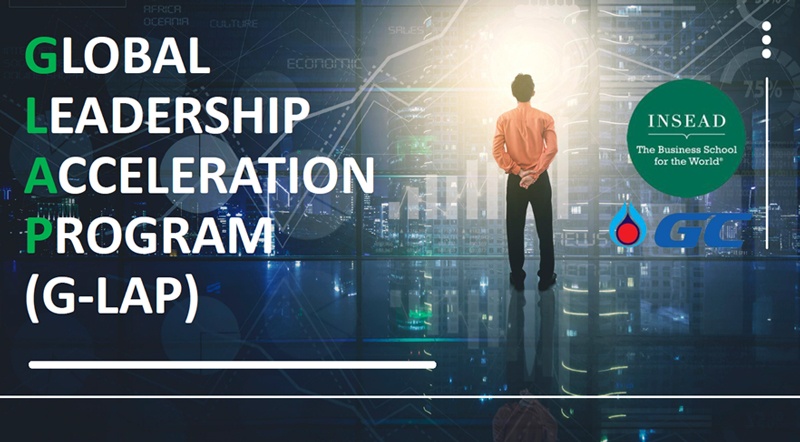 The Global Leadership Acceleration Program (G-LAP) is a development program for employees at the Vice President (VP)level to develop entrepreneurial management attitudes, promote business acumen, and develop leadership skills by making case studies of the company's operational problems. Upon participating in the program, employees were allowed to develop, improve, and create solutions with close mentoring from senior executives. Additionally, business experts from INSEAD, one of the world's top-ranking universities in business studies, aided in reviewing, analyzing, and providing detailed feedback on the solutions.
Description of program objective/business benefits
To accelerate employee capacity development at the VP level in order to instill a mindset and analytical thinking skills that are up to date; create understanding and awareness of current and future market demands and changes; and prepare to advance to a higher leadership level and fill vacancies, if necessary.
To ensure the alignment of solutions with the company's strategies as well as their practical execution under the recommendation of senior executives and business experts from INSEAD
Quantitative Impact of Business Benefits
1. Employees who participated in the program can substitute for a higher position level, reducing the company's personnel outsourcing costs by 3 million baht per year.
FTE participating in the program
0.39%
Data DIY by Alteryx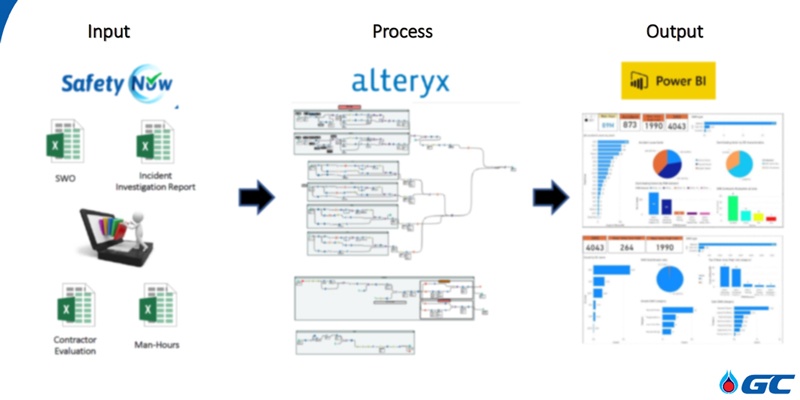 "Data DIY by Alteryx" focuses on the application of the Alteryx software, an easy-to-use advanced data processing technology that has gained widespread popularity, to support greater efficiency in the work process through trainings for employees in various lines of work by qualified lecturers who offer advice and guidelines for usage.
Examples of Alteryx implementation include the creation of an initial filtering and preparation system for data on safety and environment performance throughout the organization, the development of an in-depth customer behavior analysis system, and the enhancement of reporting and cost estimation system for Project Management Offices (PMO), etc.
Description of program objective/business benefits
Employees are adept at implementing Alteryx in data preparation and blending to enhance the organization's work process efficiency.
Learn how to build a predictive model using Alteryx and understand techniques used in data analysis process to gain knowledge of the current business situation.
Learn how to create and use Macro and other applications in Alteryx to understand how they can be used to improve workflow and enhance operational efficiency.
Able to create use cases freely.
Quantitative Impact of Business Benefits
Employees who participated in the program can efficiently implement Alteryx, reducing the company's overall operating costs by 29 million baht per year.
FTE participating in the program
0.78%
GC has been engaged in collaboration with True Digital Academy since 2021 to develop and organize the Data Science and Engineering Program for employees. The knowledge acquired from the course can be applied to enhance GC's data analysis and management capabilities. Meanwhile, digital technology can also support the company's research and development operations. In 2021-2022, the program welcomed over 1,700 participants. Consequently, there are 15 projects that are viable for actual practice, for example, "Electrical Reliability Machine Learning & Predictive Analytic" which entails the development of a prediction model that uses relevant data from each failure mode of the equipment in the Electrical Power Switchgear system to evaluate and connect reliability and health index, and enable the planning of equipment maintenance decisions in order to consider risk & cost; and "Machine Learning Model (With Natural Language Processing (NLP)" which verifies and categorizes events into no-risk, low-risk, high-risk and factory incidents.
Details of revenue and cost-saving as a result of the Data Science and Engineering Program are as follows:
Cost Reduction
14.43 million THB*
*Latest estimate in Stage IL2 of Idea MAN system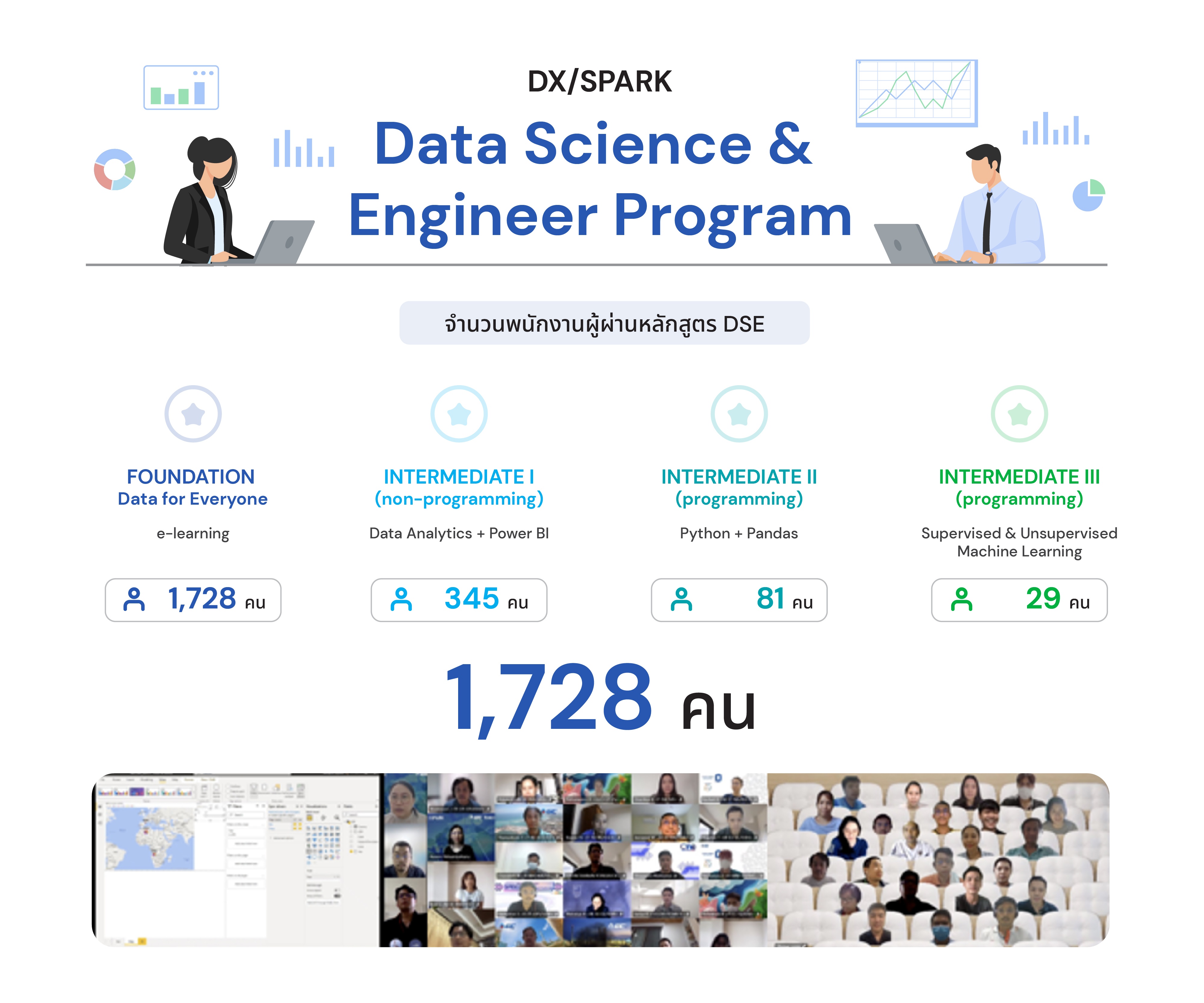 Productivity Improvement and Innovative Creation Training by Learning Concept of Chemical Engineering Practice School (Pi-ChEPS) Program
Practice School (PI-ChEPS) Program The PI-ChEPS program is designed to give GC employees knowledge about chemical engineering plus the ability to use it for practical applications. Part of our company's goal of being a learning organization, the program offers skills and processes for life-long learning.
The PI-ChEP learning process is based on a three-part constructionism concept
• The first concept is learning and thinking skills such as meditation, MicroWorlds, the GOGO Board, information searching, English, and mathematics.
• The second concept is technical skills for chemical engineering such as process science & calculation, mass & energy balance, fluid transport, heat transfer, unit operation, and measurement & control.
• The third concept is project-based learning from problems in plant operations that can improve skills in planning, analysis, and presentation by doing individual and group projects.

Since 2013, PI-ChEPS program has been implemented by applying knowledge from this program to create many projects that have been successfully implemented and can save production costs for the company continuously.
GC determines the business benefits of our investments in employee development programs by applying a third-party methodology, which is Kirkpatrick Model & Phillips ROI Methodology to measure the return on investment for training programs. It takes into account any style of training to determine aptitude based on four levels, including 1) Reaction, 2) Learning, 3) Behavior, and 4) Results. The program in 4th level of the Kirkpatrick Model are calculated Training ROI by using the Phillips ROI Methodology have four phases are 1) Evaluation Planning to develop evaluation plans and baseline data, 2) Data Collection, 3) Data Analysis to isolate the benefit of programs and covert to monetary value for using for ROI calculation, and 4) Reporting to develop report and communicate results. The Training ROI is calculated using the project benefits and costs.
The example of program that we calculate Training ROI is PI-ChEPS Program
Training ROI of PI-ChEPs
(%)
GC Group Talent Project
GC has conducted the GC Group Talent Project to prepare and develop employee capacity to support management positions in Thailand subsidiaries and expand the pool of high-potential employees to accommodate local and international business expansion through leadership skill development that highlights on experiential learning and speeds up employee to keep them abreast with business growth. Details on the project are as follows:
Additionally, in the past year, GC has implemented the various programs to develop employee capability such as providing employee trainings through the Learning Management System (LMS), which is an online platform that encourages necessary skills development for employee operations, GC Voxy English, Application of MS Teams, and cybersecurity standard. Furthermore, GC has employed the Up Learning Platform, an online learning platform where employees can freely choose courses of their own interest. The courses had been carefully selected, taking into account the skills and academic competencies required in the current and future world to provide opportunity for employees, who want to change or develop oneself to keep up with modern skills and knowledge, to learn and apply knowledge in their work effectively. In 2022, a total of 949 courses were available.
According to our leaning and development programs, GC illustrates the employee development performance in 2022 in the figure below.
Employee Development Performance
Types of Training
Type of Training
Percentage
Average Training Hours
(Hour/Person/Year)
Average Amount Spent on Training
(Baht/Person/Year)
Technical
18
7.7
3,320
Leadership
15
8.1
11,553
Occupational Health and Safety
35
16.6
2,968
Support for business for expansion
15
10.0
3,568
Others
17
8.4
5,402
Average Training Hours
Gender
Average Training Hours
(Hour/Person/Year)
Average Amount Spent on Training
(Baht/Person/Year)
Female
32.03
17,357
Male
33.21
Average Training Hours
37.92
Investment in Employee Training
115.68 million THB