Target
Community satisfaction rate in 2021 at least 86 percent
Integrate circular economy to waste management principles in four local communities within 2021
Conduct more than three Social Enterprise (SE) and Creating Shared Value (CSV) at least 3 projects within 2022
Achieve CSR strategy goals from 2023 onwards, focusing 70% of the efforts on social development in creating business value and 30% on donation to society
Aim towards becoming the Partner of Choice within 2025
Challenges and Strategic Response
In parallel with our business operation, GC supports and contributes to the improvement of local communities in order to create balance in conducting business, respond to the expectations of stakeholders as well as protect and reduce environmental and social impacts. GC commits to create shared business value with local communities and the society. We also focus on building relationship and engagement with all sectors. GC strives to create shared business value with local communities and the society. We also focus on building relationship and engagement with all sectors. In order to achieve these goals, GC applies our innovation and expertise to CSR projects and activities, which align with the circular economy concept. Such projects improve the quality of life and economy for the people in the community surrounding our operating sites in tandem with resolving environmental issues concerning water shortage and plastic waste management. These activities truly respond to the current needs of the communities, allowing them to develop alongside the company in a sustainable manner.
CSR Strategy
GC has developed the Corporate Sustainability Strategy based on one of Corporate Strategy "Balance Business with Sustainability" and the UN SDGs. Our Corporate Sustainability Strategy has focused on Creating Shared Values (CSV) and Social Enterprise (SE), which are emphasized to solve the social problems, to increase resource efficiency through Circular Economy (CE) and sustainable environment management. These efforts of creating balance growth of community and society along with the growth of the organization also aligns with the stakeholders' expectations.
GC has launched 5-Year roadmap for CSR Transformation CSR to Social Enterprise (2021-2025). The CSR transformation covers:
1. Transformation model set up focusing on the portfolio design and the portfolio management
2. Social Enterprise (SE) Establishment in SE project in the community, provincial and national levels
Community
Provide "Community Waste Model" to solve problem on waste management in the community level to strengthen all related sectors across the value chain for the further expansion and commercial benefits as well as reduce GHG emissions.
Province
Established "Pracharath Rak Samakkee Rayong (Social Enterprise) Company Limited" to promote local agricultural products, local tourism, product processing and sales channel for local communities to generate income.
Nationwide
Provides knowledge on upcycling SE to disadvantaged and community to uplift the quality of life and living standard of disadvantaged group and community as well as reduce GHG emissions.
3. Stakeholder Engagement with community on Creating Shared Value: CSV, CSR program, Circular Economy (CE) Program and Community Relations
4. Strategic Communication on Issue and crisis management, CSR communication, and audit & compliance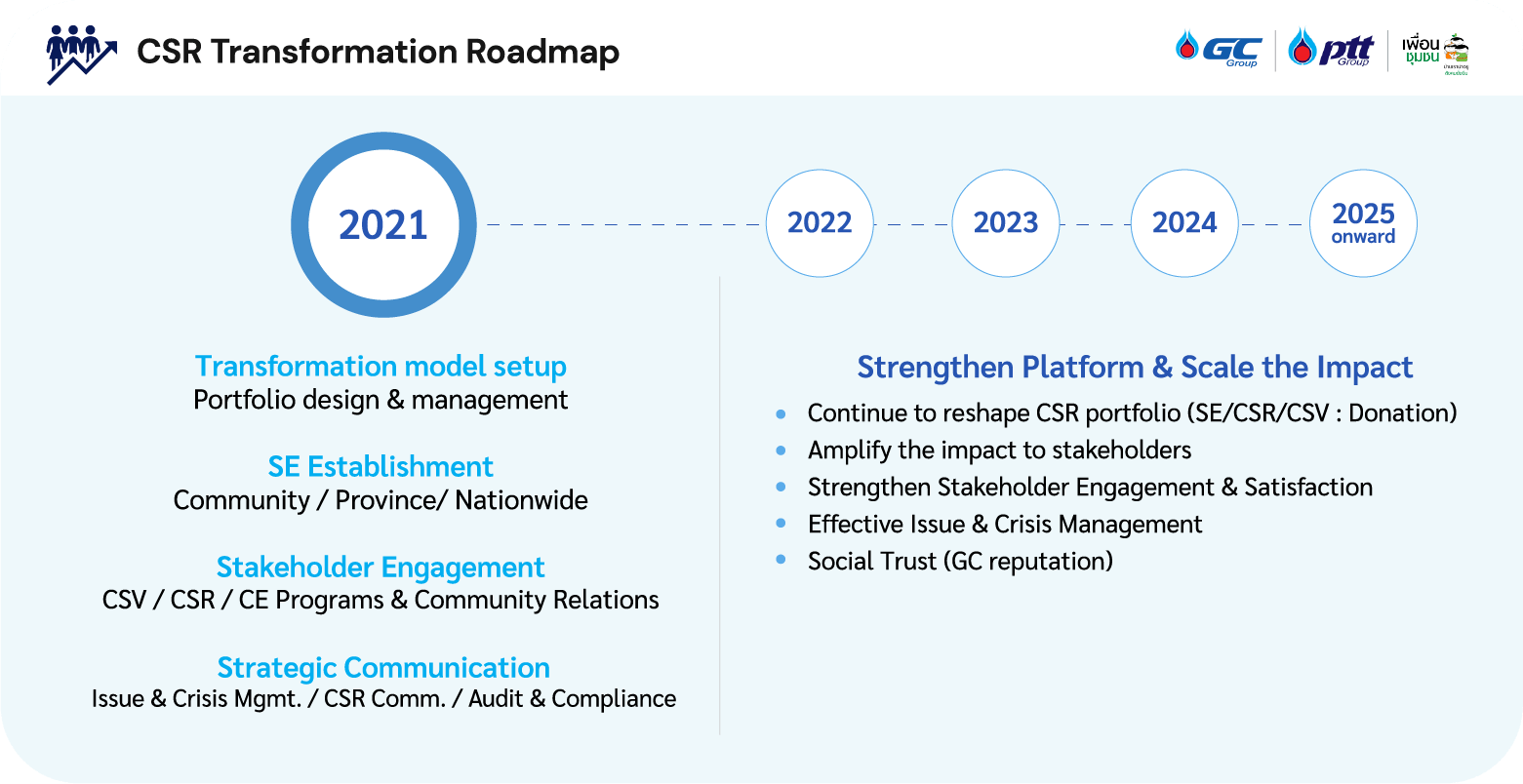 GC continuous develops CSR programs and activities by following the Corporate Sustainability Strategy and G-BEST criteria, according to three priorities, which are Better Living, Sharing, and Ecology.
Good Citizenship
Responsibility/Accountability
Good Governance
Transparency
Equality
Better Living
Better Economic Status
Better Social Well-Being, Incl. Health
Ecology
Sustainable Impacts
Balance
Environment
Sharing
Align/Support to Business Strategy (Product and Process)
Issue Management/Risk Prevention & Mitigation
CSR (with Shared Return to PTTGC)
Share Expertise
Togetherness
Address Stakeholder Expectation
Stakeholder Involvement
Relation/Networking/Trust
Community Satisfaction Survey Result
GC's continuous CSR efforts have contributed to achieve community satisfaction rate above target in 2021. This reflects our good relationship with local communities and the society as well as their confidence in our company.
Performance
2018
2019
2020
2021
Community Satisfaction (%)
89.24
90.10
86.14
91.25