Talent Attraction and Retention
Management Approach GRI 3-3 (2021)
Talent attraction and retention is one of the key factors for the company's success. Managing employees to remain with the organization in the long run will enable continuity in operations and the company's growth. Meanwhile, improper management or inattentiveness to employee needs may increase the job switching tendency of employees. The company's business operations and long-term profitability may be affected as a result of the use of both capital and time resources to recruit and train new employees as well as to allow their adjustment to the corporate culture.
GC is committed to developing the skills and capabilities of employees at all levels to support the company's strategies and growth while accommodating changes in today's highly competitive and challenging business world. In addition, the company also takes into account the well-being of employees at all levels.
GC has set its workforce strategy to prepare appropriate human resource to correspond to the company's business growth strategy, and has established a talent pool database based on employee's capability, experience, expertise according to job position, and behavior based on the GC SPIRIT 4 Core Behaviors. The company also aims to create a positive corporate image through the media, in order to attract talented recruits to join the company. In 2022, GC updated the recruitment process to be complied with Personal Data Protection Act, B.E.2562, including applying digital technology to improve efficiency of such processes e.g., submitting request via online platforms for examining criminal records, etc.
GC also continuously tracks and collects data on talent attraction and retention through various indicators, such as new employment rate, employee turnover rate, and employee engagement rate. Furthermore, the company also employs questionnaires to learn employees' feedback and needs in order to improve and maximize the ability to meet requirements of strategies and supporting programs or work systems.
"GC SPIRIT" defines the values that guide every GC employee, supporting the company's mission and vision to help everybody to work together under the GC SPIRIT 4 Core Behaviors to achieve the company's goals.
GC Spirit 4 Core Behaviors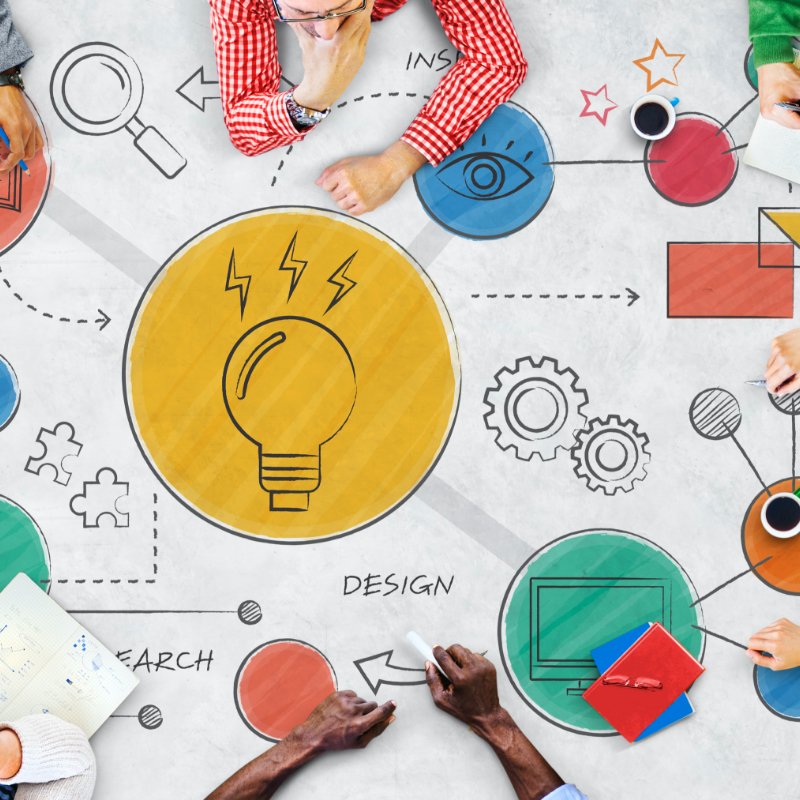 Take initiative to create better results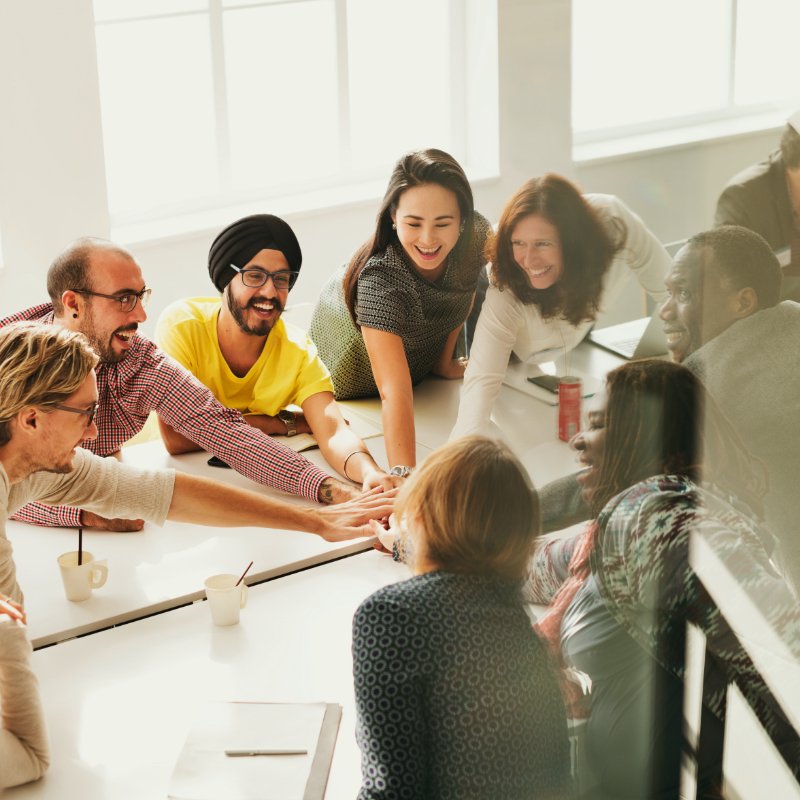 Keep improving self and inspiring teamwork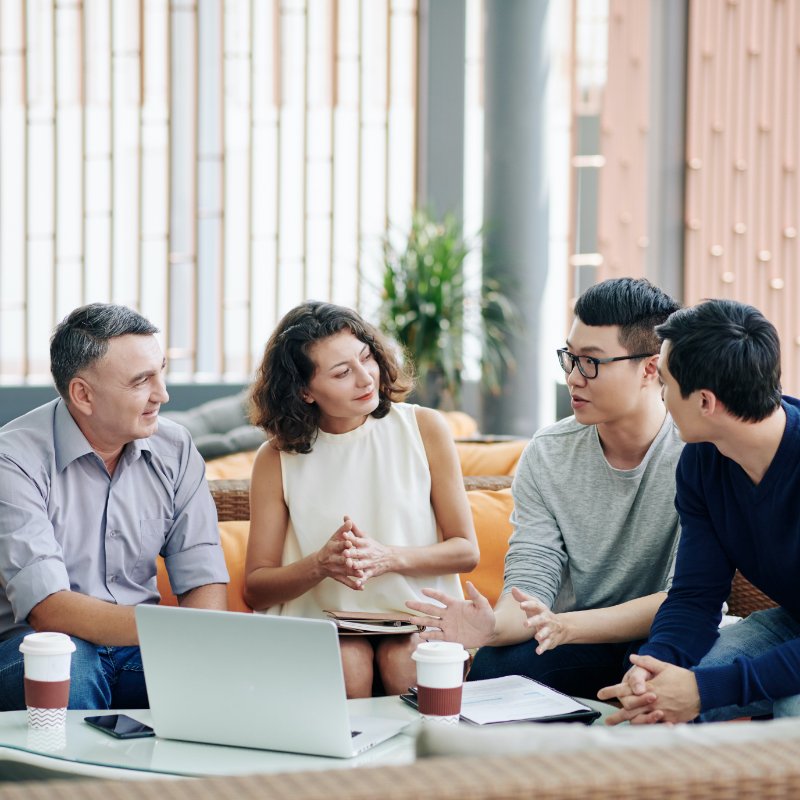 Work proactively to serve customers needs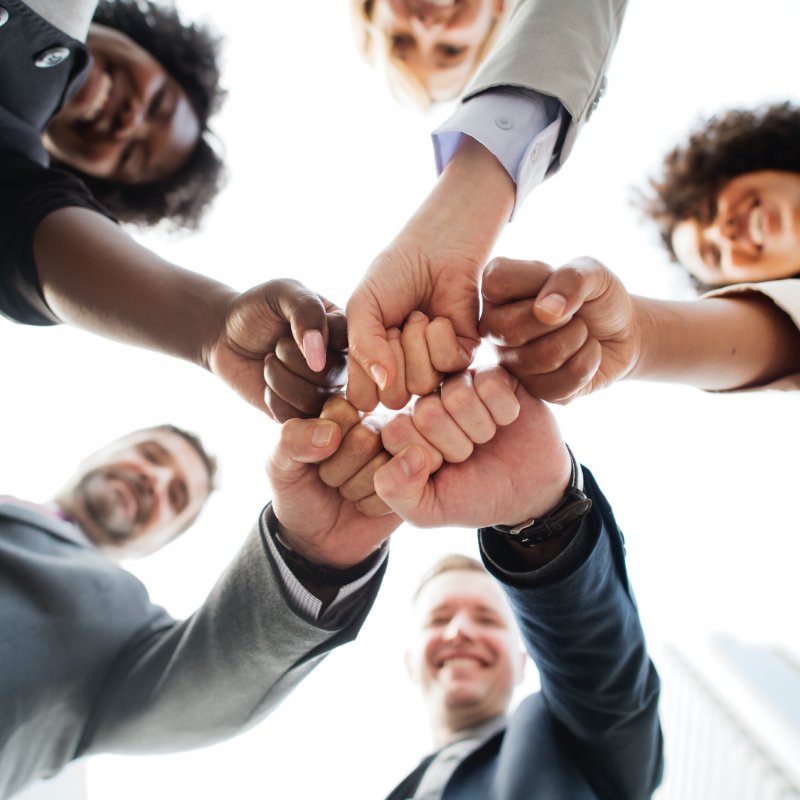 Strive for the greater good
LOGO GC SPIRIT 4 Core Behaviors

Organizational Culture Promotion Project
GC recognizes that professional collaboration and the sustainable growth of employees alongside the company will develop and strengthen the organizational culture. Additionally, the company continuously instills the GC SPIRIT 4 Core Behaviors within the organization. Examples of sub-projects include:
Inspirational Leadership
GC held an activity where executives shared the company's goals and directions with employees to motivate changes within the organization using narrative speech. In 2022, executives communicated about the delivery system that creates "Conviction to Change : Speed with Challenge Status Quo" based on the GC Leadership System and measured the project's success using a Narrative Speech Audience Survey. Based on the survey results, executives were able to achieve tangible outcomes with an assessment score of 93%. In 2023, GC has continued such activity to create sustainability, providing executives the opportunity to demonstrate their status as role model through the Leadership Showcase held under the 2023 theme of "Conviction to Change : Speed to Global Mindset".
Meet the TOP
GC invited executives from leading organizations to share experience, exchange views on creating a good corporate culture, and share best practices that can be put into actual practice.
Change Agent Chit-Chat
GC selected employees to be Change Agents in each line of work. These representatives act as leaders to bring about cultural changes in their own line of work. Communications and meetings with the Change Agents take place on a quarterly basis to communicate about corporate culture, update skills, knowledge and news as well as foster good relationships between Change Agents.
GC SPIRIT Award and Cross Functional Initiatives
GC organized the GC SPIRIT Award and Cross Functional Initiative to launch a platform for employees to showcase how to apply corporate culture in their work to achieve clearly improved outcomes, in line with the new 2023 theme of "Conviction to Change : Speed to Global Mindset".
Employer Branding
GC has upgraded the People Website and incorporated it into the Company's website to enable greater communication efficiency and ensure the alignment of the overall image and a clear identity by taking into account the requirements of the GC Brand book. The company has also improved personnel management information and modern data presentation methods to better suit the website's new generation visitors. This has boosted the organization's image in employer branding to attract a higher number of applicants. As a result, the number of visitors increased from 3,123 to 4,208, or equivalent to 34.74%, with an overall satisfaction rate of 93.75%.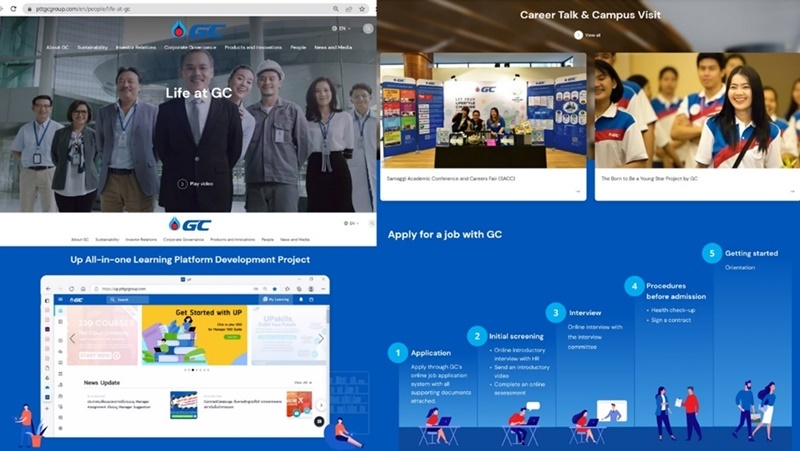 Online Self-orientation Program
GC has improved the learning procedures in human resource process for new employee to facilitate initial phases of working with GC via online self-orientation platforms e.g., Intranet Portal (Inside HR) and UP Learning Platform. New employees will attend trainings on a schedule of 7 days and 90 days from the start date, which it was held from January to May 2022. There were 49 new employees attended in the program. As a result of training satisfaction survey, it was found that there was a high score of 4.42 out of a full score of 5.00.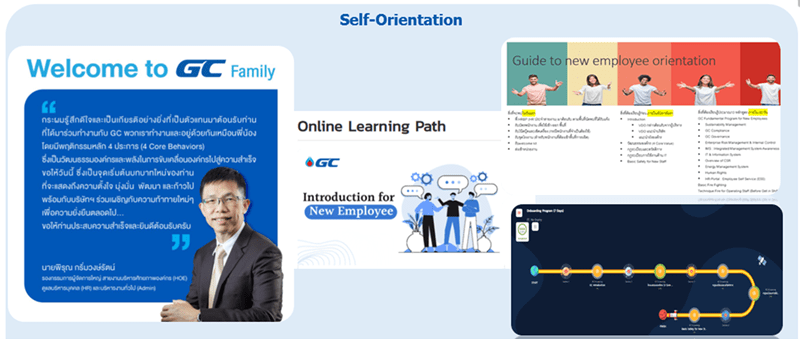 Hot Job of the Month
GC has executed the Hot Job of the Month Project throughout 2022. Under the project, job positions are classified into five categories, namely Digital & IT, Sustainability/R&D, Engineering and Operations, Legal/ Business/ and Marketing, to boost the organization's image and create a perceptual experience for interested candidates. Vacancies are announced on Facebook and LinkedIn to create a candidate pool for various positions. Job descriptions are also publicized online to provide more information for social media followers. As a result of the project implementation, the company received 2,100 job applications and obtained a higher number of followers through each recruitment channel, i.e., 11.5% increase in LinkedIn followers and 16% increase in Facebook followers compared to 2021. All candidate information is pre-screened and prepared before submitting to each line of business for further consideration.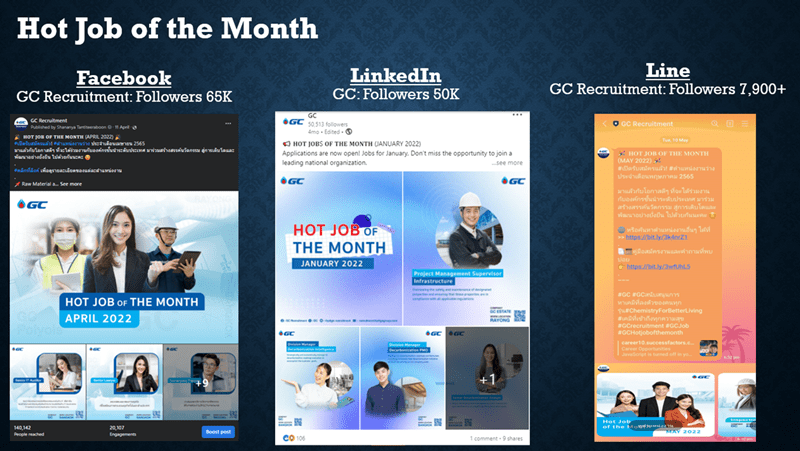 For more information: https://www.facebook.com/pttGCrecruitment/posts/pfbid02Xz79qJ1iZgnJvRYLwx59oiHU2Zo6bmJ9kJLPs3zc8jj4g4gpdxfVKCmp6ByeUf5Ll
GC Online Open House 2022
GC Online Open House 2022 was held in an online format to announce job vacancies and boost the company's image. As a result, GC received information on 450 candidates. After thorough screening, 315 new candidates were added to the database for various job positions. By choosing to organize this activity online, no costs were generated. Meanwhile, the visit rate of GC's Facebook page grew by 66.9% in October compared to September when no events were held.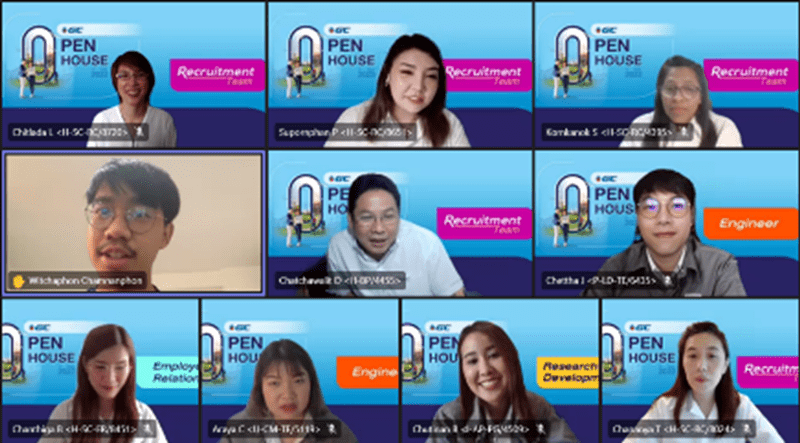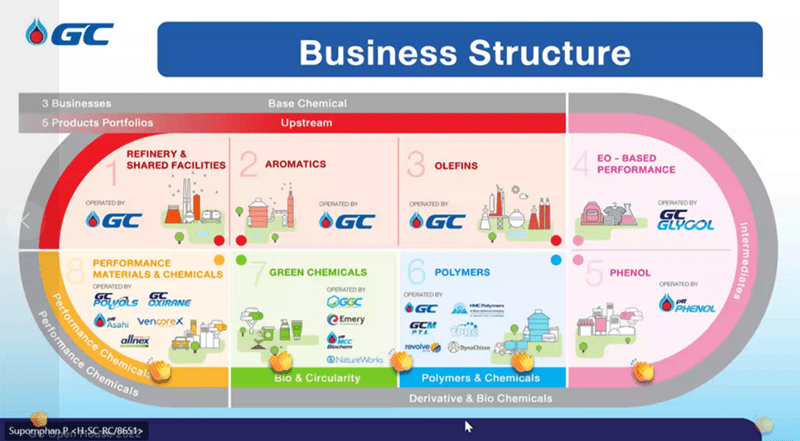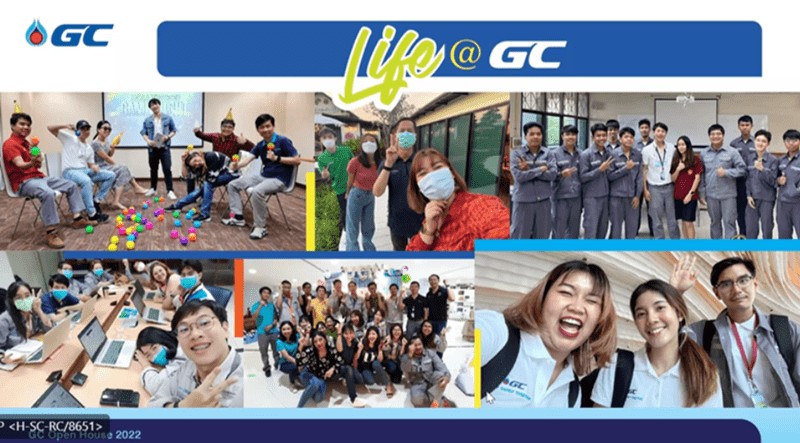 For more information: https://www.facebook.com/pttGCrecruitment/posts/3476858352600812
Employee Referral Program
GC provides an opportunity for employees to refer talented outsiders who are suitable for the company's culture and job positions to the recruitment team and supervisors. This can increase efficiency in employee recruitment, reduce related costs, and acquire high-potential personnel that meet the company's expectations and strategies. In 2022, 83 employees were interested in the program. As a result, four candidates were referred and employed through the Employee Referral Program.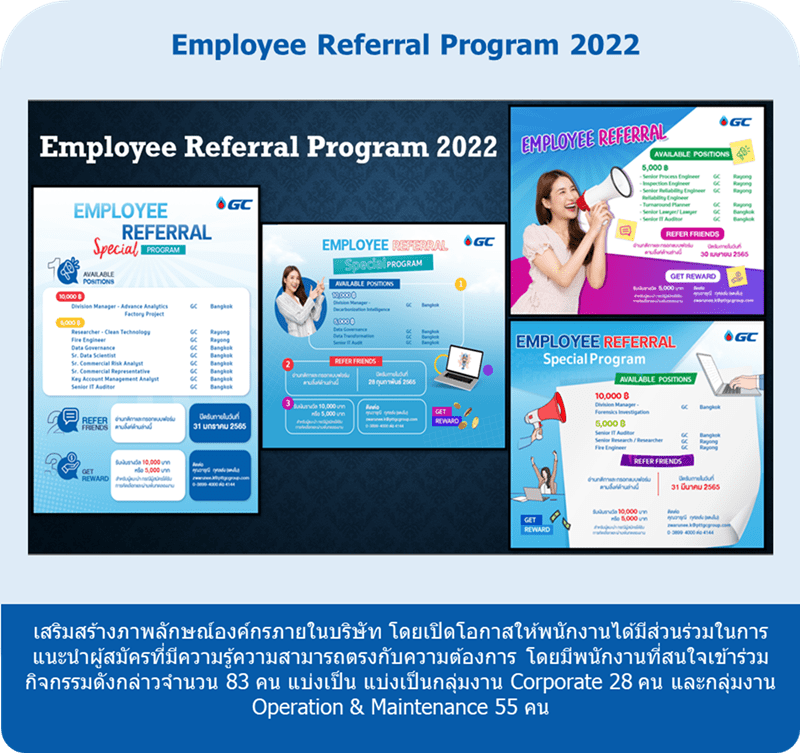 GC has initiated the Operator Pool 2022 Project to prepare for future business expansion and to accommodate high-demand positions by selecting replacement employees to fill positions that are likely to be in demand for the next three years. The company also compiled and reviewed candidate pool data from various activities during 2019-2022 to track the current status of candidates, create a database, and prepare to incorporate data of pre-screened candidates into the recruitment system.
In addition to the abovementioned efforts, GC constantly monitors and appraises performance to analyze aptitudes, strengths, and weaknesses of employees, leading to appropriate planning and improvement of employee capacity development strategies, skill development and well-being projects to better meet demands and expectations. Accordingly, GC has set comprehensive performance appraisal criteria cover the following dimensions:
Type of Performance Appraisal
Management by Objectives
An appraisal system that encourages the determination of performance indicators that are appropriate and consistent with the goals of the department, organization, or individual task to provide clarity in performance evaluation. This also includes the determination of indicators that can create work commitment. GC annually conducts this type of the performance appraisals.
360 Degree Feedback on GC SPIRIT 4 Core Behaviors
An appraisal system that allows other people, such as colleagues, direct subordinates, customers, and third-party stakeholders, to participate in performance evaluation. The assessment of the GC SPIRIT 4 Core Behaviors focuses on the ability to work as a team and creativity in line with the corporate culture. GC annually conducts this type of the performance appraisals.
Team-based Performance Appraisal
An appraisal system that focuses on rewards & recognition for employees working on a special assignment which is a key corporate agenda to encourage its successful completion or projects that require collective effort during a certain period. The system has been improved to allow Project Leader/Project Manager to directly evaluate the scores to promote an agile work format.
Agile Conversations
In addition to regular appraisals, GC also requires employees to discuss or "check-in" to share feedback in terms of work contents, goals and GC SPIRIT 4 Core Behaviors to track the progress and success of the task according to established goals as well as to provide the opportunity to discuss ways of self-development. The "check-in" is encouraged to be conducted on a ongoing/quarterly basis.