05 April 2019
Building Lives, Giving Hope, and Fulfilling Dreams… Assisting Children by Adding Value to Plastics and Discarded Materials Through the "Circular DIY by GC Volunteers" Activity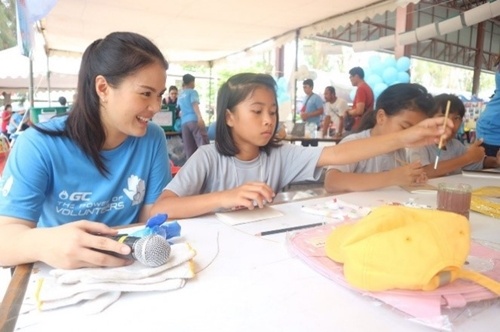 Hope springs eternal. This is all the more true for disadvantaged children, who despite their circumstances, are full of hope and have dreams of living a life of dignity. We believe that providing children in need with opportunities to develop their potential will help move Thailand forward while supporting the principles of the "Circular Economy."
PTT Global Chemical Public Company Limited, or GC, a leading chemical producer that brings happiness to people, in partnership with the Royal Thai Navy and the "For Friends" Foundation, continued its support for the 29th "To Children With Hope" program that took place at Toei Ngam Beach, which is under the stewardship of the Royal Thai Navy in Sattahip, Chonburi province. On 26 and 27 March 2019, staff from GC Group, together with the company's business partners, volunteered to assist over 1,000 children at activity booths at the event to inspire them to live their lives in accordance with the principles of Circular Living. They joined in knowledge-building activities such as the "Think Cycle Bank," which educated kids about the importance of separating plastics from other waste on a daily basis for recycling and to better protect the environment.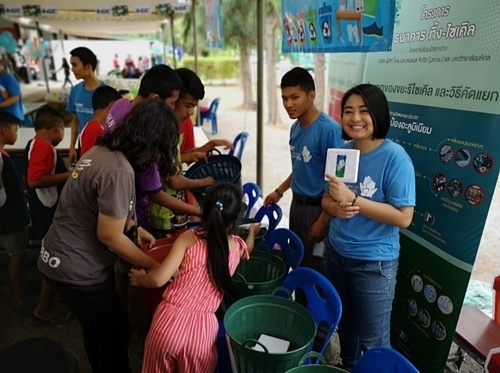 Another hugely popular activity was the "Circular DIY by GC Volunteers," who encouraged children to come up with creative ideas to add value to plastics and unwanted materials. Some of the kids' clever ideas included turning plastic bottles into bubble-blowing devices, using plastic straws to artistically decorate book covers, and making magnets from bottle caps. The kids also had loads of fun decorating and painting wood chips and ice cream sticks, letting their imaginations run wild.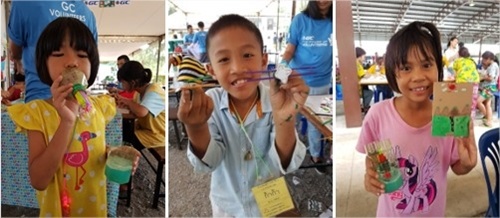 Amid the fun and joyful atmosphere, the children were encouraged to develop their skills and come up with objects through an approach that cultivated creativity and conservation. This approach emphasized that used plastics and other unwanted materials should not necessarily be considered as waste, as each item has value and can provide benefits if properly sorted and reused. Through these activities, the kids learned to extend the lifecycle of plastic items and do their part for the environment. They also were able to think differently and be more resourceful, learning that each and every one of them can be a positive force for both society and the country.