17 May 2019
GC Develops Thailand's First Recycled Anti-bacterial Monk's Robes Promoting OUR Khung Bangkachao's Closed-Loop Waste Management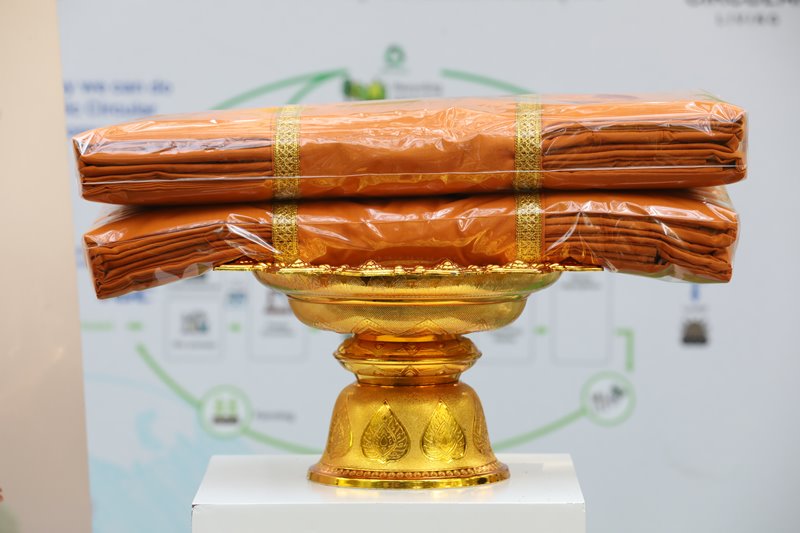 Established in 2018 by the Chaipattana Foundation and 34 leading organizations in Thailand, the OUR Khung BangKachao project supports the environment in Samut Prakan's Khung Bangkachao area, while enhancing economic opportunities and the community's quality of life.
As a leader in chemical innovations creating an eco-friendly way of life, supporting the well-being of all Thais, and serving as a model for organizations that incorporate the circular economy into their business strategies, PTT Global Chemical Public Co., Ltd., or GC, is firmly behind the OUR Khung BangKachao Project (http://www.ourkhungbangkachao.com/), helping to raise awareness about natural resource efficiency, encourage efficient waste management in Khung Bangkachao, and contribute to sustainable incomes for residents through upcycled products.
GC is working on this project together with Wat Chak Daeng in Samut Prakan, widely known as Khung Bangkachao's community center, by providing the community with a closed-loop waste management center. They also established a waste management learning center, while developing channels for creating upcycled products. The Khung Bangkachao community has its own waste management system, which begins by sorting waste that is collected by Wat Chak Daeng and people in the community, as well as waste sent to be recycled from both the government and private sectors from across the country. The community manages three types of waste:
Organic waste: Wat Chak Daeng turns them into bio-extracts.
Hazardous waste: Collected by the Sub-district Administrative Organization in order to be sent for the waste disposal process.
Recyclable waste: GC and its partner organized training sessions on waste management for people in the community and Wat Chak Daeng in order for them to be able to properly sort waste by type, while coordinating with plastic scrap buyers to boost recycling volumes to increase incomes for the Khung Bangkachao community.
Furthermore, GC is working with its partner to produce robes made from recycled plastic to preserve the local tradition and understanding of creating robes worn by monks, in accordance with Buddhist traditions. The robes are made from PET bottles that are collected from the Bangkachao area by Wat Chak Daeng's monks and Buddhists, which are then upcycled into recycled fabrics before being woven into saffron robes with polyester rayon, cotton fibers, and antibacterial polyester that helps control odors.
By establishing a waste management learning center and developing Thailand's first upcycled monk's robes, the OUR Khung BangKachao project highlights a valuable way to collaborate by integrating the temple, community and business sector. It is also in-line with how GC is encouraging the responsible use of plastics while ensuring a better quality of life for people through "Chemistry for Better Living."
#GCChemistryForBetterLiving
#OURKhungBangKachao
#RecycledMonkRobes
#Upcycle
#WearYourOwnWaste