Plastic is often viewed as a necessary evil – pervasive in our lives, yet something that negatively impacts the environment. With a greater focus on the environment and sustainability, many countries are adopting regulations that aim to reduce, reuse, and recycle plastics, with some even going as far as banning the use of plastic bags. Many people may not fully realize how useful plastics really are, while at the same time, we can and should do more with the resources we have.
PTT Global Chemical Public Company Limited (PTTGC), a leading petrochemical company, is committed to developing new solutions to improve the quality of life of all Thais by promoting a broader understanding of the best use of plastics in a sustainable manner. The company recently introduced some creative designs that demonstrate how plastic waste can be transformed into a fashionable clothing collection along with other trendy items at the "STYLE APRIL 2018" fair, which took place in Bangkok from April 19 to 23, 2018.
The Thai government's Department of International Trade Promotion organized STYLE APRIL 2018, Asia's largest and most comprehensive exhibition of lifestyle products. At the exhibition, the "Creative Lab" zone displayed innovative items made from plastic waste as part of PTTGC's "Upcycling Plastic Waste Project." These items were definitely a hit with visitors. Also inspiring was PTTGC's Customer Solution Center (CSC), a specialized department within the company that focuses on developing innovative products.
Through this informative exhibit, PTTGC demonstrated innovative solutions that address plastic waste through the use of advanced technology and design. This offers the dual benefit of producing value-added products while reducing the amount of plastic waste. Every innovation on display reflected the "upcycling" concept of adding value to plastic waste by transforming it into useful items. All visitors enjoyed the opportunity to see the stylish and practical solutions for reducing plastic waste.
The creative collections displayed at the "Upcycling Plastic Waste Project by PTTGC" exhibit included:
Illusionist
This fashionable collection of accessories featured bags made from recycled plastic that demonstrate a new way of developing materials through a weaving technique suitable for both natural fibers and synthetic materials. The result is a new fabric that can be made into fashionable items with subtle patterns.
Military Loft
This is another fashionable collection of bags made from recycled plastic mixed with "speck" silk and cotton. The result is a new and durable material produced through a weaving technique that provides more texture, allowing bags that are multi-functional for travel and daily use to be manufactured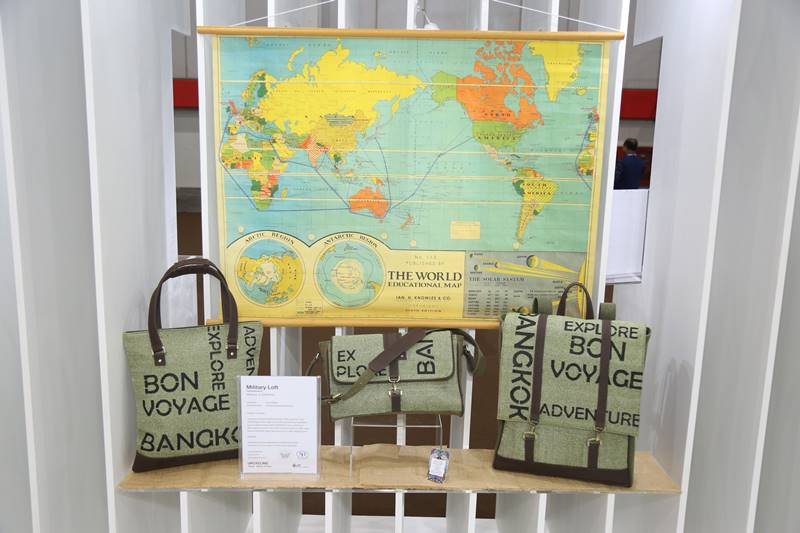 Benjarong Collection
This unique yet environmentally-friendly packaging, made from Bio-PBS (Polybutylene Succinate) and soybean ink, is 100% biodegradable. It's designed in the beautiful "Benjarong" (or "five colors") style, promoting both the distinctive Thai heritage and environmental protection.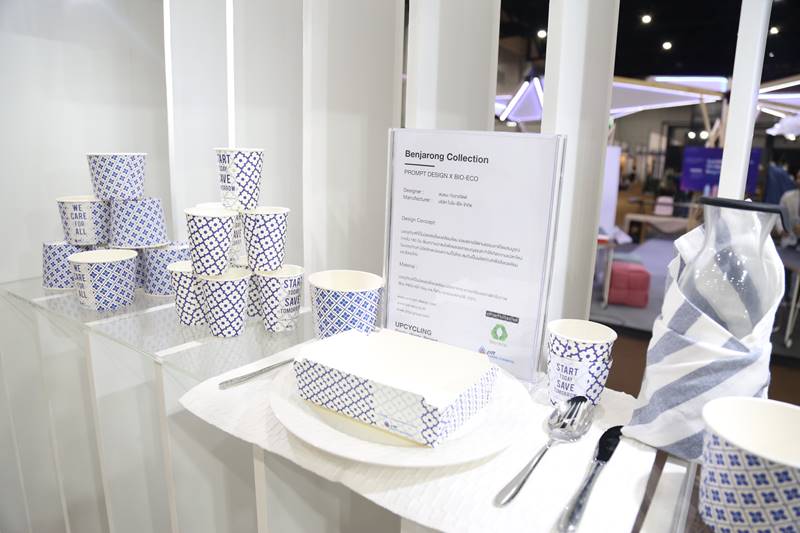 Coasters
This common household item is made from recycled Polyethylene (PE) and Polypropylene (PP) in eye-catching patterns and colors.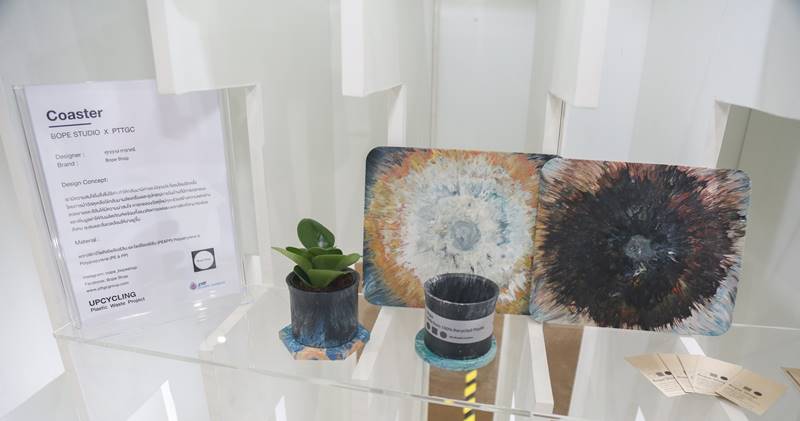 Placemats
These must-have items for any kitchen or dining table are made from recycled Polyethylene (PE) that is pressed, extruded, and then woven into beautifully-designed and durable placemats.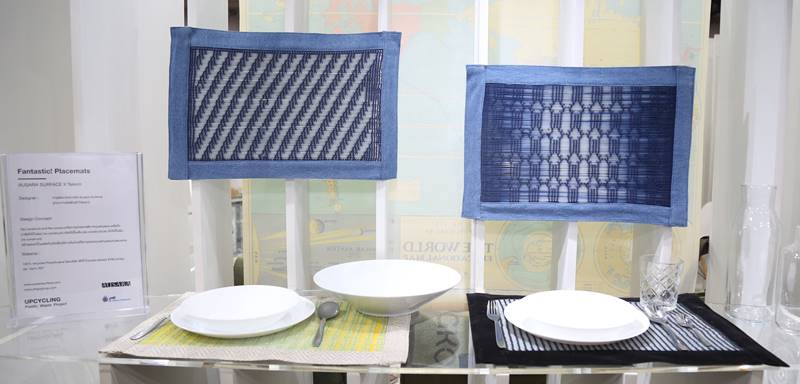 Playground
This furniture set originated from a fun and innovative idea to produce something to challenge users creatively, similar to a play area. The set consists of synthetic wood boards made from recycled plastics that are perfectly suited for the outdoors.
G Bench
Made from synthetic wood boards, this bench is durable, weather-resistant to both sun and rain, and maintenance-free. In addition, based on a randomized design, it can adapt to various sizes of materials to reduce material damage and loss while promoting efficient use as well as environmentally-friendly practices.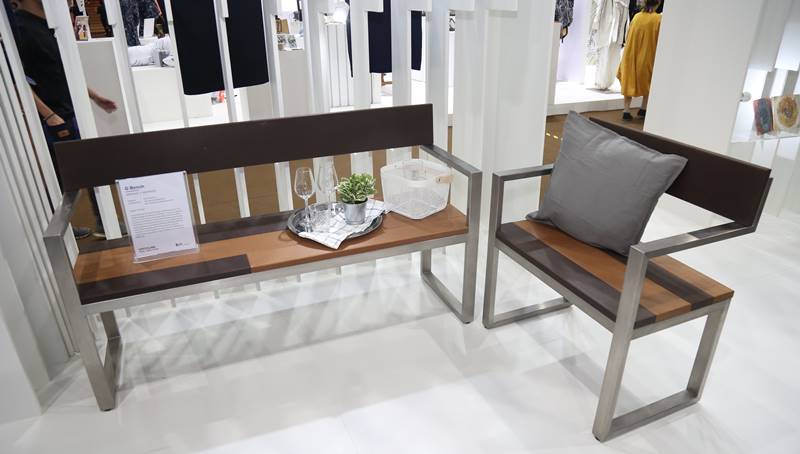 Zero Waste DIY Furniture
The "Zero Waste" concept encourages maximizing recycling while eliminating waste. The recycling process, particularly for ultra-high temperature (UHT) beverage cartons, led to an innovative way to produce Eco-Boards as raw materials for a DIY furniture set. A 120 to 240-cm Eco-board is cut into several pieces, similar to a jigsaw puzzle, and then assembled as furniture that is weather-resistant, contributes to energy efficiency, and can be recycled endlessly.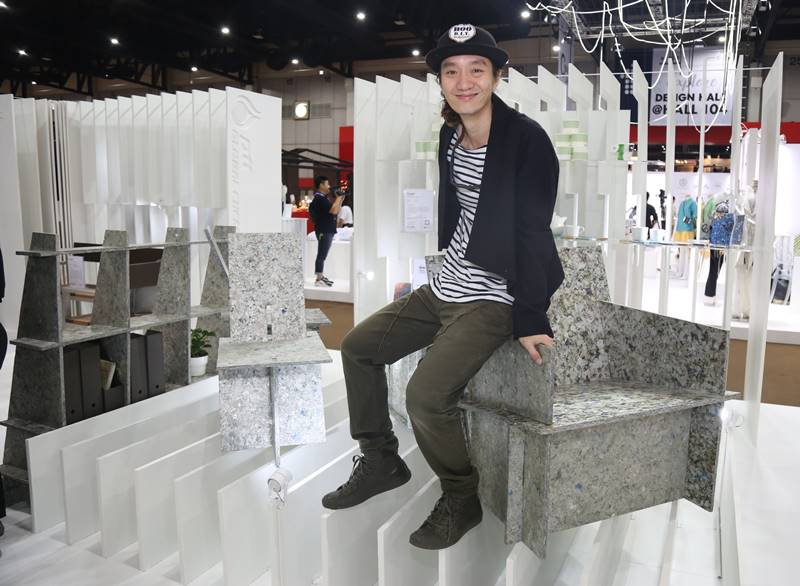 Transformation
Plastic building blocks from the "Waste Side Story Pavilion by PTTGC" at Bangkok Design Week 2018, which took place earlier this year, were reused under the "endless recycling concept" that promotes the efficient use of materials and environmental conservation. The synthetic wood building blocks, made from recycled plastics, are suitable for indoor and outdoor applications and were transformed into chairs for this exhibit.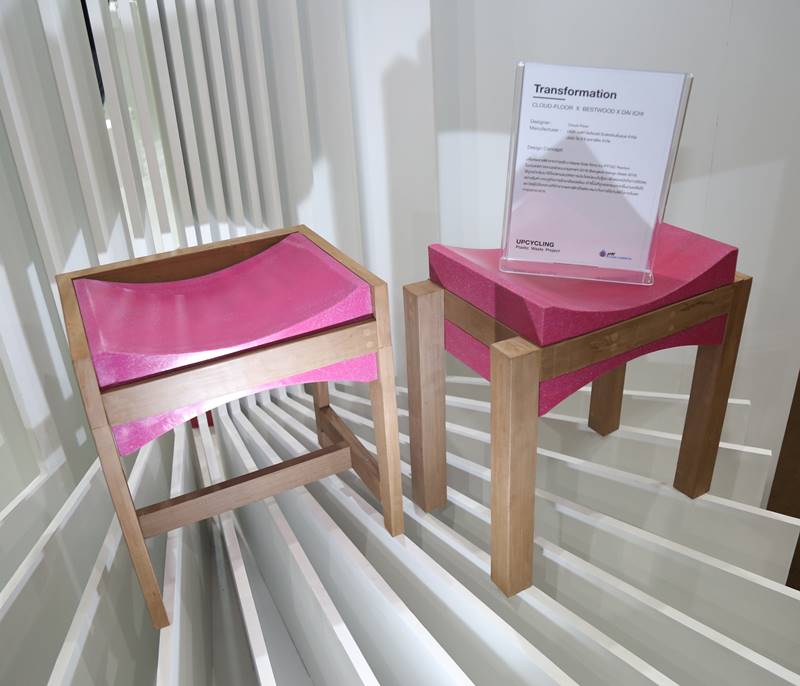 Upcycling Plastic Waste Thailand Collection
Using innovative technology, plastic waste is transformed, or upcycled, into polyester fibers that are then used to make fashionable value-added items. The Thailand Collection features striking and stylish patterns that also demonstrate the benefits of resource efficiency.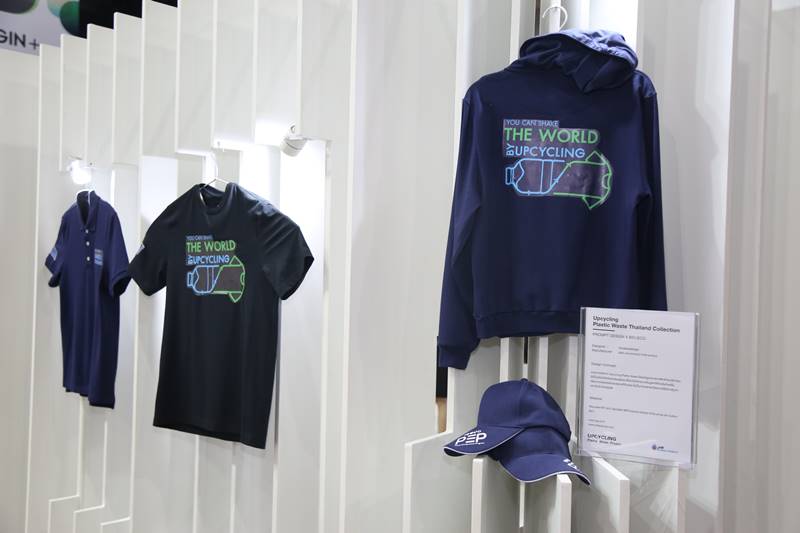 PTTGC's Upcycling Plastic Waste Project exhibition at STYLE APRIL 2018 broadened people's understanding about reducing the impact of plastics. While people are naturally concerned about the environment, it's important to show that there are solutions to deal with plastic waste, and that everyone must do their part. PTTGC demonstrated how innovation is an important part of the solution, and that transforming plastic waste into unique, breakthrough products can shift the public's mindset towards plastic. Through the efficient use of resources and by upcycling plastic waste, we can create new value-added products while reducing plastic's impact on the environment.