02 November 2021
GC receives the "Rayong Destination of Happiness Project" encyclopedia from Silpakorn University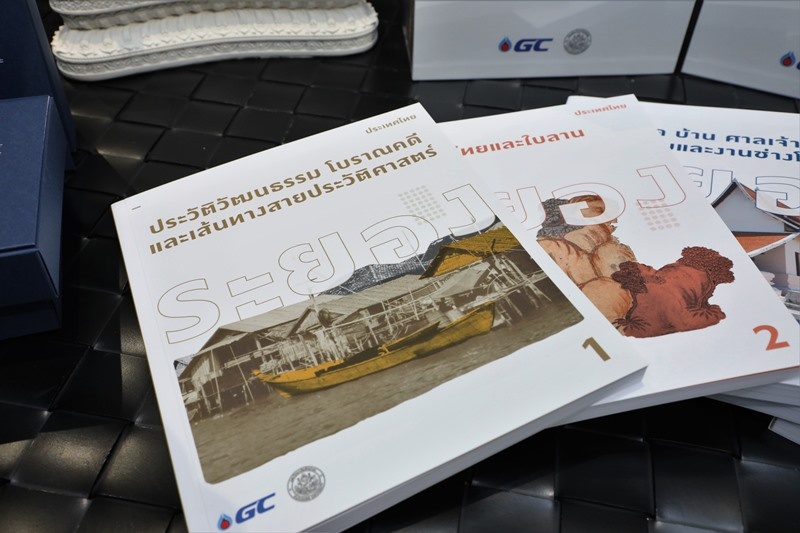 Being based in Rayong, GC participated in the "Rayong Destination of Happiness Project" in partnership with Silpakorn University from 2018-2020. This project promoted the indigenous identity of Rayong Province starting with its historical roots and culture by researching cultural information using an archaeological approach to conserve the province's rich heritage and continue promoting cultural tourism and conservation more widely.
On November 2, 2021, Dr. Kongkrapan Intarajang, Chief Executive Officer of GC, received 50 sets of encyclopedias entitled "Rayong Destination of Happiness Project" compiled by Silpakorn University, along with academic information used in a course on Rayong's local and cultural innovations for sustainable tourism. The academic information included a research database and information system as well as a replica of Luang Pho Wai Buddha, the main Buddha image of Wat Ratchabanlang Pradittharam made from molded resin combined with synthetic plastic materials, such as crushed plastic bottle caps using the Trashpresso machine as part of a mobile upcycling plant. This machine can reduce the amount of waste by converting used plastics into new, value-added products, and black and white plastic resins that do not meet the production quality of GC's Innovation Unit. The encyclopedias were presented by Asst. Prof. Dr. Chaichan Thawornwet, Rector of Silpakorn University along with faculty members from the Faculty of Archeology and the Faculty of Decorative Arts, Silpakorn University at the reception room, 18th floor, EnCo A building.
This set of encyclopedias also provides a summary of academic information from archaeological research in four districts of Rayong Province, Muang District, Baan Khai District, Klaeng District and Baan Chang District, which further extends to the preparation of empirical knowledge media that is easy to understand and innovative. Each set consists of five books based on relevant research topics; with the objective of disseminating knowledge to the public and extending learning opportunities to relevant agencies and those interested in further studying the history and roots of Rayong province.