03 December 2020
GC's "Circular Living Symposium 2020: Tomorrow Together" Global Conference Brings Together Thought Leaders, Innovators, and Investors to Work Together to Turn Ideas into Practices for A Better Tomorrow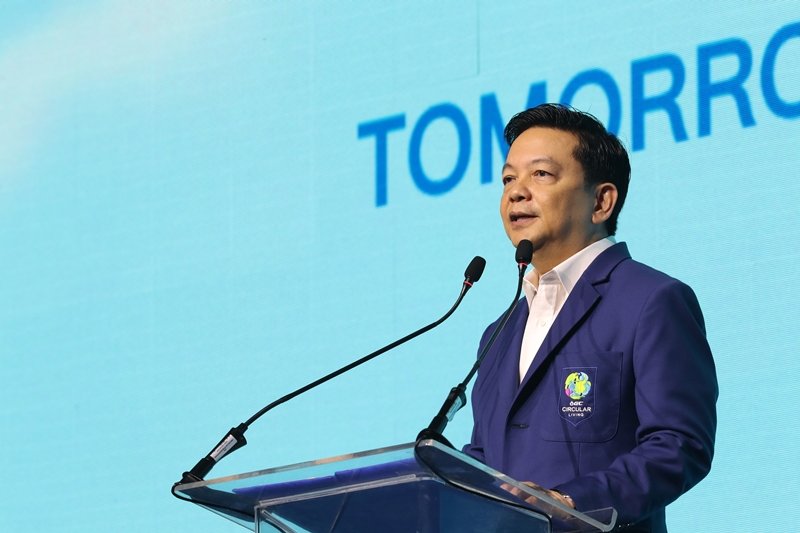 For two consecutive years, GC has held the 'GC Circular Living Symposium 2020: Tomorrow Together' academic forum to turn ideas into practices with a 'Circular in Action' focus. Following the 'Circular Living Symposium 2019: Upcycling Our Planet' last year which increased social awareness, this year, GC was honored to have Mr. Varawut Silpa-archa, Minister of Natural Resources and Environment, who presided over the opening ceremony. Dr. Kongkrapan Intarajang, Chief Executive Officer of GC, together with Mr. Patiparn Sukorndhaman, President of GC, joined a group of executives and employees, business partners, dealers, customers, and interested individuals totaling over 1,000 attendees at the event, which took place on November 12, 2020 at Royal Paragon Hall, Siam Paragon in compliance with social distancing practices. An additional 1,500 participants joined the live stream contributing to this successful hybrid event.
In the morning session, Dr. Kongkrapan welcomed participants and attended the "Leaders in Sustainability in Action" group discussion. He emphasized that for several years, GC has recognized the importance of maximizing the use of limited natural resources by applying the principles of the Circular Economy in the company's activities under the GC Circular Living approach which has proven to be an effective way to manage resources and support sustainable growth. This is done in three ways: 1) Smart Operations: Building a new business format using technology to develop and improve manufacturing processes resulting in a reduction in the use of natural resources and a commitment to comprehensively reducing greenhouse gas emissions to Scope 3 Emissions; Responsible Care: Designing and developing sustainable products that contribute to the efficient use of resources ensuring maximum benefits; and Connecting the Loop: Extending collaborations with stakeholders, and integrating connections with businesses for projects. The successful implementation of the circular economy also relies on the following four factors that can help overcome the natural resource crisis: i) Thought Leaders: Opinion leaders, innovators, and business operators from around the world were invited to share their knowledge and experiences in using the circular economy concept to build a better world; ii) Innovations: To create new products in line with the circular economy concept; iii) Business Models: To design self-reliant business models which can be practically implemented; iv) Ecosystems: To build an ecosystem in which stakeholders can live together.
In addition, Mr. Patiparn spoke on the topic of "Circular Living, An Integrated Solution Platform" emphasizing that GC is committed to operating efficiently and sustainably with a clear purpose to reduce greenhouse gas emissions throughout its supply chain. He noted the importance of having cooperation across sectors. At the event, GC presented 'Circular City,' which offers participants a chance to adopt the GC Circular Living lifestyle as a practical model that inspires and empowers environmental awareness and is suitable to different lifestyles, including:
"YOU Turn" - an integrated waste management platform that involves sorting waste and a transport system to a recycling plant which produces quality products adding value to used plastic.
A model of an upcycling plant that meets international standards and Thailand's recycling requirements;
Bio-Town - an innovative and eco-friendly town for consumers;
"Trashpresso | Funtastic Upcycling Plastics" - Thailand's first mobile upcycling machine that reduces the amount of plastic waste by transforming plastic waste into new products.
GC Circular Market which brings together ideas and innovations, and features creative, upcycled products made from plastic waste.
GC is ready to take on a leading role to accelerate and integrate solutions to Thailand's environmental problems. The company believes that cooperation of all sectors can contribute to more responsible use of resources achieving maximum benefits and that together, we can turn ideas into practices and work together to build a better tomorrow.
To watch the VDO go to: Click