GC Collaborative Community-based Water Management Project
The GC Collaborative Community-based Water Management Project is a collaboration between private organizations, the state, educational institutions, and the local communities in Rayong Province. The project was started in 2017 with the aim of easing the occurrence of flooding and drought on a community level, as well as providing communities with access to sustainably sourced clean water. It was also hoped that the project would build awareness for the safeguarding of water sources, while teaching communities the value of conserving water. The project's goals are now being achieved through the following activities:
1) Construction of gabions using GC's plastic flapped sacks to reduce riverbank erosion and improve drainage efficiency (Installed on Taa Yai Canal in the Charoen Pattana Community).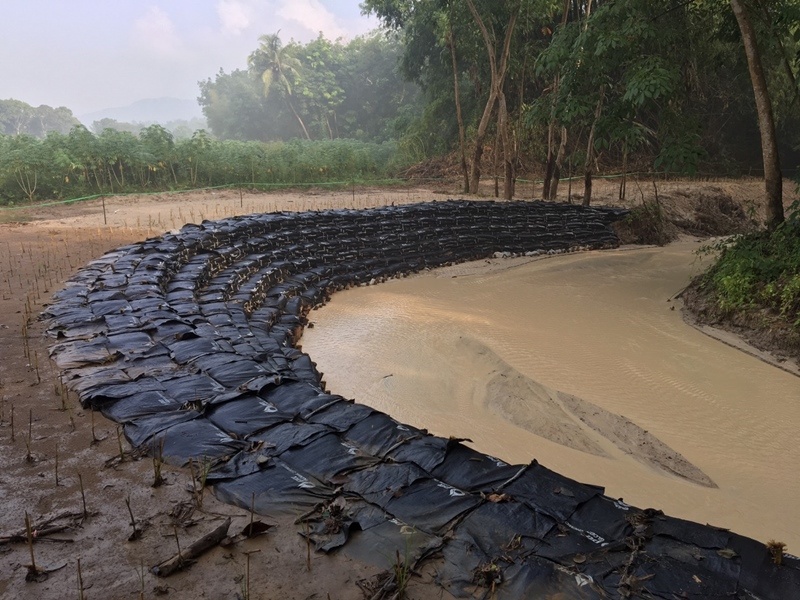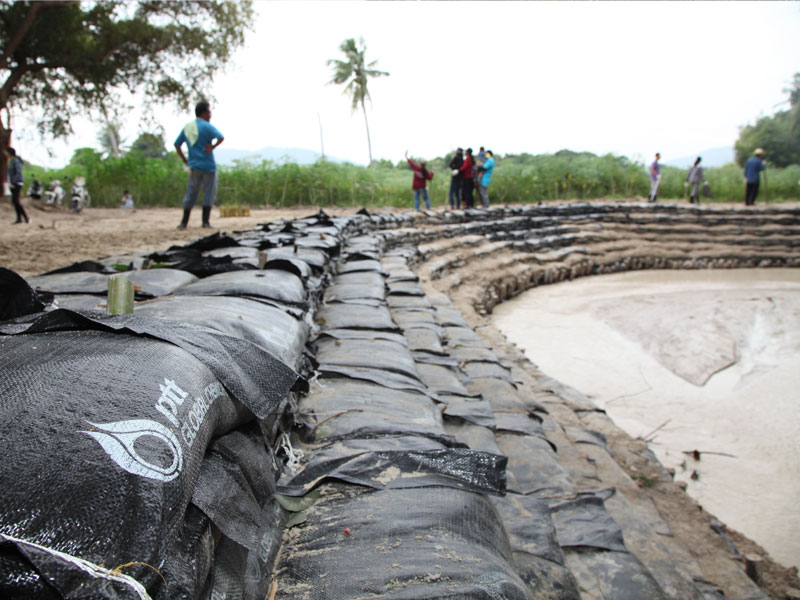 2) Construction of water storage weirs – sludge trap weirs using GC's plastic flapped sacks, which store rainwater during the monsoon season for use in the dry season. This reduces the accumulation of sediment in canals, meaning the canals remain deeper and capable of coping with the rainfall in the monsoon season. Additionally, these measures reduce costs associated with constructing new waterways and fees involved with the purchase of water for both consumer and agricultural use. (Installed on the canal behind Baan Khao Huay Mahaad School and the stream north of Soi Khiri Temple).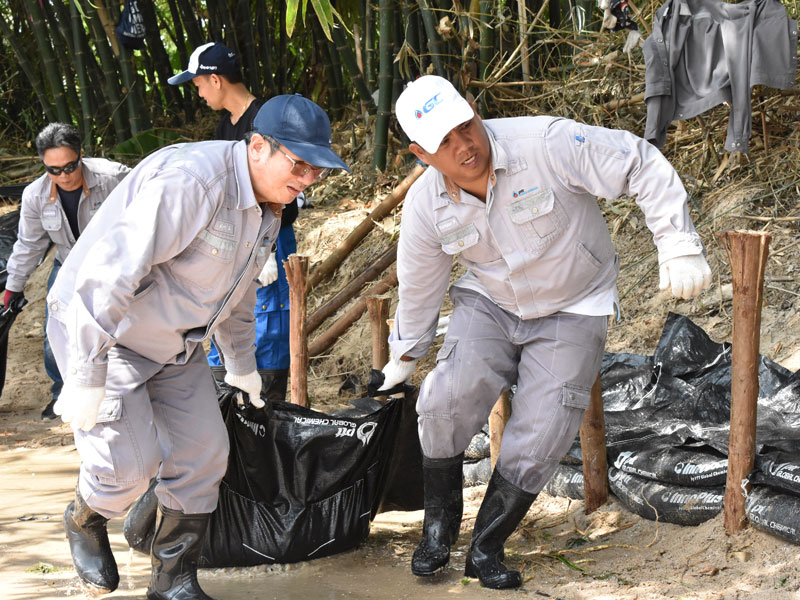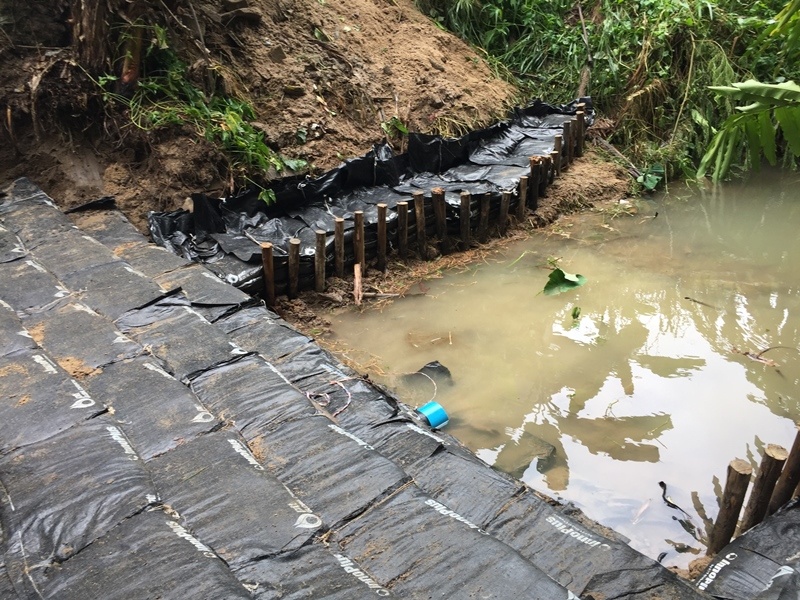 3) Construction of 11 separate check dams using natural materials in the national park. These structures support the establishment of a diverse vegetative cover, improving the surrounding habitats since these dams help creating water sources and places for wildlife to feed from. After the dams were completed, elephant tracks were found nearby, showing that they had recently used the water sources for their intended purpose. (Installed in Khao Chamao - Khao Wong National Park).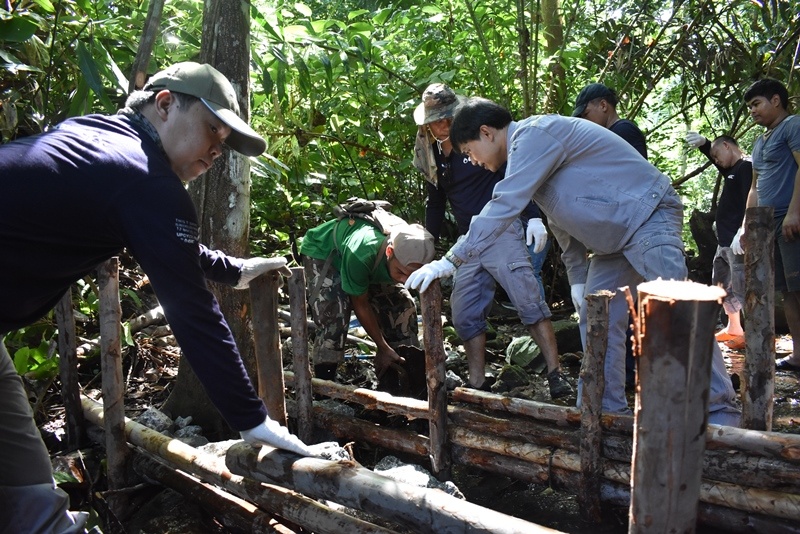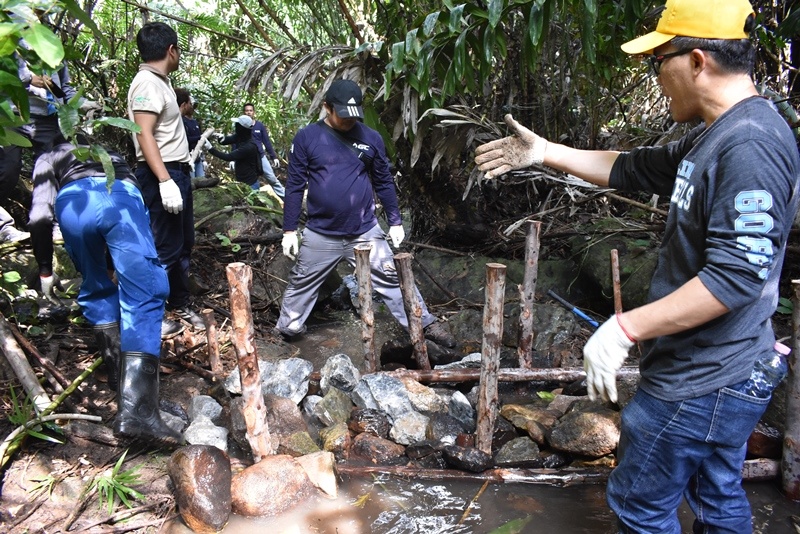 4) Ensuring access to clean drinking water for students attending schools in under-privileged areas of Rayong Province while also reducing the need to purchase plastic water bottles through the installation of reverse osmosis (RO) equipment alongside InnoPlus water tanks. Indeed, we have installed clean drinking water systems in a total of 4 schools since 2018, covering an area inclusive of 4 districts, as follows: Baan Taphun Tong School, Muang Rayong District; Baan Khlong Yai Muang School, Baan Khai District; Baan Khao Ta-In School, Wangchan District; and Nikom Saang Ton Eng Rayong 3 School, Nikom Pattana District. These systems have not only enabled greater access to clean drinking water, but have also significantly reduced students' expenditure involved with the purchase of water bottles.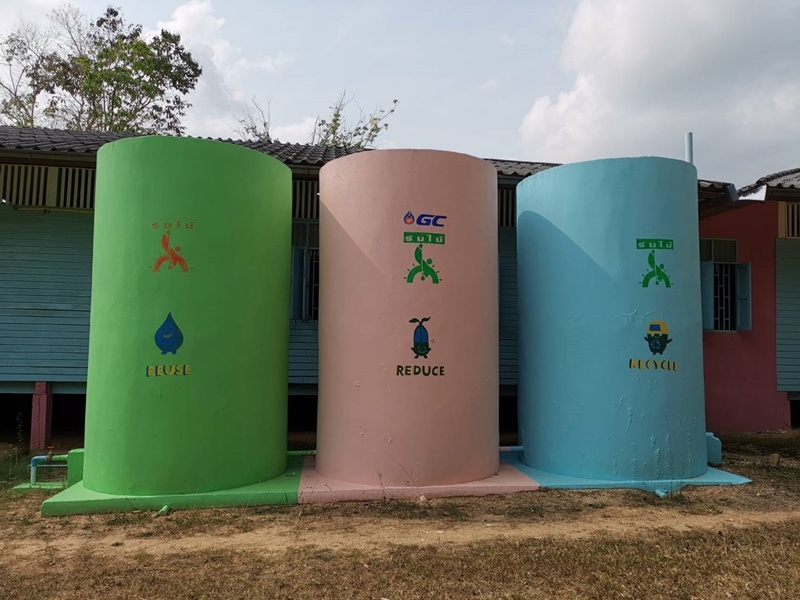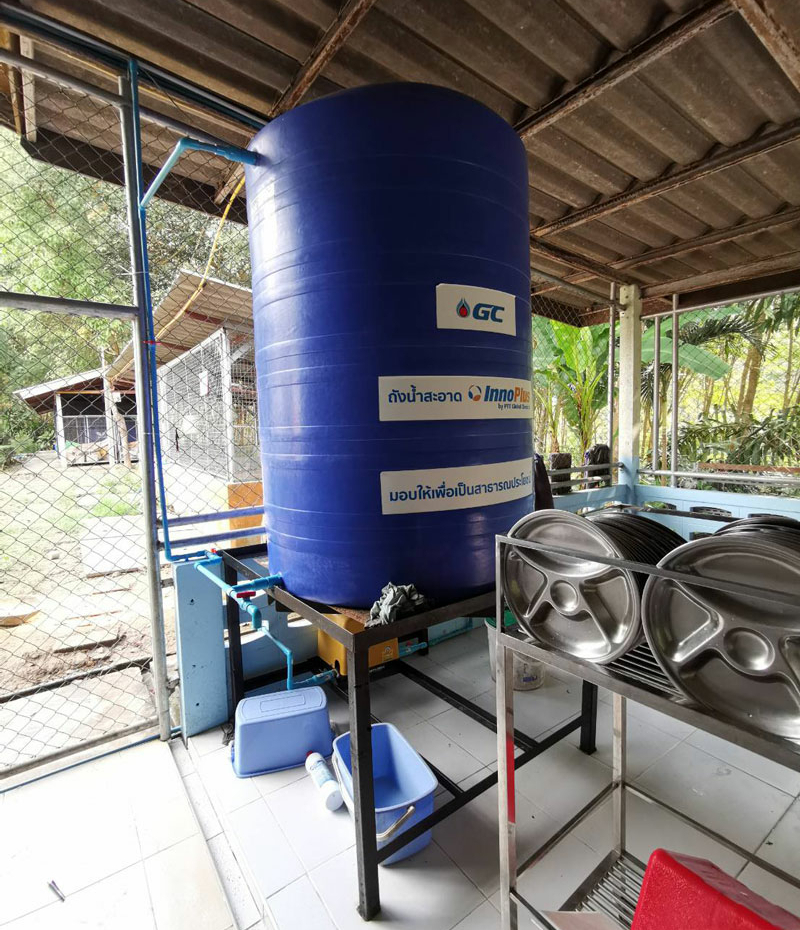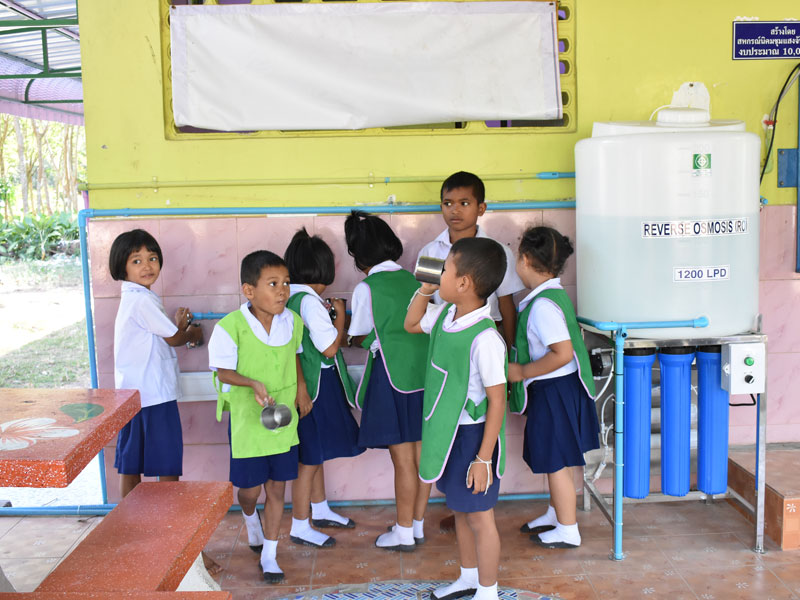 5) Installation of closed-system groundwater banks to reduce salt intrusion and help to alleviate the occurrence of drought and flooding for local orchard farmers. This is considered a natural way to preserve the environment, and also instils a confidence in the local water supply for the community. Since 2019, a total of 17 such water banks have been installed in the Krok Yai Cha Community and the Nong Taeng Mae Community, and their surrounding areas, while another 2 banks are planned for construction in 2022, which will help store rainwater underground for year-round use.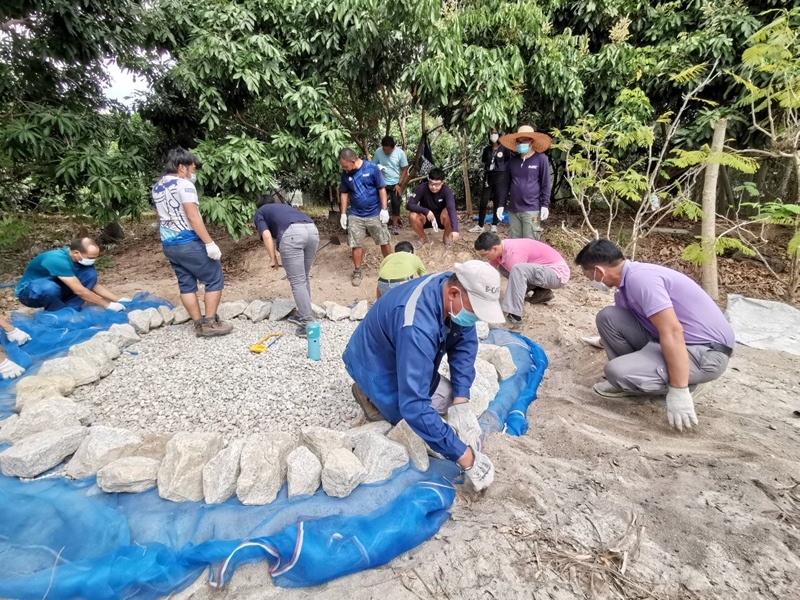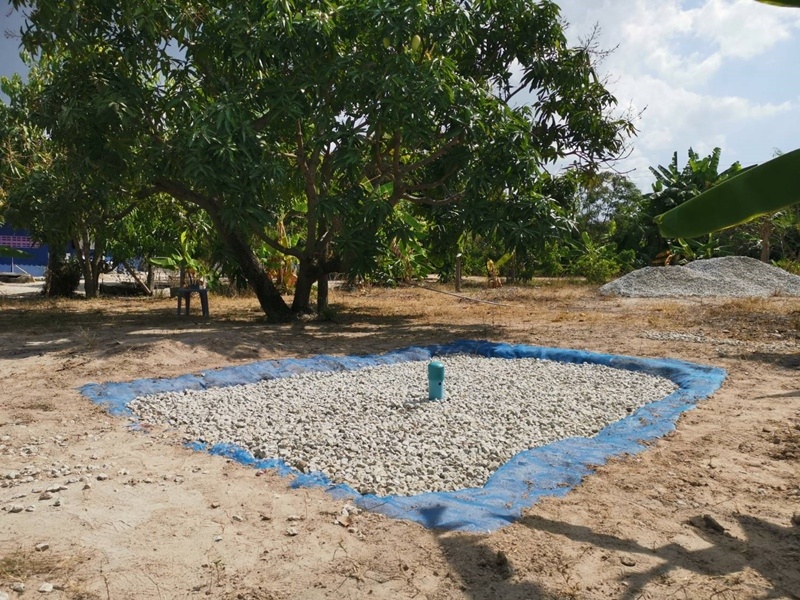 These activities have helped foster stability with regard to water management on a local level, resulting in fewer conflicts between the communities and private companies, while they have also reduced interruptions to operational procedures that could otherwise be caused by water shortages.