PAPR
Arming our heroes in white gowns and overcoming COVID-19 through innovations.
GC and its partners continue to conduct research to further develop innovations in medical equipment through healthcare solutions under the 'Greater Care by GC' brand to improve the healthcare system for Thais. This also involves the provision of materials to produce personal protective equipment (PPE) through a collaborative project with the Faculty of Medicine Vajira Hospital, Navamindradhiraj University to prevent the spread of COVID-19.
The spread of COVID-19 around the world impacted Thailand with an increase in new cases which rose continuously putting a tremendous strain on healthcare workers who were at high risk of becoming infected working on the frontlines to screen, examine, and treat patients. Having personal protective equipment (PPE) ready at all times is crucial and comparable to "armor" which provides a necessary defense.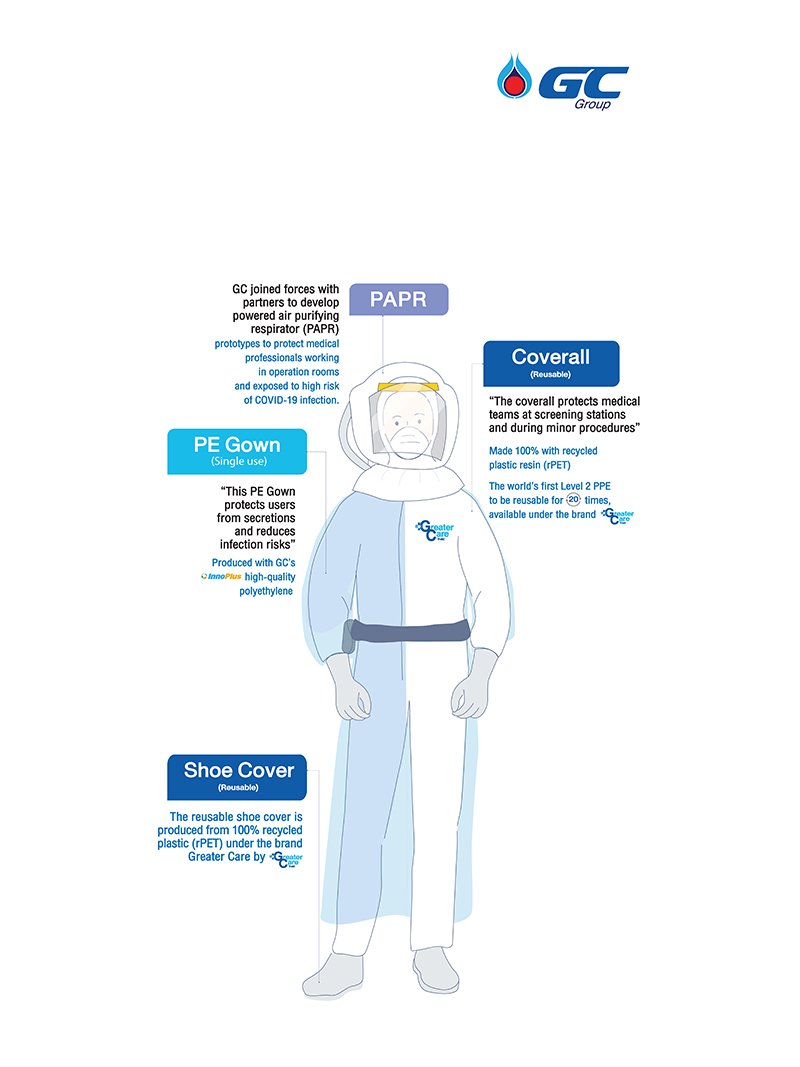 Amidst the shortage and need for PPE supplies, GC group decided to support the safety of healthcare workers by providing chemical and plastic innovations including supplying materials to produce PPE in a collaborative project with the Faculty of Medicine, Vajira Hospital, Navamindradhiraj University to produce PPE to tackle COVID-19.
Under this project, medical grade PPE was developed for use in operating rooms and intensive care units (ICUs) to help prevent the transmission of severe COVID-19 cases from super spreaders to medical workers. The PPE includes the following:
Powered Air-Purifying Respirator (PAPR)

A type of PPE for medical professionals providing greater protection when they are carrying out routine medical procedures on COVID-19 patients. GC is producing the PAPR's filter box using 3D printing technology.

PAPR Hood Cover

Made of 100% PET (polyethylene terephthalate) from GC, worn on top to ensure that no outside air, potentially contaminated with COVID-19, enters the PAPR.

Face Shield Visor Holder

The Face Shield is made of polycarbonate (PC) and the visor holder is made of acrylonitrile butadiene styrene (ABS plastic). Both are supplied by GC. They are suitable for use as the inner layer of the PAPR and PAPR hood cover providing complete protection to medical professionals from COVID-19 during routine medical procedures or when in close contact with COVID-19 patients.

Coverall (Internal)

Made of PP (polypropylene) spunbond meltblown spunbond (SMS) EN13892, EN13034 (European standard), supplied by GC.

Isolation Gown (External)

Made of PP spunbond fabric mixed with meltblown produced by HMC Polymers Co., Ltd. (HMC), a subsidiary of GC Group. Worn on top of the coverall to ensure greater protection

Shoe Cover

Made of PP spunbond fabric. Worn on top of shoes for medical and healthcare workers who are carrying out surgical procedures or treating patients to prevent exposure to blood and bodily fluids.
The project initially aims to produce 1,000 prototype units of PPE for healthcare workers and hospitals facing an immediate shortage of PPE. This will increase the confidence and safety of healthcare workers when treating patients, and in turn, lead to improved treatments and the ability to manage patient intake and care.
GC believes that if every related sector works together to achieve their best performance and operations, Thailand will soon be able to overcome the pandemic.