13 May 2020
GC and ThaiBev Provide One Million Bottles of Alcohol Gel Hand Sanitizer to Village Health Volunteers to Express Their Appreciation and Admiration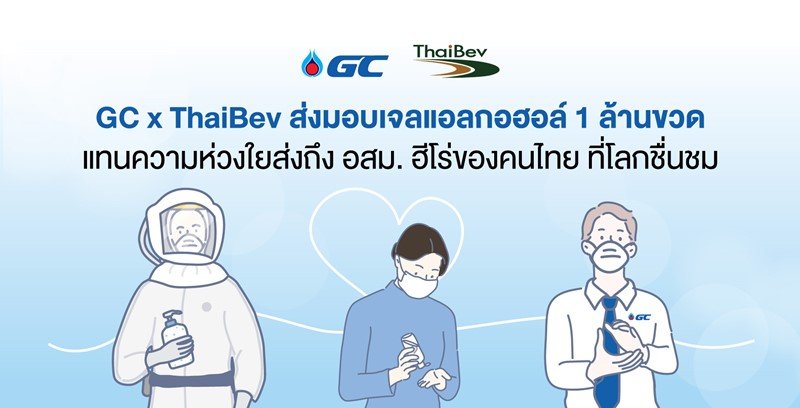 As the global COVID-19 outbreak continues, one of the key groups working on the frontlines are the Village Health Volunteers (VHVs) who are devoting a substantial amount of their time and energy screening for the virus at the community level. As a result, the accumulated number of infections in Thailand is gradually declining. To express their gratitude and to support the well-being of VHVs, GC Group and ThaiBev recently joined together to provide alcohol gel hand sanitizer, under the GelCo brand, which meets the requirements of the Thai Food and Drug Administration (FDA).
GC Group was responsible for the provision of triethanolamine (TEA), for which GC is the sole manufacturer in Thailand, and which has a special property that allows a nanoparticle ion to attach to people's clothing and skin providing a protective effect for 24 hours; and pharmaceutical-grade glycerine, which causes the nanoparticle ion to be a suspended solid in the liquid disinfectant without any sedimentation, moisturizing the skin with no irritation. ThaiBev, in turn, provided the 72% alcohol necessary to produce 1,000,000 bottles of alcohol gel hand sanitizer which was provided to safely support VHVs nationwide and in appreciation of their service.
In 1978, the World Health Organization (WHO) organized the International Conference on Primary Health Care (PHC) in Alma Ata, USSR (now Almaty, Kazakhstan), which promoted the goal of universal health coverage. The Alma Ata Declaration identified "primary health as an important part of the social development process, and the key to the attainment of the goal of 'Health for All' around the globe." In response, Thailand adopted the Village Health Volunteers (VHVs) program, being one of the first countries to take this important step.
After four decades, VHVs in several countries no longer exist. However, the spirit of volunteerism and Thai culture has continued to empower an efficient VHV system in Thailand.
The VHVs contribute to a fundamental structure that helps stabilize Thailand's public health system. One VHV takes responsibility for 10-20 households. Under routine circumstances, they share knowledge on primary health and promote disease prevention among villagers to empower the well-being of households under the 'Proactive Strengthening Health' Strategy. With the world now experiencing COVID-19, the VHVs are seen as a key mechanism for the public health system as they play a key role in building an understanding about the coronavirus as well as monitor and care for people in the community. They also manage those in self-isolation and from high-risk areas, all of which are effectively helping to slow community spread, resulting in a decrease in the number of infections. The WHO has praised VHVs in Thailand for their spirit of volunteerism and dedication throughout the country. The valuable role they have played is one part of the solution to Thailand's response to COVID-19 and effectively curbing the outbreak.
Source: อสม.นักสร้างสุขแห่งแผ่นดิน! Suthichai live 27/4/63
กว่า 3 ทศวรรษ การสาธารณสุขมูลฐานไทย