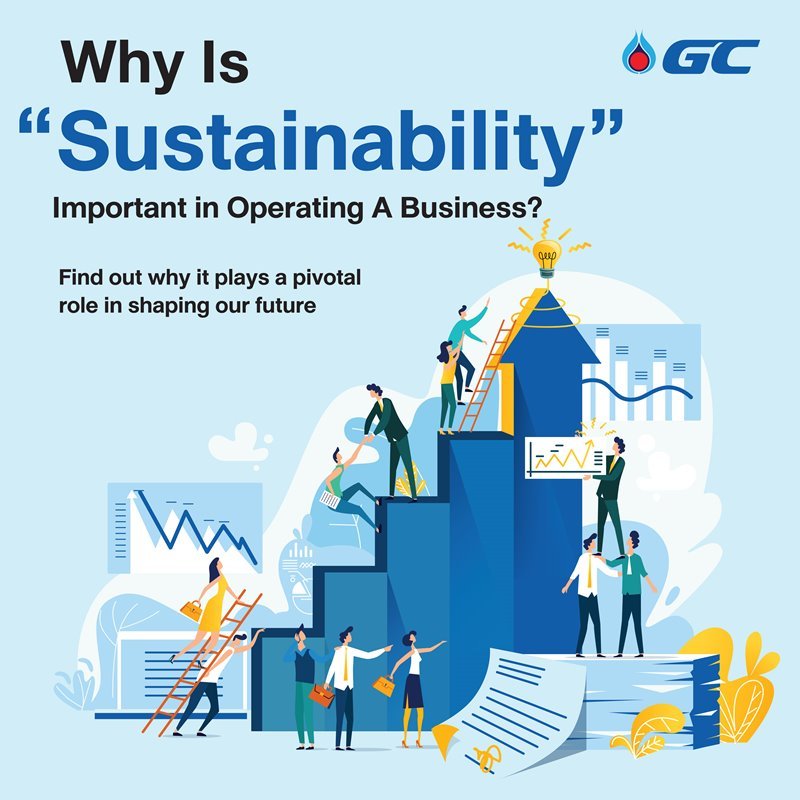 It's worth pointing out that 'sustainability' is a word that many people know but which few truly understand. In the past few years, we can clearly see that the world has faced with numerous challenges across different dimensions, including technology, environmental problems, and resource scarcity. Sustainability for most everyone is a term that conveys a problem-solving choice.
An easier way to explain sustainability in business is to refer to any operation that takes into account future consequences or involves long-term planning. In practice, this is not about making profits, but recognizing the rights of future generations. In fact, the origin of this term is not recent, it goes back to the Industrial Revolution of the 1760s and 1850s.
The industrial revolutions aimed to improve people's lives. Nevertheless, the over-exploitation of natural resources to produce consumer goods and equipment without assessing the long-term effects was undeniable, and this has adverse impacts on the economy, environment, and social equality.
This was most obvious from 1900 to 2000, when the largest companies in the commodities market in the US made excessive demands on natural resources in huge quantities affecting ecosystems and impacting the environment. In addition, monopolistic markets in the economy contributed to unequal income distribution and economic inequality for many companies. Consequently, any company that failed to adapt was unable to survive in the market.
This is how the idea originated – to operate a sustainable business that balances a company's economic growth, environmental conservation and a more prosperous society focused on long-term success and not short-term outcomes. The key factors contributing to sustainability for companies are 'innovation and technology' along with networking and the identification of clear and shared purposes. This can result in rapid expansion and then changes that have positive and significant impacts on other areas.
GC, a leading company in the petrochemical industry, believes in conducting its operations in accordance with sustainability guidelines because sustainability is about achieving a balance and growing with others, driven by the Sustainable Development Goals (SDGs) together with principles of the circular economy targeting efficient resource management that includes climate, water resources, and plastic waste management.
GC believes that sustainability management is a necessary factor in balancing three areas: the economy, society, and the environment through every activity which we carry out including our continued commitment to reducing greenhouse gas (GHG) emissions in the production process. This includes recognizing the importance of environmentally friendly products and recycling natural resources, and most importantly, increasing the public's understanding of resource efficiency.
Today, GC has improved its operations to maintain its leadership in sustainability based on three key operational frameworks:
Climate Actions: Upgrading climate management together with value-chain partners by targeting a 20% reduction in greenhouse gas emissions by 2030, together with a focused strategy on reducing GHG emissions per production unit by 52% by 2050 as part of the Paris Agreement's climate management guidelines. In addition, the company plans to expand its operational scope to the relevant value chain (GHG Scope 3), all of which contribute to achieving the Sustainable Development Goals (SDG 13 - Climate Action).
Plastic Waste Management: To extend the "YOUTURN" platform to integrated waste management with all sectors, GC recently partnered with PTT Oil and Retail Business PCL (OR) on the "Plastic (Return) Happiness" project. This resulted from GC's goal of sending plastic back into the system to be recycled or upcycled into value-added new or reusable products without any additional damage or impact to natural resources. The project provides drop-off points at various locations for plastic waste, starting with PTT stations in Bangkok with plans for further expansion to other stations nationwide. Moreover, GC plans to expand the scope of the platform with various partners in the future.
New Circular Model: Creating a model that combines sustainability concepts with the current social contexts such as building partnerships to develop personal protective (PPE) equipment. Some examples include the production of coverall kits under the "Greater Care by GC" brand made from 100% recycled polyethylene terephthalate (rPET), PPE Level 2 series which can be cleaned and reused up to 20 times. In addition, the "How to Yeak... How to Manage Infectious Waste" project, which GC initiated in collaboration with its partners and public agencies, promotes proper waste separation and disposal in many provinces, while bio packages have been used in various project providing an important alternative to reduce environmental impacts along with maintaining food safety standards for food deliveries.
GC is showing an important way forward, through a smart revolution, by playing a pivotal role creating constructive change and driving the industry towards sustainable growth.
#GC #ChemistryForBetterLiving #GCCircularLiving