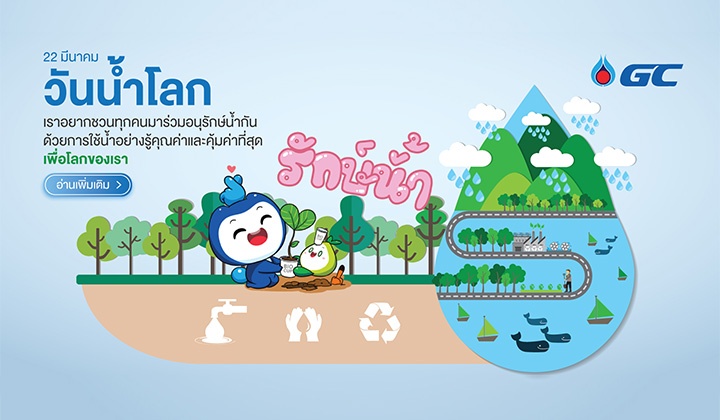 Water is essential to living organisms and plays an important role in consumption, agriculture, or industrial sector. World Water Day is held annually on March 22, in which this year's theme is "valuing water", which aims to raise an awareness on using water efficiently in hopes that all people will have access to clean water in accordance with the United Nations Sustainable Development Goal 6 (SDG6), especially during times when water use has been increasing worldwide about 1 percent each year, while one-quarter of the world's population is facing water crises.
Everyone can take part in water conservation of using water efficiently and reusing water, starting from a small scale in daily life such as
Taking a shower instead of a bath
Installing a low-flow faucet aerator in order to lessen the amount of water flow when using, but with the same washing ability as normal faucet aerator
Cleaning dishes before washing them
Pouring a glass of water with moderate amount
Watering plants by using the leftover water from the laundry
Checking for leaks using water meter in the house
PTT Global Chemical Public Company Limited, or GC, having realized the importance of raising awareness on efficient use of resources in accordance with circular economy, has since applied it to its internal water management for example reducing water consumption according to 3Rs (reduce, reuse, and recycle) by reducing wastewater and improving wastewater's quality in order to be reused; applying innovation to increase the efficiency of seawater reverse osmosis (SWRO) system to reduce water withdrawal from natural resource; and to enhance the efficiency of water consumption in products and apply for water footprint of product certification, which by doing so, reflects GC's water stewardship.
In doing so, all the efforts from everyone whether from home, school, or office, will surely multiply to help make a difference for the world's water conservation.
Reference: https://www.greenpeace.org/thailand/story/11595/climate-coal-world-water-day-2020/ , https://www.mwa.co.th/ewt_news.php?nid=698