22 October 2019
The Junla-Kathin Recycling Festival's Merit-Making Increases Environmental Awareness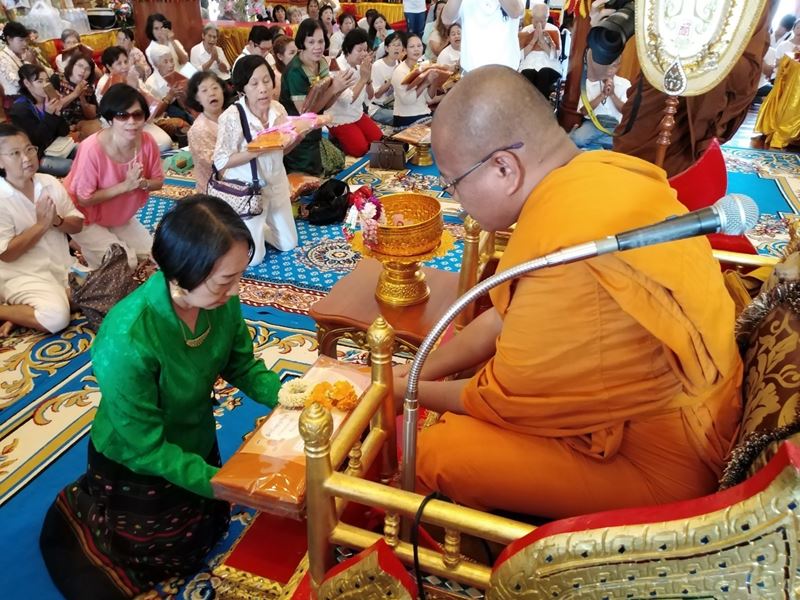 To mark the end of the year, devoted Buddhists enthusiastically take part in the 'Thod Kathin' festival, or the annual merit-making festival, which can only be performed once a year. In addition to the Thod Kathin festival, there is the 'Junla-Kathin' festival which is more challenging and hectic, and involves making the monks' robes first by sewing, dyeing and then presenting the yellow robes to the monks all within a single day from dawn until dusk in support of a great number of devoted Buddhists. It's traditionally believed that those who participate in the 'Junla Kathin' festival will receive a great deal of merit as it requires more perseverance than the traditional 'Thod Kathin' festival.
Wat Chak Daen, located in Phra Pradaeng district, Sumut Prakan province, is one of the temples that is well-known for regularly holding the 'Junla-Kathin' festival in a more creative format, and is better-known as the 'Junla-Kathin' Recycling Festival. At this unique festival, cotton and recycled fibers made from plastic bottles are woven to make yarns that are then knitted, measured, cut, sewn, dyed and made into monks' robes in compliance with Buddhist rules of practice by 19 October 2019, when the robes are then presented to the monks as part of the 'Junla-Kathin' religious service.
In 2018, the idea of the Junla-Kathin recycling project was introduced resulting in PTT Global Chemical Public Company Limited, or GC, taking part in supporting the preservation of the Khung Bangkrachao community. The project was spearheaded by Phra Maha Pranom Dhammalanggalo, whose idea of recycled monks' robes, was sparked when he noticed that staff were wearing t-shirts made from fibers produced from plastic waste.
GC and experts had previously teamed up to begin producing recycled monks' robes with recycled yarns made from clear PET bottles through the innovative upcycling process. The recycled polyester yarns were made from cotton and recycled polyester zinc and weaved into fabrics with antibacterial properties to prevent odors. They are light, breathable, easily dried, and wrinkle-free, making them ideal for the hot weather in Thailand. One piece of robe uses fifteen PET bottles while a full set of a monk's attire requires sixty PET bottles. The sewing of the entire set of full monks' attire was completed by local residents of the Khung Bangkrachao community. Additionally, the world's first recycled monks' robes comply with Buddhist rules of practice for Thai handicrafts. The initiative has gained a considerable amount of interest from other temples, both within Thailand and internationally.
The presentation of the recycled monks' robes as part of the 'Junla-Kathin' Recycling Festival 2019 effectively demonstrates how the 'Khung Bangkrachao' community is able to reduce waste resulting in an improved environment. It also shows a way to increase local incomes and strengthen community networks through a small but important initiative that is helping to improve the provincial economy while responding to the concept of GC Circular Living and promoting "Chemistry for Better Living."
To purchase recycled monks' robes, please contact:
The community enterprise of Wat Chak Daeng, Songkanong Sub-district, Phra Pradaeng District, Sumut Parakan, 10130. Tel; 02 464 1122, 081 643 5157.