02 March 2018
Carrying on the Tradition of Making Merit with Khao Lam, Glutinous Rice Roasted in Bamboo, in Rayong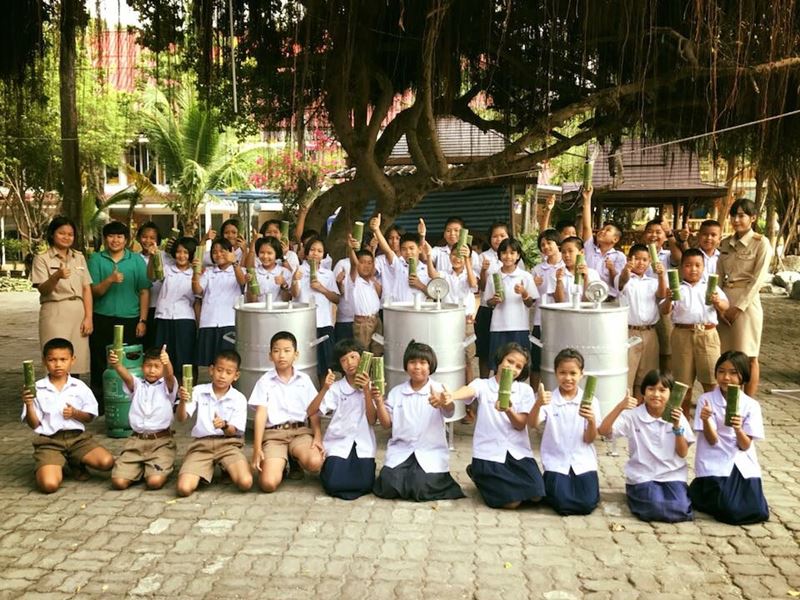 A combination of tradition and culture has been handed down to us through generations of our ancestors. This includes ancient stories and time-honored practices that successive generations have learned and followed. For example, the tradition of making merit with glutinous rice roasted in bamboo tubes, which is called "Khao Lam," has long been recognized in Thailand's Rayong province as a fun and important, but also sacred, tradition that encourages people to visit their local temples.

The tradition of making merit with Khao Lam normally takes place on Makha Bucha Day, which is the day of the full moon of the third lunar month. Residents of Rayong province join together to make Khao Lam in three mouthwatering flavors: sweet, salty, and coconut milk. Preparation begins by mixing sticky rice with seasoned coconut milk, which is then stuffed into hollow bamboo tubes and roasted in an ancient earth oven. For the ancient earth oven, a hole is excavated in the ground, in which the bamboo tubes are lined up in parallel and roasted over a charcoal fire.

The succulent roasted Khao Lam are handed out during almsgiving ceremonies at neighborhood temples. This tradition has been adopted through generations as an important practice to encourage people to make merit. It's also a special time for family members to wind down their busy schedules to relax, share time together, and strengthen their relationships.

Every year, PTT Global Chemical Public Company Limited (PTTGC) demonstrates its strong support for maintaining and promoting local traditions. This year, PTTGC's Community Relations Unit Area 1 supported a good cause with a financial contribution for this sacred tradition of making merit with Khao Lam. TOC Glycol Company Limited (TOCGC), a PTTGC subsidiary, collaborated in supporting the Nong Fab community by providing a new oven to make Khao Lam, which replaced a worn-out traditional charcoal oven. This allowed villagers to make their Khao Lam more safely shielded from the intense heat and smoke, better promoting the future of this important tradition in Rayong province.

The highlight of the event is a fun-filled Khao Lam-making competition, as each community has its own secret recipe. This treasured tradition brings together everyone in the community, from elders to young children, to try the different styles of delicious Khao Lam made from various recipes.