17 August 2017
Vidyasirimedhi Institute of Science and Technology and Kamnoetvidya Science Academy Project in Rayong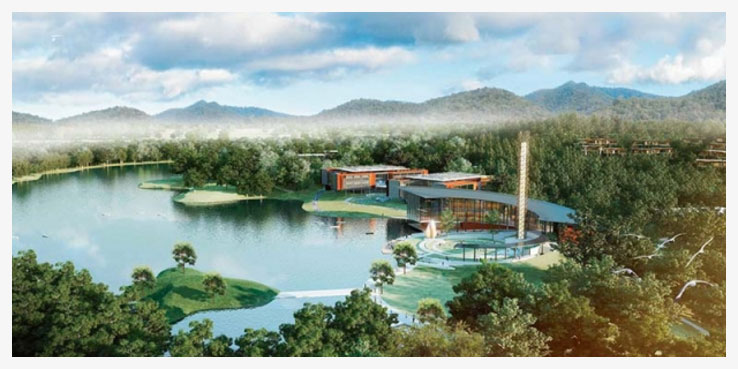 As a result of their insights and commitment, PTT Group's executive team recognizes the importance of education. This led them to the idea that Thailand should offer young people access to an educational institution that specializes in science and technology, as well as research courses at academic standards on par with other leading institutions worldwide. This institution would also nurture young peoples' leadership in science and technology as another way to drive Thailand's growth to be equivalent to other developed countries in Asia such as Japan, Korea, and Singapore.
This goal led to PTT Public Company Limited's strong determination to implement a project to start a science and technology high school and institute in Thailand's Rayong province. The project's objective is to develop a new generation of researchers, a new body of knowledge, and breakthrough innovations while offering relevant learning experiences that will help Thai society to reach the same level as other countries.
The project received the royal grace of HRH Princess Sirindhorn when she bestowed the names "Rayong Science Academy" and "Rayong Institute of Science and Technology," known locally as the "Kamnoetvidya Science Academy (KVIS)" and "Vidyasirimedhi Institute of Science and Technology (VISTEC)" respectively. Both are located on over 900 rai of land in the Pah Yup sub-district of Wangchan district in Rayong province.
Kamnoetvidya Science Academy (KVIS) is a leading science high school with a specific purpose of nurturing gifted and talented students in mathematics and science in grades 10 to 12 who will make a significant contribution to Thailand's science and technology development. Classes are mainly offered in English, with full scholarships funded by the PTT Group. Each academic year, KVIS recruits 72 high-ability science and mathematics students selected from 5,000 to 7,000 applicants from all parts of the country. The aim is to keep KVIS small with four classes at each grade level, and 18 students per class.
The Vidyasirimedhi Institute of Science and Technology (VISTEC), the name graciously bestowed by HRH Princess Sirindhorn, means "Science Institution for Exceptional Talents." Her Royal Highness also gave her initial title of "Sor Tor" for the upper portion of the institute's name.
In the beginning, the institute is only accepting master's and doctoral students for courses taught in English. It aims to develop new graduates with "international" science and technology-related degrees who can make a major contribution to Thailand's growth and development.
PTT Group's strengths include solid business performance and ownership of diverse types of manufacturing plants. To benefit from this, VISTEC is designed around apprenticeships, offering students direct work experience to complement their learning. This makes it fundamentally different from most other institutes in Thailand.
VISTEC also aims to become a research university that not only produces new graduates, but also intellectual property. It encourages academic excellence to develop a new body of knowledge and innovations that only a specialized university can offer. The KPI to evaluate its success is not the number of graduates, but the number of academic works produced at the institute that are publicly recognized. VISTEC is also strongly committed to becoming one of the world's top 50 universities and one of the world's top research universities by 2035.
"Vidyasirimedhi Institute of Science and Technology and Kamnoetvidya Science Academy" project, in Rayong.
Linkage to CSR Strategy: Growth
Objective:
This project is a joint initiative with the PTT Group to establish the Rayong Science and Technology Institute and Rayong Science Academy to develop talent in mathematics and science, as well as to produce researchers with expertise in innovative science and technology.
Business Benefit KPIs
Serve business demand for researchers, engineers, and skilled technicians for Thailand's petrochemical and petroleum industry.
Generate positive press coverage.
Develop sources for new innovations and knowledge.
Social and Environmental Benefit KPIs
Number of scholarships given.
Rate of access to education and training and rate of university involvement.
Increase in public awareness and environmental knowledge.