31 January 2018
T-shirts from PTTGC's "Upcycling Plastic Waste" project will be a hit with runners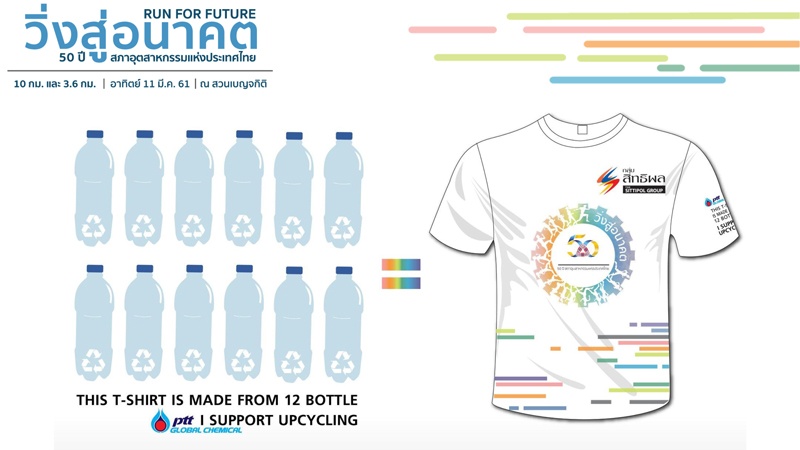 In late 2017, Thai rock singer Athiwara Kongmalai, better known as "Toon Bodyslam," completed a 55-day run from Thailand's southern Yala province to Chiang Rai province in the north. He ran the length of the country, covering a distance of 2,215 km to raise over 1,142 million Baht for 11 of Thailand's public hospitals.
With his contribution to promoting positive change in Thai society, Toon galvanized the nation, renewing interest in running as a popular fitness trend. He no doubt encouraged many people who stopped working out to get back into an exercise routine. Toon's efforts also inspired many organizations to hold running activities to raise donations to support good causes while promoting improved health.
As part of its 50th anniversary celebration, the Federation of Thai Industries (F.T.I.) organized the F.T.I. Run (Run for Future) event to raise funds. Proceeds from registration will go towards the second year of the "Learn for Education" project, which has a mission to innovate learning platforms by leveraging technologies and digital materials to provide quality education that helps reduce inequalities and develops Thailand's human capital.
One of the highlights of the F.T.I. Run (Run for Future) event is that all runners will receive a special t-shirt made as part of PTTGC's "Upcycling Plastic Waste" project, in which PET plastic bottles are recycled and turned into quality t-shirts for runners. This is an innovative approach to helping reduce the problem of plastic waste in Thailand.
Mr. Chen Namchaisiri, President of the Federation of Thai Industries, said the F.T.I. Run (Run for Future) event has a clear purpose of giving back to society while underpinning the federation's long-standing commitment to supporting good causes. He added, "It's important to note that the running activity will promote civic engagement, encouraging people to join together to improve their health, do good by making merit, and support education as part of the 'Learn for Education' project."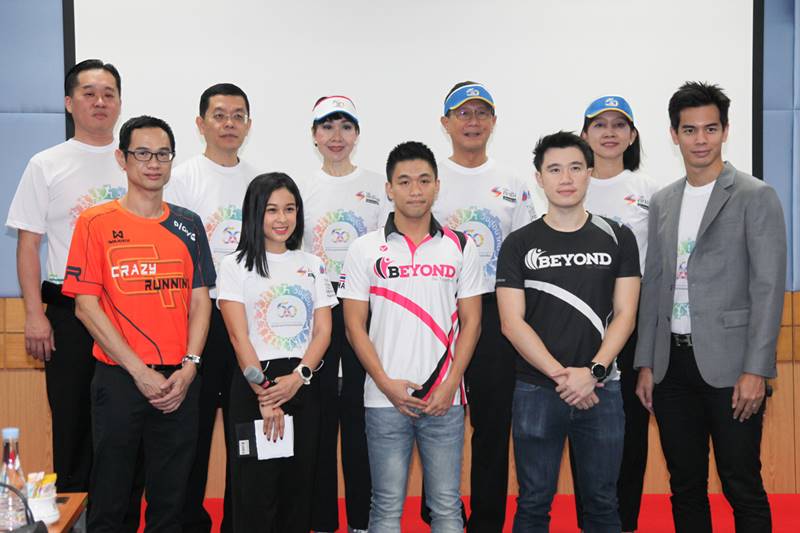 The project aims to leverage technology by assisting teachers to deliver quality instruction and humanizing student-teacher interactions. This will help teachers to spot and assist the students identified as having specific learning difficulties in mathematics and science. The project will also use technology to help students to learn efficiently by delivering effective content while better assessing their competencies. The federation continues to build support for the project, which will be adopted in over 100 schools nationwide.
Mrs. Warawan Tippawanich, Senior Vice President of Corporate Affairs for PTT Global Chemical Public Company Limited (PTTGC), said, "PTTGC is marking the 50th anniversary of the Federation of Thai Industries and supporting the F.T.I. Run (Run for Future) event by providing t-shirts for runners produced as part of our 'Upcycling Plastic Waste' project." Twelve PET plastic bottles are upcycled into the fabric used to make one t-shirt. PTTGC will provide 2}000 t-shirts for runners at the event, helping to upcycle around 24,000 PET plastic bottles.
Participants in the F.T.I. Run (Run for Future) event can improve their mental and physical health while they enjoy taking part in an eco-friendly upcycling practice. The activity strongly reflects PTTGC's purpose of operating its business to show corporate social responsibility towards communities, society, and the environment, under its Sustainable Business principles. PTTGC initiated the "Upcycling Plastic Waste" project to promote and maximize resource efficiency, in line with the principles of the Circular Economy.
PTTGC believes that the upcycled t-shirts will serve as an important wake-up call for many people, helping them to realize the benefits of adding value to plastic waste by upcycling it into useful items, and promoting resource efficiency and sustainability.
The F.T.I. Run (Run for Future) event, organized by the Federation of Thai Industries, takes place on Sunday 11 March, 2018, at Benjasiri Park in Bangkok. It features a 10-kilometer mini-marathon and a 3.6-kilometer fun run.
#Upcycling #UpcyclingPlasticWaste #CircularEconomy