25 March 2020
GC Continues to Support the Fight Against COVID-19 Providing Medical Gowns to Protect Healthcare Professionals from Infections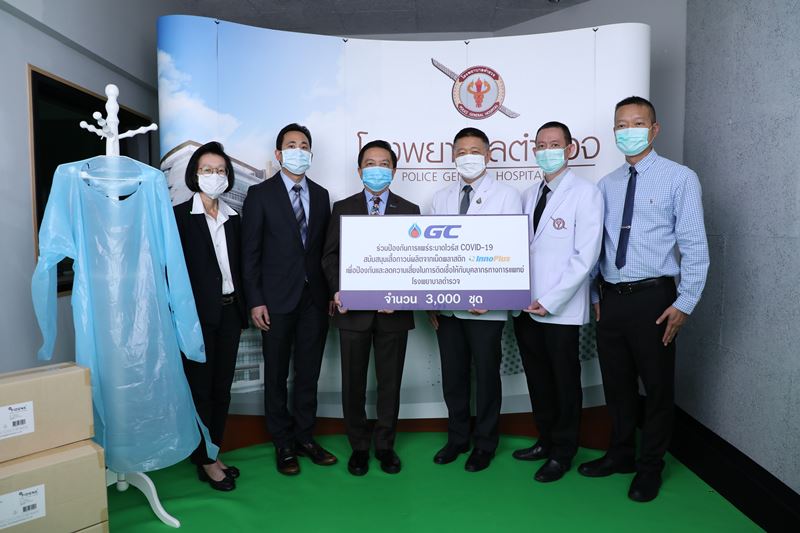 From March 25-27, 2020, Dr. Kongkrapan Intarajang, Chief Executive Officer of GC, delivered a total of 28,000 medical gowns for healthcare professionals to prevent infections at hospitals in Bangkok including the Police Hospital, Chulalongkorn Hospital, the Thai Red Cross Society, Queen Sirikit Naval Hospital, Siriraj Hospital, Ramathibodi Hospital, Phramongkutklao Hospital and Rajavithi Hospital. He was accompanied by Dr. Chaya Chandavasu, Senior Vice President, Sustainability and Corporate Branding of GC. In addition, GC provided a total of 3,000 medical gowns to hospitals in Rayong Province including Rayong Hospital and HRH Princess Maha Chakri Sirindhorn Memorial Hospital Siam Grand Palace.
"GC is concerned about the health and safety of the Thai people, particularly healthcare professionals who are responsible for treating infected patients and playing a pivotal role in the COVID-19 outbreak. As a result, GC is providing medical gowns and encouraging healthcare professionals to do their utmost to keep patients safe. We also discussed various problems with each hospital and gained a much better understanding of their medical needs during this critical time. GC will use the innovations from our petrochemical and plastic products to produce PPE and positive pressure masks to provide further assistance," said Dr. Kongkrapan.
The medical gowns provided by GC are disposable and made from Polyethylene (PE) under the company's 'InnoPlus' brand. This mandatory protective equipment should be properly discarded and sorted after each use to help reduce the risk of infections from patients amid the spike in new daily cases. The medical gowns were therefore specially designed and cut with long, wide sleeves making them easily wearable, lightweight, and flexible, helping prevent the risk of infections transmitted from patients to healthcare professions at the screening sites, and allowing the proper triaging and admittance of COVID-19 patients to hospitals.