27 March 2020
GC Confers with the Faculty of Medicine Vajira Hospital, Navamindradhiraj University, on Guidelines for Innovative Developments to Produce Medical Equipment including Protective Suits and PAPRs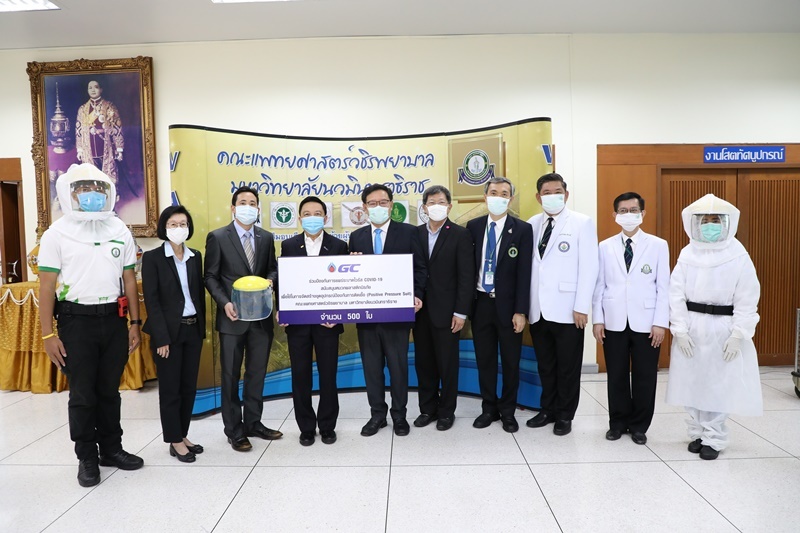 Amid the evolving spread of COVID-19, frontline medical professionals are playing a critical role in the fight against the virus whereas the provision of some essential medical equipment is proving to be insufficient. GC, a producer of Polyethylene (PE) under the company's "InnoPlus" brand, decided to provide medical gowns to help reduce the risk of infections transmitted from patients to healthcare professionals. An additional discussion with a team of medical professionals also revealed that medical and healthcare professionals are facing a critical shortage of medical equipment and supplies to treat severe cases of COVID-19.
On March 27, 2020, Dr. Kongkrapan Intarajang, Chief Executive Officer, and Dr. Chaya Chandavasu, Senior Vice President, Sustainability and Corporate Branding, had a discussion on developing guidelines for innovative developments to produce some medical equipment, particularly protective suits and powered air-purifying respirators (PAPRs) with Prof. Dr. Suraphol Nitikraipot, President of the University Council of Navamindradhiraj University. Dr. Sophon Mekthon, Director of the University Council of Navamindradhiraj University, Assoc. Prof. Dr. Anant Manomaipiboon, President of Navamindradhiraj University, and Assoc. Prof. Dr. Prayuth Siriwong, Dean of the Faculty of Medicine Vajira Hospital also joined the discussions which was held at the Petcharat Building, Faculty of Medicine, Vajira Hospital, Navamindradhiraj University.
GC, as a chemicals and plastics producer, is working to provide protective suits made of 'Spunbond' and 'Meltblown' nonwoven fabrics using the company's polypropylene (PP) medical-grade resin, in addition to 500 prototype units of powered, air-purifying respirators (PAPRs). The properties of these professional custom medical suits for medical and healthcare workers are compatible for use in operating rooms and intensive care units (ICUs) and will help in preventing the transmission of infections from severe COVID-19 cases, particularly super spreaders, thereby protecting medical workers who conduct routine medical procedures or work in laboratories.