09 April 2020
Mahidol University and GC join forces to engineer and develop Thailand's first CoviClear to prevent the risk of COVID-19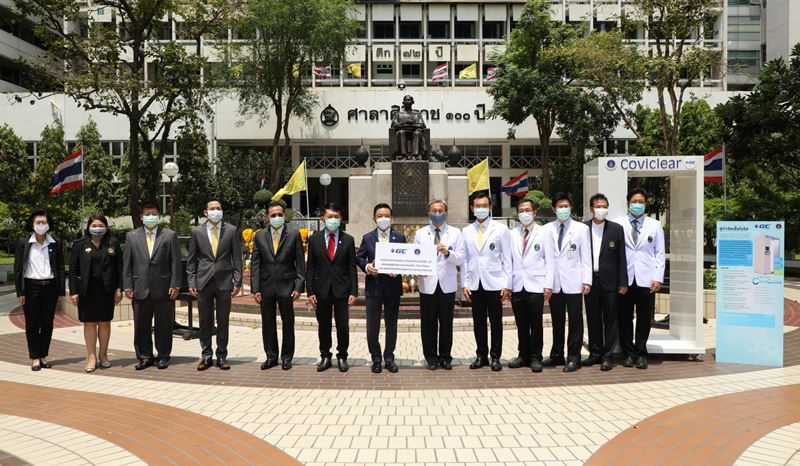 Mahidol University's Faculty of Engineering, PTT Global Chemical Public Company Limited, or GC, and NPC Safety and Environmental Services Limited (NPC S&E), a company under GC Group, have teamed up on innovation and are using their combined knowledge and expertise to develop Thailand's first CoviClear to tackle the escalating COVID-19 pandemic in Thailand. This innovation aims to reduce the risk of coronavirus transmission to medical personnel who have been working tirelessly and under pressure for the Thai people. The CoviClear was given to Professor Dr. Prasit Watanapa, Dean of the Faculty of Medicine Siriraj Hospital, Mahidol University at Prince Mahidol Statue Courtyard, Siriraj Hospital.
Assistant Professor Dr. Supaporn Kiattisin, President of the IT Management Department, Faculty of Engineering, Mahidol University, said the CoviClear, or the silver nanoparticle disinfection unit, uses a state-of-the-art nanotechnology sanitizing spray, which has bioactive silver ions or "silver metal" and a disinfectant liquid that can kill bacterial cell walls and proteins, preventing the disease from replicating. The CoviClear's silver nanoparticle disinfection is effective for 24 hours, providing much needed support for medical personnel and those who visit the hospital. CoviClear is a technological breakthrough that combines engineering and biomedical knowledge, and was invented and developed by a team from the IT Management Department, Faculty of Engineering, Mahidol University, consisting of Assistant Professor Dr. Supaporn Kiattisin, Professor Dr. Somkiat Wattanasirichaikul, Dr. Sirimavadee Siratanitar, and Professor Dr. Theeraya Mayakul. The CoviClear disinfects by releasing silver nanoparticles through a micron-sized nozzle in the form of a vapor. The vapor pairs the silver nanoparticles with viruses, bacteria and other diseases that a person carries, including on their clothing, killing them on contact without causing any harm to humans. The bioactive silver ion has the ability to stick to the skin and clothing of those who have been disinfected by the CoviClear, killing off germs and reducing any risk of illness. The silver ions dissolve when taking a shower or bath.
Dr. Kongkrapan Intarajang, Chief Executive Officer of GC, said that with a vision of being a global chemical company committed to "Chemistry for Better Living," GC is supporting the use of two types of disinfectant liquid made from raw materials produced by GC Group: triethanolamine (TEA), for which GC is the only manufacturer in Thailand, and which has a special property that allows the nanoparticle ion to attach to people's clothing and skin providing a protective effect for 24 hours; and pharmaceutical grade glycerine, which causes the nanoparticle ion to be a suspended solid in the liquid disinfectant without any sedimentation, moisturizing the skin with no irritation. GC strongly supported the production of the CoviClear or silver nanoparticle disinfection unit, which is aligned with GC's aim of helping protect Thais and medical personnel who visit or work at hospitals during the COVID-19 pandemic.
For this project, GC will deliver 10 CoviClear units and disinfectant liquid which contains bioactive silver ions, and which can be used up to 10,000 times for every addition of five liters of liquid, to Siriraj Hospital to reduce the spread of the coronavirus.
The combination of chemical innovation from the private sector and engineering innovation from an educational institute marks an important collaboration in support of medical personnel and the Thai people, and to help everyone get through the COVID-19 pandemic together.