27 April 2020
GC Group and Thai Bev Join Together to Fight the COVID-19 Crisis Providing One Million Bottles of Hand Sanitizer Gel to Village Health Volunteers Nationwide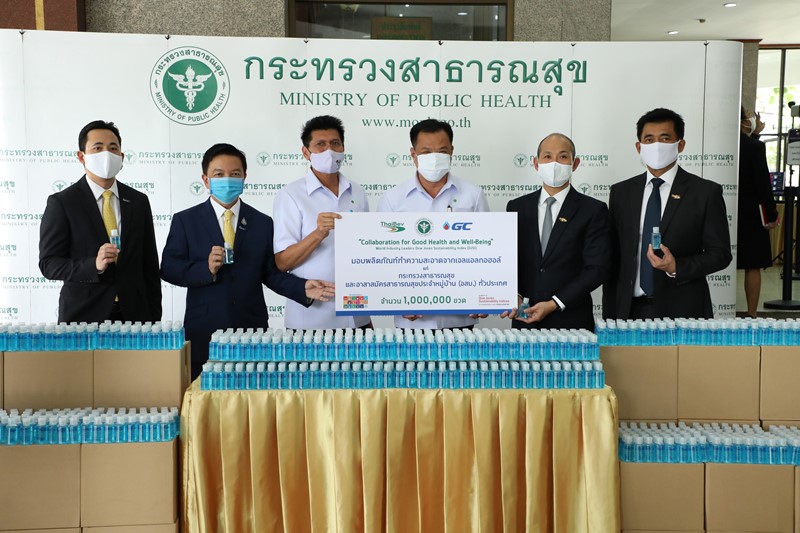 GC Group and Thai Bev provided one million bottles of hand sanitizer gel to front line village health volunteers nationwide who are fighting the COVID-10 virus.
Mr. Anutin Charnvirakul, Deputy Prime Minister and Minister of Public Health and Mr. Satit Pitutacha, Deputy Public Health Minister received the hand sanitizer gel from Dr. Kongkrapan Intarajang, Chief Executive Officer of PTT Global Chemical Public Company Limited, or GC, and Mr. Kosit Suksingha, Executive Vice President and Chief Center of Excellence of Thai Beverage Public Company Limited, or ThaiBev. They were accompanied by Dr. Chaya Chandavasu, Senior Vice President, Sustainability and Corporate Branding, and GC and ThaiBev executives who attended the event at the Office of the Public Health Permanent Secretary.
Dr. Kongkrapan said, "As a leading chemical and plastic producer whose mission is to create Chemistry for Better Living, GC joined together with our strategic partner, Thai Bev, to deliver a sustainable solution by producing hand sanitizer gel under the GelCo brand using key domestic feedstocks produced by GC. It consists of two types of disinfectant liquid: Triethanolamine (TEA), for which GC is the sole manufacturer in Thailand, and which has a special property that attaches to people's skin providing a protective effect for long period of time, and pharmaceutical-grade glycerine, which helps moisturize the skin with no irritation."
This is a significant level of cooperation involving the public and private sectors who share a common goal of preventing and reducing the risk of contracting COVID-19. This collective commitment, dedication and hard work has resulted in Thailand being one of the world's top countries in efficiently treating people infected with COVID-19 and ensuring the disease remains well under control.