20 March 2017
The 27TH "For Hopeful Children Project" Encourages Moral Support through Giving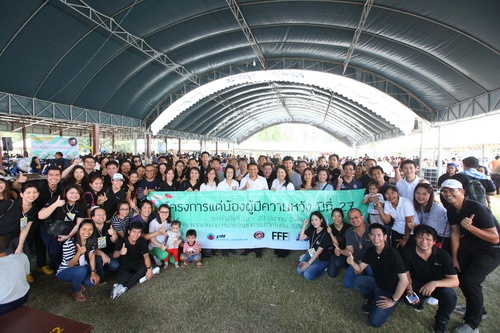 PTT Global Chemical PCL (PTTGC), in collaboration with the Royal Thai Navy and Funds for Friends, has continuously been holding 'For Hopeful Children Project' over a long period of time. The project brought together over 1,100 disadvantaged children from all over the country to participate in the activity that aimed to create impressive experiences, exchange knowledge and good moments to build inspiration of self-reliance. The activity was held during March 18-20, 2017 at the Royal Thai Marine Corps, the Royal Thai Navy, Sattahip, Chonburi. This occasion marked the 27th year that the Company has continuously been executing the project in order for youngsters to live in this society with hope and realize that every human being has value in oneself and is capable of sharing righteousness and kind hearts to fellow human beings, which can be achieved by fostering way of thinking and good spirit as well as encouraging the right way of displaying such behaviors.
In this year there were children from 18 organizations and institutions namely Bangkok School for the Blind Ramindra, Lopburi School for Blind Children, Ruensook Home for the Blind Nakhonnayok, Nakhonratchasima Home for the Blind, Christian Foundation for Disabled Children, Pakkret Foster Home for Boys, Kob Phra Kun Home Pakkret Nonthaburi, Rayong Child Welfare Protection Home, Special Education Center Chanthaburi, Mooban Dek Kanchanaburi School, Foundation for Children and Family Welfare, Father Ray Foundation Pattaya, Camillion Home, Bangkok Refugee Center, the Queen's Foundation, Wattana District, Children from On Nuch Community and Young Leader Network in the 3 southernmost provinces, together with 120 volunteers, comprising of 71 Thai volunteers who work with different organizations in Thailand and 40 volunteers from other countries who travelled to participate in this activity. These volunteers came from 10 ASEAN countries, including Japan, China, the USA, the United Kingdom, France and Germany. Furthermore, navy officers from the Royal Thai Marine Corps, Sattahip, Chonburi and volunteers from PTTGC and subsidiaries, affiliates and their families also took part in taking care of children participating in this activity.
Mr. Anutin Chuaypen, Senior Vice President – Group Performance Center – Refinery and Shared Facilities, stated that "it is the Company's great pleasure in having an opportunity to support this activity which has the aim of encouraging and developing children's potential to give them hopes and motivation to live their lives. In this regard, following the Company's support of the activity during the past 12 years, apart from witnessing the determination and dedication to encourage hopes, willpower, moral and physical support to these young children, we can also see the development of network of collaboration among organizations joining with us to provide their support every year. Even though it is just a short period of time, it is full of happiness and good impression that these children will remember in their hearts and take these moments as their moral and physical encouragement to develop their potential in different aspects in lives"
On this occasion, there were more than 80 food and drink stalls hosted by the Company's executives, staff members and business partners as well as several other kind-hearted individuals. This year, there were special menus from a renowned chef "Chef Chumphon Jangprai or the Iron Chef" who cooked delicious food for children by himself. Furthermore, there were some other fun activities that helped build physical and mental development for children, such as performance of the animation character 'Shelldon', boarding and landing demonstration, tower jumping, adventure activities, demonstration on how to swim in the sea safely, with navy officers' close supervision. There were also other activities held by NPC Safety and Environmental Service Co., Ltd. that aimed to provide knowledge and equip participants with preparedness for emergency rescue and safety enhancement, together with Football Clinic activity by PTT Rayong Football Club who also participated in the event to create good impression and fulfill happiness for children.