03 November 2021
GC Receives SET Sustainability Award of Honor from the Stock Exchange of Thailand for the Fourth Consecutive Year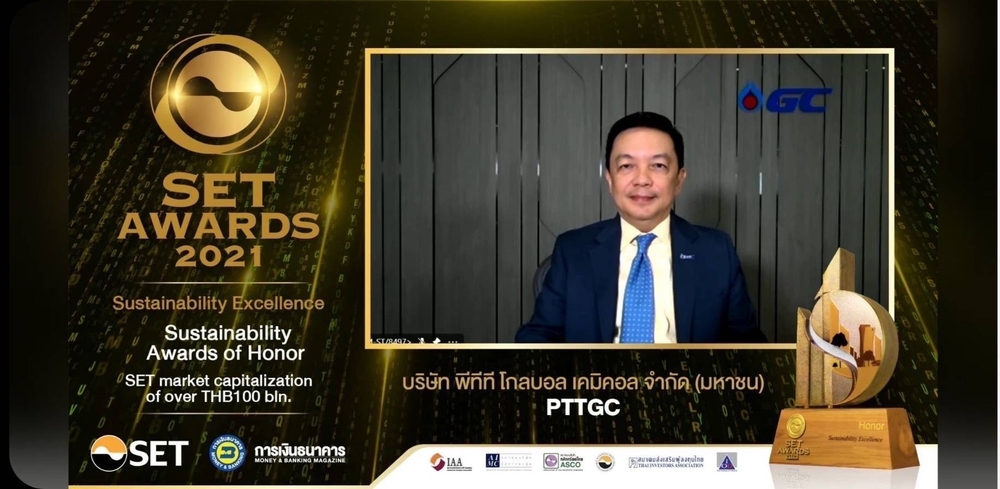 Dr. Kongkrapan Intarajang, Chief Executive Officer of PTT Global Chemical Public Company Limited, or GC, received the SET Sustainability Award of Honor organized by the Stock Exchange of Thailand for the fourth year in a row, reflecting the company's business operations that integrate sustainability according to an environmental, social and governance (ESG) framework.
Environmental: GC recognizes the significant impact of climate change on the world's environment. The company therefore set goals and a clear action plan to reduce greenhouse gas emissions by 20% by 2030 in addition to moving towards net zero by 2050 under the Paris Agreement.
Social: As the COVID-19 pandemic that hit the country, GC focused on four main measures along with employee safety to maintain the strength of its business operations. This was conducted while urgently helping the social sector at the community, provincial and national levels by introducing innovative products, including increasing cooperation with partners in the production of protective medical equipment to help society through the "Millions Support… Ensuring a Safe Space for All" and the "Greater Care by GC" projects. The company is continuing to help generate sustainable incomes for communities through several social enterprise projects.
Governance: Good corporate governance has always been at the heart of GC's operations and is the basis from which the company delivers excellent performance, and transparent policies and practices through an anti-corruption approach. Accordingly, the company has been continually certified as a member of the Thai Private Sector Collective Action Coalition Against Corruption (CAC). GC cannot be a sustainable organization if its corporate governance practices do not meet international standards. The company was also the first organization to respond using the 56-1 One report form which has been integrated in its reporting on sustainability performance with the public. In addition, GC was honored to share its experience with other Thai-listed companies jointly developing their annual reports using the same approach.
This award is given to listed companies that operate sustainably, adhere to good corporate governance, and incorporate the views of all stakeholders to successfully grow their businesses together with balancing social and environmental considerations thereby acting as a valuable role model for others in advancing sustainability guidelines.