29 April 2017
PTT Global Chemical Supports Youth Football Project Year 3 Developing Rayong Youngsters towards Professional Football Players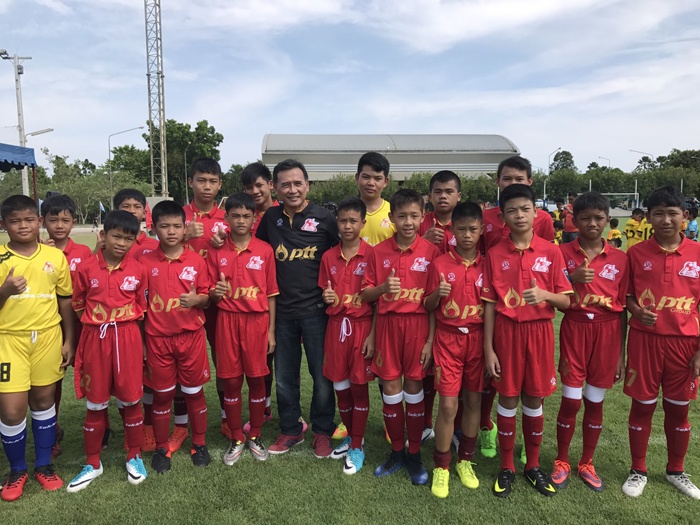 April 29, 2017, PTTGC Stadium, Rayong Office – PTT Global Chemical PCL, in collaboration with PTT Rayong Association, held Youth Football Project 2017 in order to encourage and develop youth football skills for Rayong children, with Mr. Varit Namwong, Chief Operating Officer – Center of Excellence, PTT Global Chemical PCL, as the guest of honor in the opening ceremony, together with full presence of executives, community leaders and citizens residing in Map Ta Phut Municipal area.
Mr. Varit Namwong, Chief Operating Officer – Center of Excellence, PTT Global Chemical PCL or PTTGC, mentioned that PTTGC foresaw the significance of sports towards the development of capacity and quality of children, to encourage good health and well-being, instill the spirits of sportsmen and strive to become good citizens for the country in the future. In this regard, the Youth Football Project is the collaboration between PTTGC and PTT Rayong Association, which has been in action for the third consecutive years. The project has been well received by the province, communities, and the football club for children and parents. To date, there are about 560 participants in this project, comprising of children and their guardians and it is to be continuously held. Also, 4 of the participants have been qualified and selected to play in Thailand's leading football academy.
"The objective of the Youth Football Project is to strengthen the fundamentals of football to children, encouraging those who are passionate about football to develop their skills by qualified and experienced coaches. They will be given opportunities to join in the competition to develop themselves towards a professional level in order to make their dreams come true.", said Mr. Varit.
The Youth Football Project features PTT Rayong Youth League 2017 which is a youth football competition comprising of 9 players, available in 3 batches; 8-year olds, 10-year olds and 12-year olds, with 8 teams in each batch. The matches are to be held during April to November 2017 at HRH Princess Maha Chakri Sirindhorn Herb Garden and PTTGC Football Pitch, Rayong Office. Also, PTTGC Football Clinic 2017 features the football skill training for 150 children aged between 8-12 years old by a team of coaches from PTT Rayong Academy who will take turns in providing training at several football pitches in the community during the school break in May and October 2017. The focus is also on the establishment of a network of academy with physical education teachers in several schools in Rayong. A training of football skills will also be provided to physical education teachers during February to December 2017.