12 February 2020
The Rajaprajanugroh Foundation, under Royal Patronage, and GC, signed an MoU on the Development Project and Performance Testing of an Air Purifier to Tackle PM 2.5 Pollution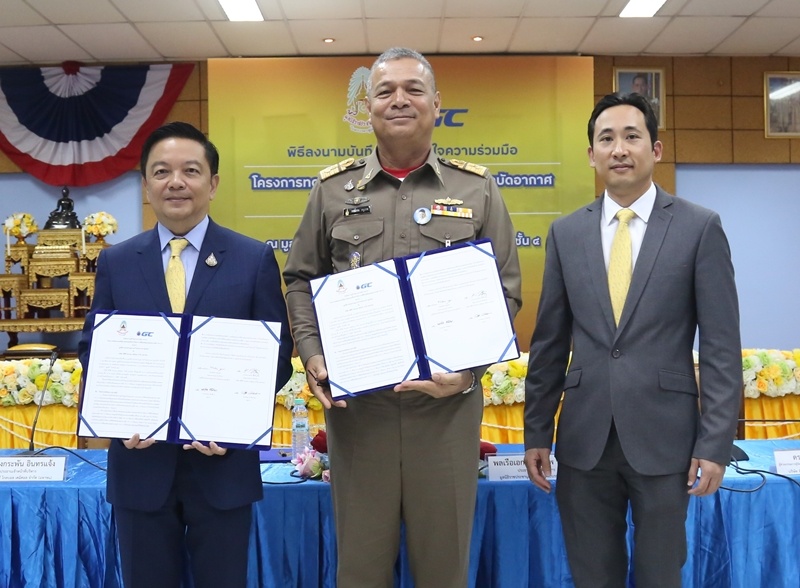 Privy Councilor Admiral Pongthep Nuthep, Chairman of the Rajaprajanugroh Foundation under Royal Patronage, and Dr. Kongkrapan Intarajang, Chief Executive Officer of GC, joined together to sign a Memorandum of Understanding on the Performance Testing and Development Project of an Air Purifier to Tackle Pollution and PM 2.5 Particulate Matter in response to the King's royal policy to mitigate the ongoing situation, while Dr. Chaya Chandavasu, Senior Vice President, Sustainability and Corporate Branding, GC, witnessed the signing.
The installation project of the prototype air purifier is focused on helping deal with air pollution and the PM 2.5 particulate matter. The signing ceremony took place on February 13, 2020 at the Rajaprajanugroh Foundation office.
This project aims to extend Thai knowledge and develop a new invention for the country which contributes to self-resilience in effectively tackling pollution. The Rajaprajanugroh Foundation has long recognized the problem of wildfires in northern Thailand which occur every year, with the elevated PM 2.5 levels triggering hazardous air pollution which have negative health impacts – which necessitates the need for urgent solutions.
GC has consistently emphasized the importance of research work, and will deploy this important and innovative technology to mitigate the problem of air pollution in partnership with teams of researchers and engineers together with its proprietary knowledge. This six-month project began on February 13, 2020 and will continue through to August 12, 2020.