15 June 2021
GC joins the cooperation announcement ceremony for the "ALL Thailand... For Sustainable Plastic Management" project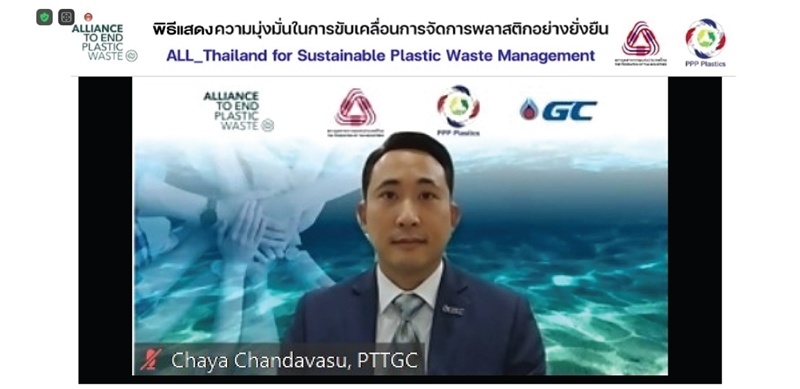 GC is one of the founders of the "Public Private Partnership for Sustainable Plastic and Waste Management," or PPP Plastics, which aims to reduce the amount of plastic waste through sustainable waste management in line with the Circular Economy and the 3Rs – reduce, reuse and recycle.
GC, in recognizing the problems arising from used plastics which aren't handled properly, is applying innovations and technologies to create alternatives for consumers in a variety of ways while promoting more robust and efficient waste management systems in cooperation with different sectors including producers, governments, communities, and residents. In the meantime, GC continues to cooperate in studying, researching and innovating to create added value from plastic waste in accordance with bio-circular-green (BCG) economy guidelines. This includes supporting a range of projects with different sectors to build a better understanding of waste management since the beginning of 2018 and working to achieve tangible progress and achievements.
On June 15, 2021, GC, together with the Federation of Thai Industries, several companies from the private sector, and the Alliance to End Plastic Waste (AEPW), announced their cooperation and support for the "ALL Thailand... For Sustainable Plastic Management" project. Dr. Chayan Chandavasu, Senior Vice President, Sustainability and Corporate Branding, shared GC's vision on plastic waste management. And as one of the organizations driving the operations, he noted that GC is pleased that PPP Plastics and the Federation of Thai Industries are collaborating with the Alliance to End Plastic Waste (AEPW) to jointly implement three systematic studies on plastic waste management:
The Eco Digiclean Klongtoei project is using digital technology to help manage plastic waste in metropolitan areas through a pilot initiative in Bangkok's Khlong Toei district.
The Rayong Less-Waste project is expanding an already successful waste management model covering 68 municipalities in Rayong province.
The Paving Green Roads project is analyzing road construction using plastic waste and asphalt to reduce the use of resources.
GC believes that the cooperation between PPP Plastics and partners will further increase systematic management of used plastics and achieve the targeted objectives of reducing the amount of plastic waste in Thai seas by at least 50 percent by 2027.