17 July 2020
GC Partners with Companies and Designers to Unveil ECO-Design from the 'Upcycling Upstyling' project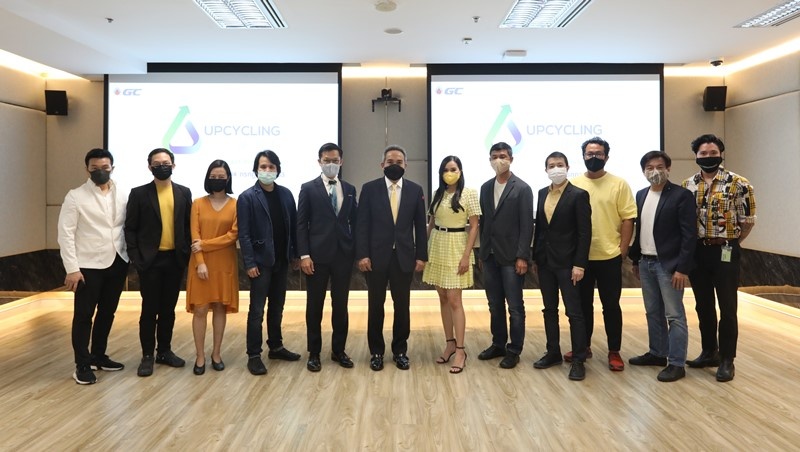 Mr. Patiparn Sukorndhaman, President of GC, and executives attended the ECO-Design event which showcased products made from GC's value-added plastics as part of the 'Upcycling Upstyling' project, which was launched in early 2020. The products were the result of a collaboration involving converters and brand owners, and notable designers in several categories. By working together, upcycled products were designed and developed to expand business opportunities and promote the efficient use of resources ensuring their maximum benefits and serving diverse functionalities under the theme of "Up Waste to Value with a WOW! Style" which adheres to the principles of the Circular Economy and GC Circular Living. A total of 19 participating partners joined activities to develop new products for the market in partnership with 10 style experts. The event was held on July 14, 2020 at GC headquarters in Bangkok.
Mr. Patiparn said, "Today, waste or discarded materials from the nineteen companies' facilities are being recreated with added value through some awesome designs. The result is a beautiful collection that is eco-friendly and serves diverse functionalities, which can be categorized as follows:
Packaging Design
Crafts Design
Fashion Design
Material and Jewelry Design
Industrial Design
Architecture Design
The ten products are set to launch commercially following the end of the project while the other products are still in the development process to ensure their commercial benefits. In addition, some were chosen to showcase the project's public profile and can be seen on GC's online channels. They have received a positive response from the public and private sectors, with many interested in purchasing the products and supportive of recycling waste under the concept of GC Circular Living."
Furthermore, GC is committed to playing a pivotal role by encouraging companies to further reinforce their businesses, and opening opportunities to increase their commercial sales. Initially, the products will be available for sale through the CSC Shop, as well as online at https://gccircularlivingshop.com, and through a GC's network of partners including Ecotopia at Siam Discovery. GC will continue to support and conduct the project, and broaden its offerings to attract a wider consumer base. In so doing, the companies will increase their competitiveness and be better able to handle future challenges in their respective industries.
Tag: #UpcyclingUpstyling #GCCircularLiving ##ไลฟ์สไตล์เปลี่ยนโลก #GC