12 October 2020
PTT Group Unveils Thailand's First Sustainable 'Floating Solar' Alternative Energy Innovation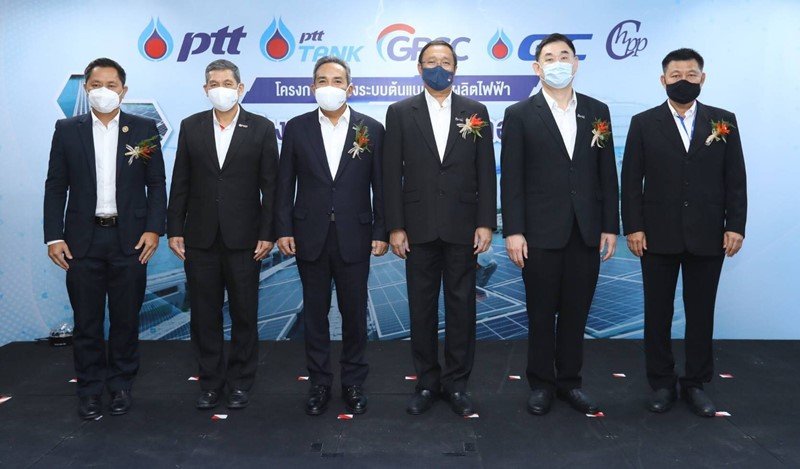 GC and PTT Group have recognized the opportunities in producing and using renewable energy in Thailand and supporting the government's energy policy. On October 6, 2020, Mr. Patiparn Sukorndhaman, President of GC, together with Mr. Wittawat Svasti-xuto, Chief Technology and Engineering Officer of PTT Public Company Limited, Mr. Chawalit Tippawanich, President and CEO of Global Power Synergy Public Company Limited (GPSC), M.L. Peekthong Thongyai, Managing Director of PTT Tank Terminal Company Limited (PTT Tank), and a team of PTT Group's executives attended the opening ceremony of a floating solar power installation project with a capacity of 100 kilowatts using the innovation and technology expertise of PTT Group to deliver improved energy management providing maximum benefits.
คุThis is Thailand's first floating solar installation project being implemented in the ocean. It is therefore playing a crucial role in supporting the environment through the production of clean energy and extending innovations into new energy businesses. The project launch took place at PTT Tank Terminal Company Limited in Rayong province which is located along the coast and therefore a suitable project site. The company's offices in the area will use the electric power produced in the first stage of the project, while the energy output and framework will be assessed for development into potential business opportunities.
"GC developed InnoPlus HD8200B, a high-density grade of polyethylene with a high molecular weight which is durable, impact resistant and easily moldable, to respond to the short-life of floating solar panels in the ocean which are easily damaged due to barnacle growth under the strong sunlight. The Extrusion Blow Molding process reduces the thickness when making floating solar panels. The device is also certified for food grade contact making it safe for people and the environment, including marine life, and offers UV protection for a 25-year period. Our test results showed that when using the floating solar panels, growth of barnacles on the floating solar panels decreased resulting in improved solar energy output. This effort is expected to contribute to further cooperation in producing additional application-based products with different types of moldings to meet a variety of demands in the future," said Mr. Patiparn.