20 March 2020
GC and the Ministry of Natural Resources and Environment Join Together to Kick-off the "Model of Integrated Waste Management in National Parks as a Circular Economy Prototype for the Country" Project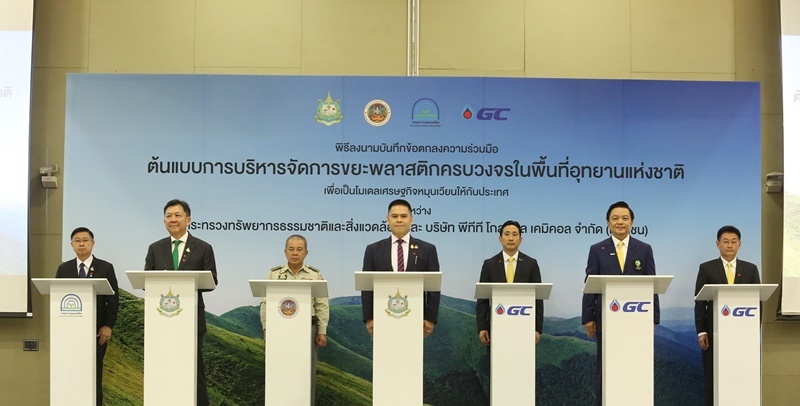 Mr. Warawut Silpa-archa, Minister of Natural Resources and Environment; together with Mr. Jatuporn Buruspat, Permanent Secretary of the Ministry of Natural Resources and Environment; Mr. Thanya Netithammakun, Director General of the Department of National Parks, Wildlife and Plant Conservation; Mr. Pralong Dumrongthai. Director General of the Pollution Control Department; Dr. Kongkrapan Intarajang, Chief Executive Officer of GC, and Mr. Pornsak Mongkoltrirat, Acting Executive Vice President, Polymers Business Unit, joined together to sign a Memorandum of Understanding (MOU) on the "Model of Integrated Waste Management in National Parks as a Circular Economy Prototype for the Country" project, which aims to promote effective waste management in Thailand's national parks and contribute to the efficient use of resources. Dr. Chaya Chandavasu, Senior Vice President, Sustainability and Corporate Branding, also joined the MoU signing ceremony which took place at Synergy Hall, Energy Complex (EnCo).
"As a leading company committed to sustainability in the chemicals business, GC is implementing our business operations based on the Circular Economy, and has always recognized the importance of waste management. We volunteered to take part in initiating this project for which we delivered guidelines based on the Circular Economy for use in national parks, also sharing our knowledge, and implementing the project in partnership with other agencies utilizing a sustainable plastic waste management approach. In addition, GC provided Total Solutions for Everyone and built a platform that contributes to a holistic approach covering four major aspects: 1) Bio-based, which focus on the use of bio products that can decompose in landfills; 2) Fossil-based, which focus on the responsible use of products through recycling and upcycling; 3) Ecosystem, which increases cooperation among several sectors to increase awareness and build an understanding about the use of plastics and their broader effects; and 4) Inclusiveness, as GC never leaves anyone behind and remains ready to support our customers and SMEs to be resilient to the situation and attuned to changes in consumer behavior. We are also supporting our key partners including TPBI Public Company Limited and Farm D. We expect that this project will be a cornerstone in building a successful prototype for the Circular Economy system supporting major tourist attractions in the country before being rolled out more widely throughout the country," said Mr. Kongkrapan.
The company has also implemented precautionary measures by preparing a station that offers alcohol-based hand sanitizer gel, face masks, and attendants with temperature scanners to screen participants entering the event. In addition, every other seat will remain vacant to maintain social distancing and reduce the risk of human to human transmission of the COVID-19 virus.