29 June 2022
GC Group partners with TotalEnergies to implement solar rooftop for clean energy, aiming for greenhouse gas reduction and net zero achievement, guaranteeing partners and customers safe and sustainable products throughout the supply chain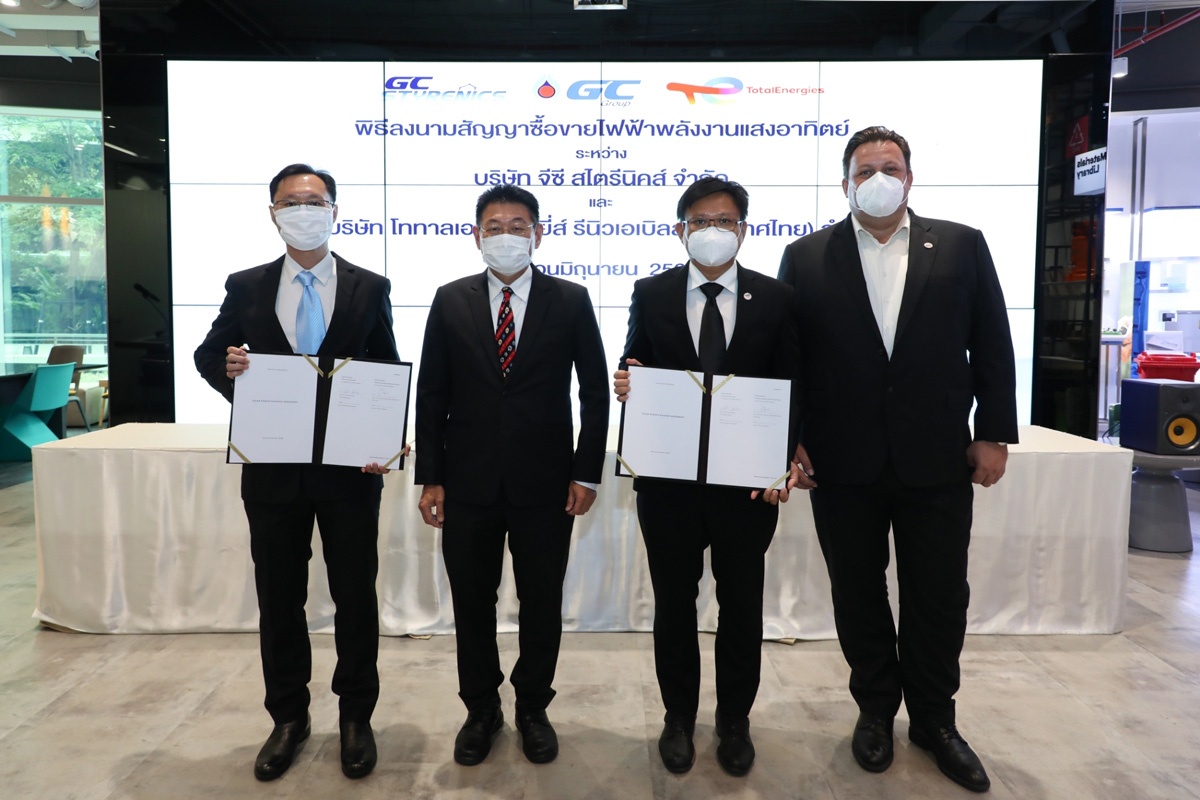 Bangkok, June 2022 – Amid growing concern of the impact on the environment, switching to clean sources of energy such as solar energy can reduce greenhouse gases (GHG) in order to cope with climate change. GC Group, a leading global chemical company has partnered with TotalEnergies for the installation of solar photovoltaic (PV) rooftop system. The installation of solar panels with TotalEnergies is part of GC Group's action plan to achieve "Together to Net Zero" campaign for sustainable growth. The target is to reduce GHG by 20% by 2030 and achieve net zero emissions by 2050.
With over 1,600 of solar panels installed, this PV system is expected to generate approximately 1,200 megawatt-hours (MWh) of renewable energy annually and reduce carbon footprint by about 700 tons of CO2 emissions avoided annually, equivalent to planting more than 10,000 trees.
Mr. Pornsak Mongkoltrirat, Executive Vice Precedent of Polymers Business Unit, PTT Global Chemical Public Company Limited (GC) and Chairman of GC Styrenics Company Limited (GCS), said, "According to the action plan, GC Group aims to reduce greenhouse gas emissions through Efficiency-driven, which is the adoption of sustainable principles by incorporating innovation and efficiency in our business practices with an aim towards resources usage reduction, energy sufficiency and clean energy usage. With the current solar power installations at our 2 polymer storages, these solar rooftops are already reducing greenhouse gas emissions at an average of approximately 518.68 tons of CO2 per year from renewable energy throughout the 20-year contract. They also reduce energy usage up to 1.1 million units per year, which is equivalent to installing 1 million 1-ton air-conditionings. We believe the continuous commitment for sustainability and drive for innovation will help us deliver better products and reduce our impact on the environment throughout the supply chain, benefiting the world, our partners, and customers."
Gavin Adda, Head of TotalEnergies Renewables Distributed Generation Asia (TRDG Asia), said, "We are thrilled to have GC Group, a leading global chemical company, as our solar power customer, supporting their power needs and meeting their environmental goals at the same time. TotalEnergies is committed to further collaborations with GC Group to help advance in their sustainability goals."
#GC #GCChemistryForBetterLiving #TotalEnergies