GelCo Hand Sanitizer Gel
GC and ThaiBev's Collaborative Project against COVID-19
GC and ThaiBev joined together to protect the health of Thais in tackling COVID-19 by producing hand sanitizer under the 'GelCo' brand made from quality domestic materials by both companies. The hand sanitizer was recently provided to the Ministry of Public Health to be distributed to healthcare workers and the general public.
This strategic cooperation in the midst of the COVID-19 outbreak involved two leading organizations in Thailand, Thai Beverage Public Company Limited, or ThaiBev, and PTT Global Chemical Public Company Limited, or GC, both of whom are recognized for their sustainability in the Dow Jones Sustainability Indices (DJSI). The two companies joined together to protect the health of Thais by providing a hand sanitizer gel under the GelCo brand using key domestic feedstocks produced by GC consisting of two types of disinfectant liquid:
Triethanolamine (TEA), for which GC is the sole manufacturer in Thailand, and which has a special property that allows the nanoparticle ion to attach to people's clothing and skin providing a protective effect for 24 hours.
Pharmaceutical grade glycerin, which causes the nanoparticle ion to be a suspended solid in the liquid disinfectant without any sedimentation, moisturizing the skin with no irritation.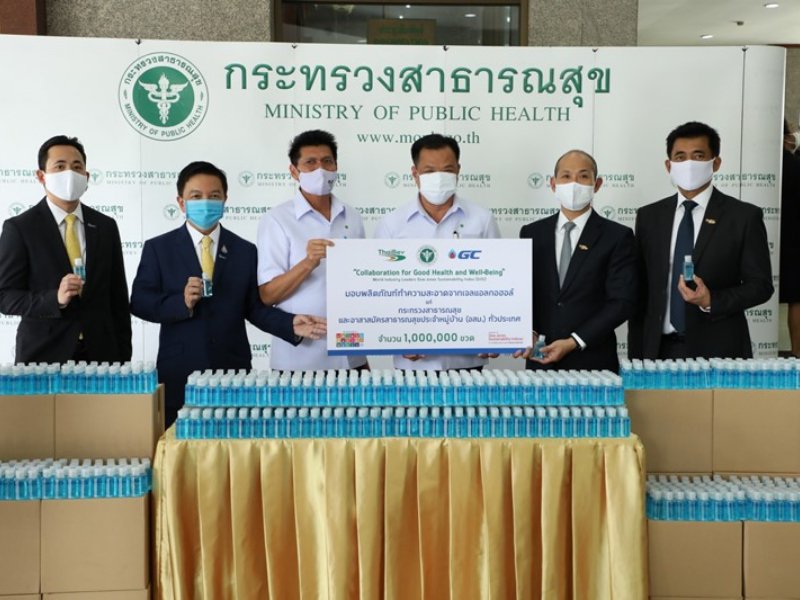 This project achieves GC's objective of providing sufficient medical devices and supplies during the COVID-19 outbreak.
ThaiBev was pleased to participate by providing the alcohol necessary to produce the 72% hand sanitizer gel.
Together, ThaiBev and GC provided one million 50cc portable-sized hand sanitizer gel bottles to the Ministry of Public Health, for distribution to Village Health Volunteers (VHVs) nationwide who are on the frontlines helping curb the COVID-19 outbreak.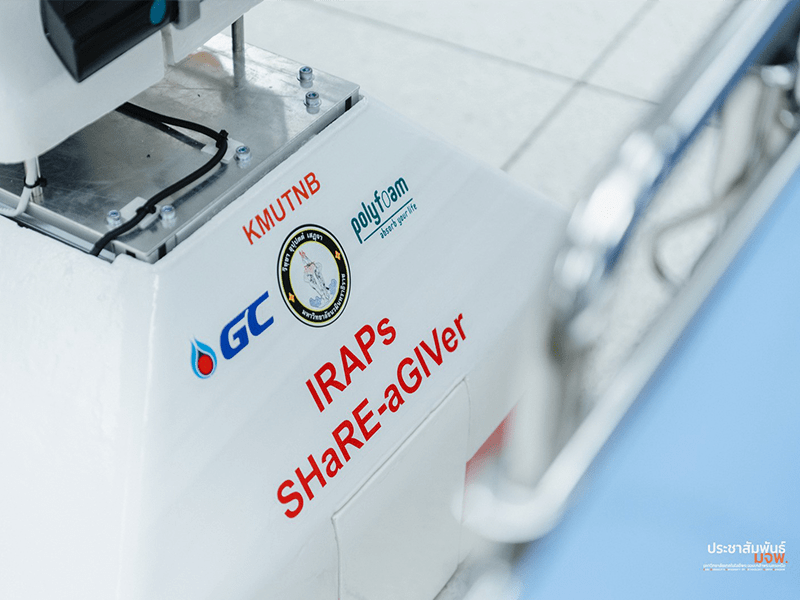 Additionally, 1,000 liters of GelCo hand sanitizer were provided to Mr. Anutin Charnvirakul, Deputy Prime Minister and Minister of Public Health, together with Mr. Satit Pitutacha, Deputy Public Health Minister, Dr. Sukhum Karnchanapimai, Permanent Secretary at the Public Health Ministry, and Dr. Tares Krassanairawiwon, Secretary-General of the Health Service Support Department, for distribution to residents of Samut Sakorn who have been severely impacted by the second wave of COVID-19.
This strategic cooperation involving the private sector is achieving a shared goal of curbing and preventing COVID-19 infections among medical personnel and the public and will also help improve people's healthcare and well-being in society. GC recognizes this as an important way to contribute to sustainability while also responding to the company's mission to create Chemistry for Better Living.