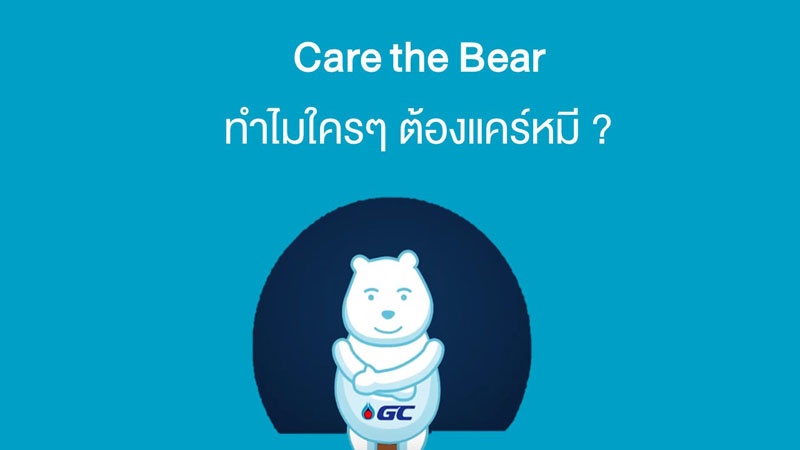 Anyone attending the GC Circular Living Symposium 2019 at the end of June would have seen a video called "U Care the Bear – V Care the World." Created by PTT Global Chemical Public Company Limited, or GC, the video was shown on a giant screen before the event started. If you're curious about how bears were involved in the event, keep reading for the answer!
Care the Bear, or the full name, "Care the Bear: Change the Climate Change by Eco Event" is a project developed by the Stock Exchange of Thailand (SET). It provides suggestions for listed companies to organize activities and events that help reduce greenhouse gases and increase awareness about the need to act, as greenhouse gases are a major global concern. They are having a huge and detrimental impact, especially melting the Arctic ice cap, which is home to polar bears.
This is the motivation behind the Care the Bear project, which suggests six simple steps:
Participants going to any activity or event are encouraged to take public transportation. A secondary option if they are going with others is carpooling, to reduce energy and carbon dioxide emissions.
The activity or event should promote the reduced use of paper and plastic in a variety of ways, such as scanning a QR Code to provide information instead of distributing documents.
Do not use polystyrene foam to decorate the activity or event, or as food containers.
Reduce the amount of energy consumed by electrical equipment (such as using LED lights) as defined in the agreement between the event organizer and the venue. This includes saving electricity in other ways when possible, such as setting the air conditioning to an appropriate temperature.
Decorate the activity or event with materials that can be reused or recycled to ensure that they are not discarded, which leads to increased waste.
Encourage participants at the event or activity to eat a sufficient amount of food and not contribute to food waste.
These six simple but useful steps are included in the Eco-Event Kit designed by the SET. A document can also be used to summarize the amount of carbon dioxide emissions released from the event. The results will show you how to reduce your carbon footprint to help protect polar bears.
GC has already started, have you? If you haven't and want to get involved, contact the Business Development for Sustainability Office, which is part of the SET's Social Development Department. You can reach them by calling 02 009 9999 or 02 009 9489/02 009 9480.