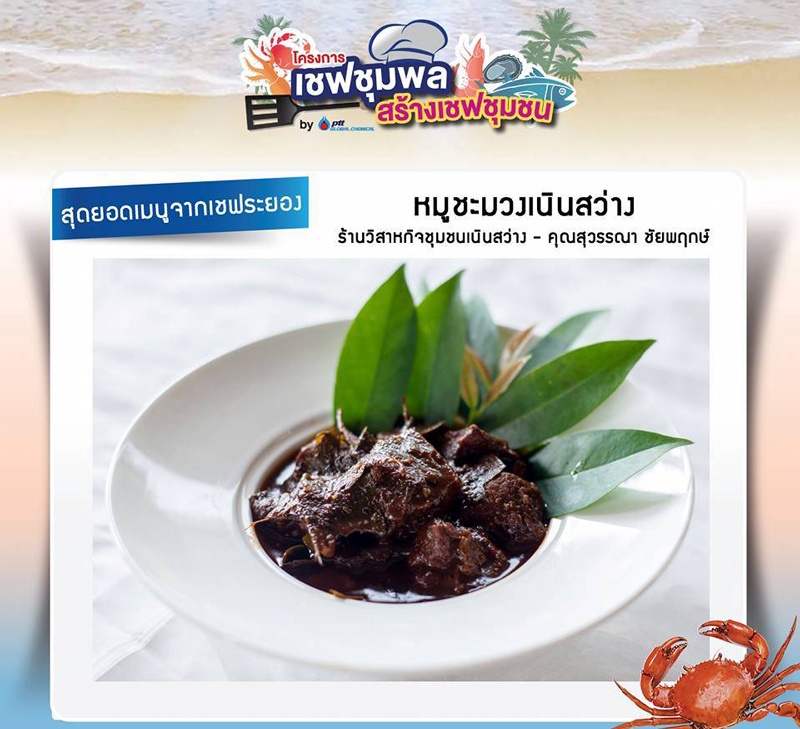 Today's travelers look for genuine tourism experiences to better appreciate the local lifestyle and culture of the places they visit. What better reflects local living and culture than food?

PTT Global Chemical (PTTGC), in collaboration with the Rayong Provincial Authority, the Tourism Authority of Thailand's Rayong-Chantaburi office, and renowned Master Chef Chumpol Jangprai, famous for his starring role in the Thai version of the Iron Chef television program, recently organized the "Community chefs invite you to eat Rayong food" project.

For the project, Chef Chumpol, a noted expert in creating original Thai recipes, developed new signature menu items that capture the flavors of Rayong. These menu items, made with locally-sourced ingredients, were presented to the people of Rayong province to enhance existing local cuisine.

The "Community chefs invite you to eat Rayong food" project will help bolster local tourism under the concept "traveling along the path of local food." Its ultimate goals are more equitable distribution of local income and boosting Rayong province's economic growth.

As project advisor, Chef Chumpol is helping to ensure Rayong's local cuisine becomes well-known nationally, including "10 delicious menu items by Chef Chumpol." He developed these menu items and donated them to the people of Rayong as a culinary gift. Chef Chumpol hopes they become part of the province's local cuisine, popular with Rayong residents as well as across Thailand. The project includes free cooking classes for the general public and restaurant operators who want to add the new dishes to their menus.

The "10 delicious menus items by Chef Chumpol" are:
Kang Khaw Pu Bi Chamuang (Curried Roasted Crab with Chamuang Leaves)
Tom Ga Ti Pla Ded Deiw with Paco Fern (Sun-Dried Fish Curry with Coconut Milk and Paco Fern – a local vegetable)
Tom Som Pla Ga Pong Ra Kam (Sour Herbal Soup with Ga Pong Fish)
Tha Le Pad Prick Kee Noo Suan (Stir-Fried Hot and Spicy Chili Seafood)
Pla meuk Ded Deiw Pad Prick Gler (Stir-Fried Sun-Dried Squid with Chili and Salt)
Pad Kee Mao Gai Bann Sai Nor Gra Teu (Drunken Spicy Domestic Fowl with Wild Ginger)
Pad Pak Gra Chub Fai Deang Pla Gu Laow Pak Nam Pra Saae (Roasted Spicy Grachub Leaves with Gu Laow Fish)
Sen Glang Pad Tha Le (Fried Glang Noodles with Seafood)
Lon Gra Pi Goong Tha Le (Stewed Shrimp Paste with King Prawns)
Durian Pudding with Mangosteen Sauce
According to Chef Chumpol, "This project will increase activities at restaurants in Rayong, including the opening of new Thai and foreign food outlets. We surveyed 19 local ingredients such as shrimp paste, fish sauce, Klang noodles, Chamuang leaf, shampoo ginger, salted fish, sea bass, and Mon Thong durian. To enhance local recipes, improve their quality, and make them more delicious, we focused on menu items using these locally-sourced ingredients to add value and increase awareness of Rayong specialties."
"The new dishes will delight both Thai and foreign visitors to Rayong. Each restaurant has its own style and can use the local ingredients to create colorful dishes for any type of cuisine, not just Thai. We look forward to restaurants throughout Rayong confidently presenting their tasty new dishes," said Chef Chumpol.
The project also included the "Chef Chumpol for Community Chefs" competition, a search for outstanding chefs in Rayong province who created their own menu items based on local ingredients. Eight finalists were selected through a public evaluation, voting, and a selection committee. Chef Chumpol mentored the eight finalists to help them improve their delicious signature dishes.
The eight finalists and their dishes are:
Mu Chamuang Nern Sawang (Curry Pork with Chamuang Leaves) by the Je Nong, Nern Sawang restaurant
Pork Ribs in Chamuang BBQ Sauce by the Steak@Good restaurant
Yam Samphan Ha Sahai (Thai-style Spicy Salad with Five Ingredients) by the La Capanna restaurant
Sen Mi Nam Daeng Boran Noodles by the Kritsana Wood community enterprise
Thai-style Spicy Salad with Shrimp and Deep-Fried Burweed by the Talay Noi Village restaurant
Deep-Fried Shrimp with Sweet-and-Sour Chamuang by the Ban Bun Phet restaurant
Kaeng Khua Le Phala Hi (Sea Mussel Curry with Pineapple Shoots) by the Khrua Phitsamai restaurant
Keng Som Curry Paste (Sour and Spicy Soup with Crab, Pickled Bamboo Shoots, and Burweed) by the Mee D soft-shell crab farm restaurant
The winner of the competition was Ms. Suwanna Chaiyapruk of the Je Nong, Nern Sawang restaurant, with her recipe for Mu Chamuang Nern Sawang, or Curry Pork with Chamuang leaves.
Ms. Suwanna said, "This secret recipe was originally from my aunt, and I adapted it into my own style. During the competition, Chef Chumpol advised me to add dark soy sauce to the marinating pork to make it softer, because the soy sauce works similar to molasses. This really helped the recipe. The other secret he showed me was about the Chamuang leaf. Chef Chumpol told me the best time to pick the right leaves, so they are not too young or too old".
"I want to say how thankful I am for this outstanding project that helped an ordinary rubber tapper like me step into a new world. Thanks to this project, the public are starting to know me and my village thanks to the local dishes we offer at our restaurant. I am also very grateful for all the support from the Rayong Provincial Authority. Our restaurant is now expanding by sending food to nearby provinces, with Mu Chamuang as the main menu item, along with other menu items developed by Chef Chumpol," concluded Ms. Suwanna.
PTTGC is proud to be part of the "Community chefs invite you to eat Rayong food" project to benefit the people of Rayong province. We invite you to visit Rayong to try the dishes from all eight finalist restaurants and Chef Chumpol's 10 special menu items. Explore the secret local ingredients selected by famous Chef Chumpol and make your visit to Rayong province truly unforgettable.