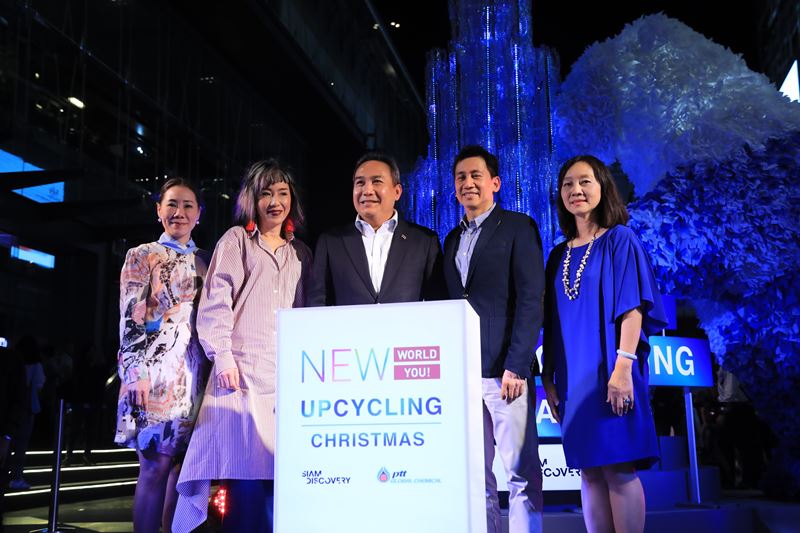 With the festive season around the corner, many shopping malls, stores, and retail outlets are busy putting up their holiday-themed décor, brightening their locations to get everyone into the holiday spirit, full of happiness, smiles, and laughter. This includes creating an ambiance that mimics winter in colder countries, along with the appearance of Santa Claus, his reindeer, and beautifully-wrapped Christmas gifts.

This year, PTT Global Chemical Public Company Limited (PTTGC) and Siam Discovery have joined together to celebrate the 2018 New Year, creating an unprecedented way to share happiness with the launch of the "Siam Discovery New World, New You" campaign. It encourages everyone to pursue a new way of sharing happiness by exchanging their own creations as one-of-a-kind presents. The campaign also is promoting change in society by showcasing environmentally-friendly decorations such as a five-meter-high Christmas tree and a 3.6-meter-high adorable, cuddly standing polar bear, both made from recycled plastic.

Mr. Patipan Sukondhaman, Chief Operating Officer - Downstream Petrochemical Business at PTT Global Chemical Public Company Limited, explained that the company is pleased to be part of the Christmas and New Year's celebration with the unique "Upcycled Xmas Tree." "It's an artificial Christmas tree made from bottles and plastic bags under the concept 'From Trash to Treasure' that aims to raise social awareness about value-added products made from recycled plastic. The Upcycled Xmas Tree is in line with the 'circular economy,' which emphasizes reducing the amount of waste by maximizing resource utilization through redesigning processes and recycling materials. This contributes to more sustainable business models. The circular economy is an effective business model that promotes eco-efficiency," he said.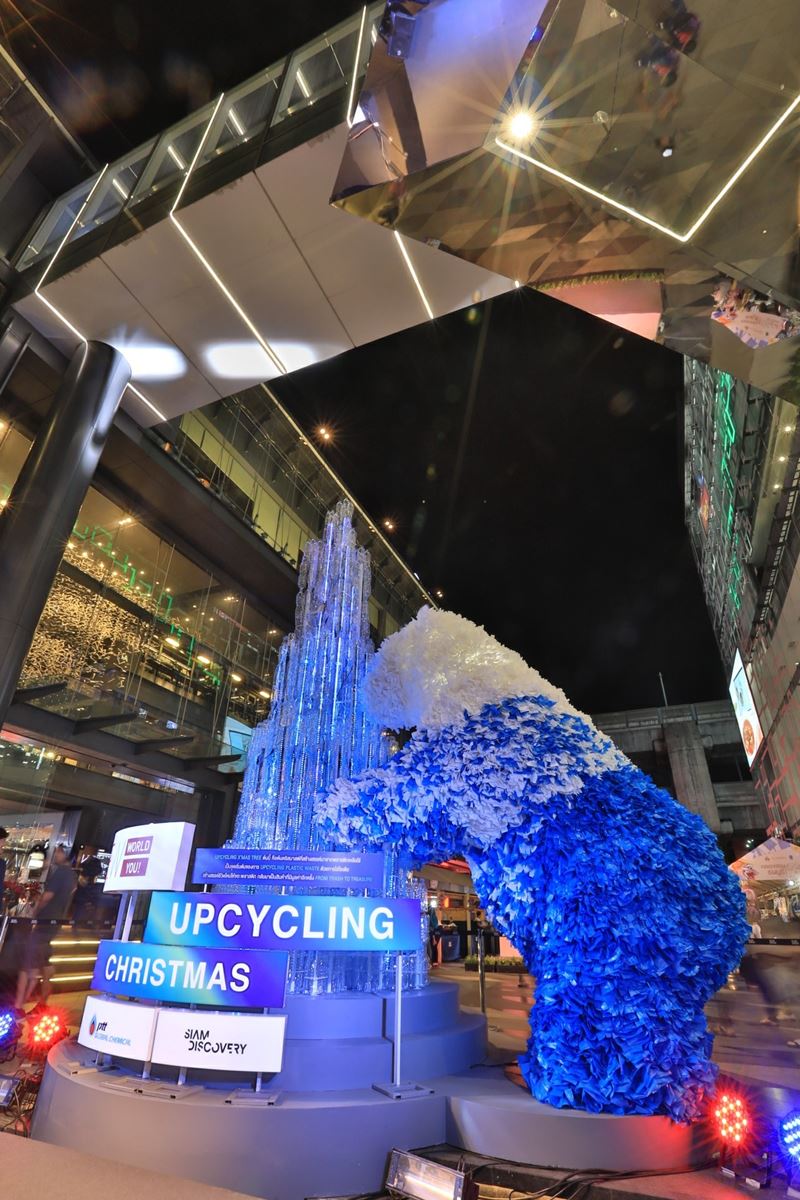 Ms. Usara Yongpiyakul, Chief Executive Officer of Siam Piwat Retail Holding, said that 2018 will begin with the idea of changing the world for the better. "As Siam Discovery is a gateway for everyone for new discoveries, happiness, and special gift exchanges to celebrate 2018, we decided to launch the 'Siam Discovery New World, New You' event. It encourages everyone to choose a more sustainable approach to the New Year, re-inventing themselves for the better while fostering a society that promotes shared responsibility and eco-efficiency. We will also hold a number of activities in every corner of Siam Discovery to create a sense of happiness," said Ms. Usara.

PTTGC and Siam Discovery both realize the importance of sharing happiness with others and reinventing yourself in a changing world. This is why they built a sophisticated, artificial five-meter Upcycled Xmas Tree using plastic bottles, along with an enormously cute 3.6-meter standing polar bear made from plastic bags.

This year, celebrate Christmas and the New Year by making a creative environmental change. PTTGC invites everybody to join in raising awareness about the need to reduce and reuse plastic waste in a sustainable manner, which will make a significant contribution to protecting and conserving the environment.

A great way for consumers to celebrate this year's festive season is to drop used plastic bottles into the "Trash to Treasure Machine," a specially-designed device installed at the entrance of M Floor at Siam Discovery, from now until January 2, 2018. PTTGC will take the plastic waste collected by the machine and transform it into fashionable products to help raise environmental awareness and reinforce the benefits of recycling, and everybody can make a contribution.

Tags

#UpcyclingPlasticWaste #fromTrashtoTreasure