31 May 2022
ESG: Measurable Sustainability Proving GC's business connects with everyday lives.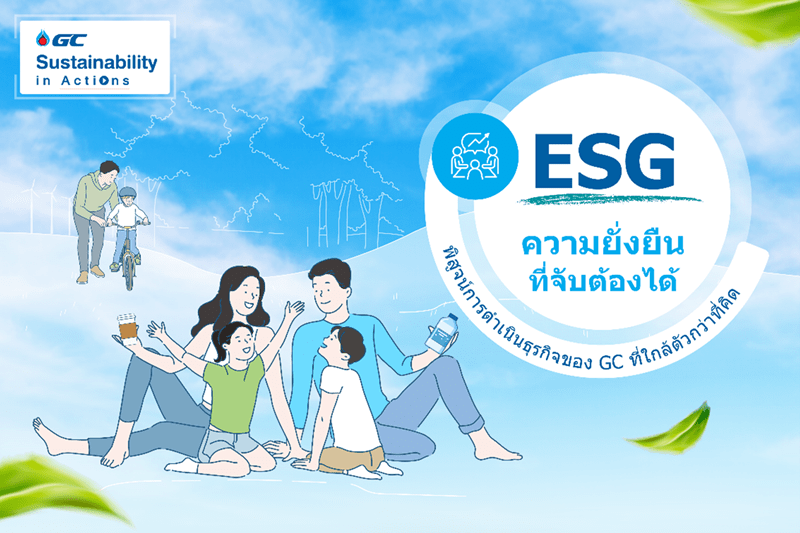 "Have you ever wondered
when choosing products or services – or when deciding to invest in certain companies –
what factors influence our choices?"
"Is it value for money? Profitability?"
Many believe the above factors are key to decision-making, yet the more we consider it, the more we realize that there is another, equally important reason: sustainability. For business, sustainability can positively impact people's lives, as well as broader society and the world. But many still ask the question:
"How can sustainability be tangible?
What criteria is there to prove that
the operations of a business can truly drive sustainability?"
Therefore, as a leading global chemicals company, GC has adopted ESG principles (E = Environment; S = Social, and G = Governance) to drive its sustainable business practices, deliver value that is intertwined with people's lives and reinforce why business groups must focus on ESG today.
"Because we still have to breathe every day"
Businesses must care for the environment.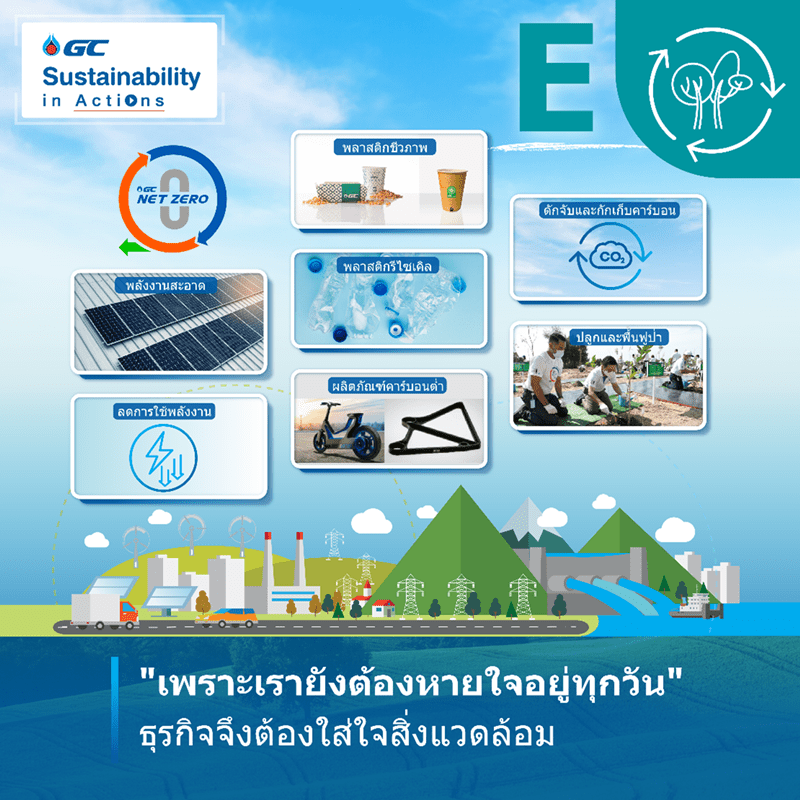 GC recognizes the urgency for global organizations to acknowledge, prevent, and respond to the impacts of climate change. This is reflected in the company's decarbonization roadmap to achieve net zero greenhouse gas emissions by 2050 while maintaining business growth through three pillars: 1. Efficiency-driven, maximizing efficiency across its production processes through the application of cutting-edge technologies; 2. Portfolio-driven, long-term transformation to a low-carbon business by adopting Circular Economy concepts and producing bioplastics, biodegradable plastics, and recycled plastics, as well as working with partners to add value through upcycling measures, and 3. Compensation-driven, adopting innovative solutions to absorb carbon including 1) Natural solutions such as reforestation, with GC recently replanting 25 rai worth of trees at its Rayong office, to help absorb carbon dioxide, and 2) Technology-driven solutions and seeking new innovations to absorb, store, and recycle carbon.
"Because we must live together as a society"
Businesses must take care of society.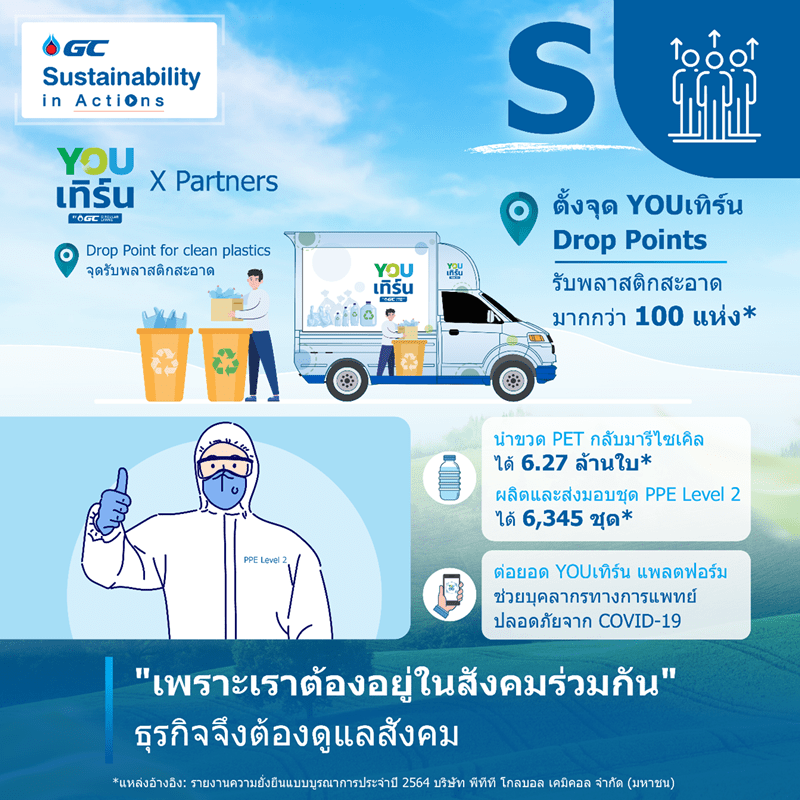 GC remains committed to business practices that consider the health and safety of the population. During the COVID-19 pandemic in 2021, GC collaborated with several partners for its "Sorting Plastic Bottles to Help Doctors" project that provided 6,345 Level 2 personal protective equipment (PPE) suits to frontline medical workers to prevent the spread of COVID-19. The suits were made from 6.27 million used plastic PET bottles collected by GC and partners through YOUTURN Drop Points at over 100 locations in Thailand. GC's corporate social responsibility, innovation, expertise, and ongoing cooperation with partners continue to help society in overcoming challenging circumstances and sustainably coexist.
*Referenced from: Integrated Sustainability Report 2021, PTT Global Chemical Public Company Limited
"Because we have a stake in the business."
Businesses must be transparent.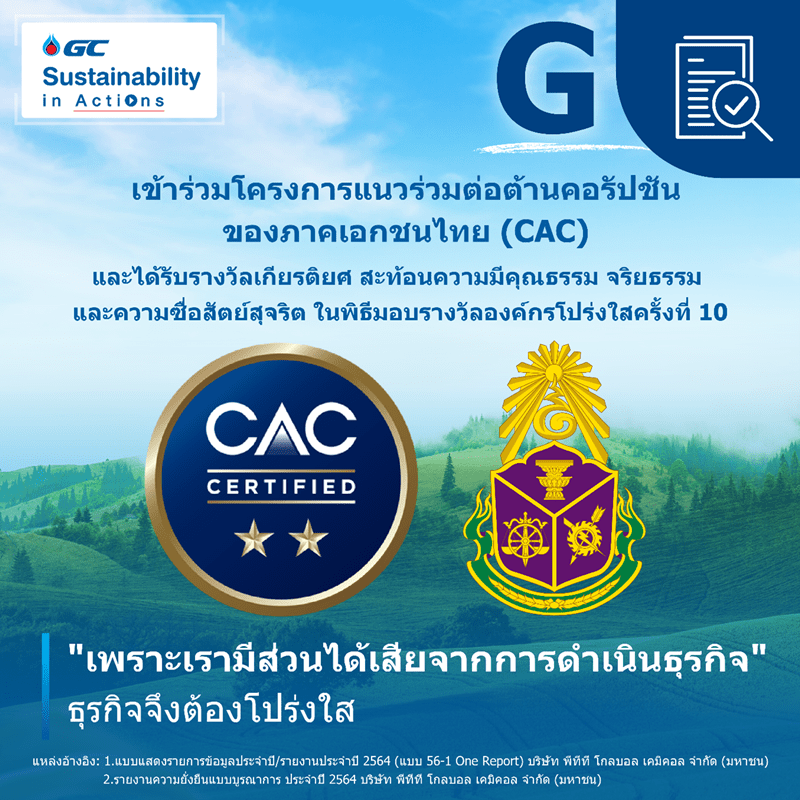 When businesses give back, they must act as a role model for society – always transparent and avoiding taking advantage of partners and customers. GC remains committed to maintaining business practices that are underpinned by good corporate governance. As a result, GC has been recognized as a model organization in integrity, ethics, and transparency, awarded the consolation prize for the 10th NACC Integrity Awards by the Office of the National Anti-Corruption Commission (NACC). The company is also a member of the Thai Private Sector Collective Action Against Corruption (CAC) and acts as a CAC Change Agent to further promote transparency among and encourage business groups to join. Additionally, GC has 132 production grades with a certified carbon footprint, and 84 product grades that have received a global warming reduction label – proving GC's solutions meet acceptable standards, transparency, and appropriately care for the quality of life of consumers.
All of this is a testament to GC's determination to operating according to ESG principles, creating innovative chemicals that contribute to happiness, delivering value that is intertwined with peoples' lives, and driving forward a sustainable world.
#GCDrivingForwardASustainableWorld
#GCTheCloserTheBetter
#GCChemistryforBetterLiving
References:
1. Annual Registration Statement/Annual Report 2021 (Form 56-1 One Report), PTT Global Chemical Public Company Limited
2. Integrated Sustainability Report 2021, PTT Global Chemical Public Company Limited