24 July 2020
GC partners with Muang Thai Life Assurance and the government to kick-off the 'Safe to Stay in Rayong with Free COVID-19 Insurance Coverage' project ensuring safe travels in Rayong province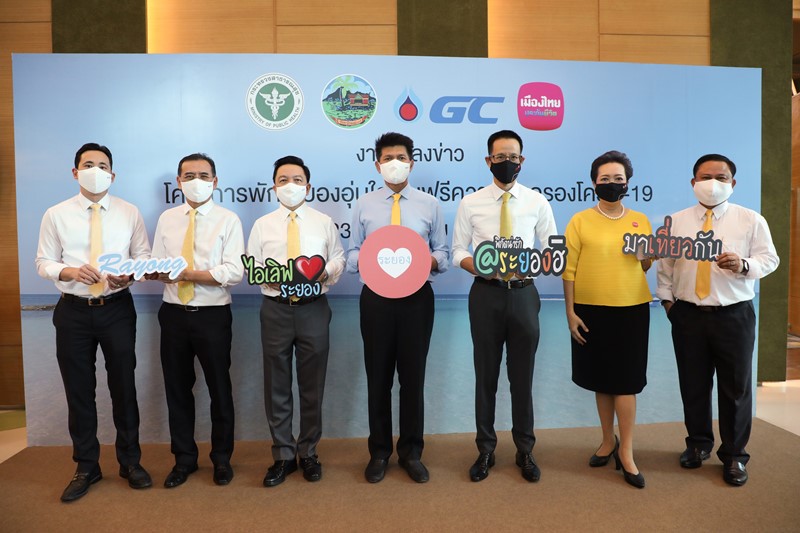 In light of the recent outbreak of COVID-19, GC has continued to contribute to the needs of medical workers in hospitals and to Village Health Volunteers (VHV) across Thailand by donating the company's products such as personal protective equipment (PPE) which include PE gowns, face shields, hand sanitizer gel, and plastic partitions that prevent direct contact and ensure safety. Furthermore, GC provided eco-friendly packaging made of biodegradable plastic to food delivery businesses.
The coronavirus pandemic has had a critical impact on the confidence of travelers, resulting in the postponement of their trips to Rayong. GC is committed to supporting local tourism by boosting the income of local operations and residents in Rayong. On July 23, 2020, Dr. Kongkrapan Intarajang, Chief Executive Officer, Mr. Varit Namwong, Chief Operating Officer – Center of Excellence, and Dr. Chaya Chandavasu, Senior Vice President, Sustainability and Corporate Branding, together with Mr. Sara Lamsam, President and CEO of Muang Thai Life Assurance Plc., Mrs. Pitraporn Boonyaratabhan, Senior Executive Vice President of Muang Thai Life Assurance Plc., Mr. Satit Pitutecha, Deputy Minister of Public Health, and Mr. Pong-anan Chanprai, head of the Rayong Tourism and Sports Office, joined together to attend the 'Puk Rayong Unchai (Safe to Stay in Rayong) with Free COVID-19 Insurance Coverage' press conference which is promoting tourism through COVID-19 group health insurance in Rayong province beginning with the upcoming long weekend at the end of July. The press conference took place at Synergy Hall, Energy Complex (EnCo C).
This project aims to boost the confidence of tourists with free insurance coverage to travelers who check-in at a hotel in Rayong following the 14-day COVID-19 monitoring period which showed there were no new cases following the Department of Disease Control's measures under the Ministry of Public Health. The first 50,000 people who register and check-in at any hotel from July 25-August 31, 2020 will be provided with 30-day insurance coverage beginning on the first day of their stay at the hotel. Any insured person who tests positive for COVID-19 and is admitted to hospital will be covered with an amount of 100,000 baht. The policy will award 50,000 baht in the event of their death (for any cases excluding suicides and murder).