08 December 2021
Fulfilling happiness and inviting everyone to help protect the earth with the eco-friendly "Circular Living X'mas Tree 2021"
December 7, 2021, Bangkok: Happiness returns as Siam Piwat Company Limited and PTT Global Chemical Public Company Limited, or GC, recently joined together to create an eco-friendly Christmas tree, the "Circular Living X'mas Tree 2021," to welcome the coming New Year's festival under the concept "Magic From The Universe." Set in the midst of an eco-friendly atmosphere that encourages everyone to adopt an environmentally friendly and sustainable lifestyle, the tree is on display from now until 16 January, 2022, at Discovery Plaza, Siam Discovery The Exploratorium.
The "Circular Living X'mas Tree 2021" was designed to play a part in fulfilling happiness for everyone with its unprecedented yet outstanding design, thanks to its main material being opaque HDPE plastic bottle waste such as baby bottles and shampoo bottles. Along with other creative yet chic ideas, it features various forms of lovely alien faces in a 9-meter-high distinctive Christmas tree that everyone is invited to come and see during the festive season. After the exhibition, Siam Piwat and GC will donate this plastic bottle waste to the YOU-Turn campaign, a comprehensive plastic management waste system initiated by GC that recycles plastic waste into red trash bins for infectious waste. To encourage everyone to take part in protecting the world together, YOU-Turn has drop points for plastic waste at Siam Paragon, G floor; the entrance door to the South Siam car park; on the G floor in front of 7-Eleven, and at Siam Discovery, G Floor, Plaza space. The HDPE bottles that are collected, along with the plastic waste from the Christmas tree, will be delivered to YOU-Turn to be recycled into red bins for infectious waste to promote resource efficiency.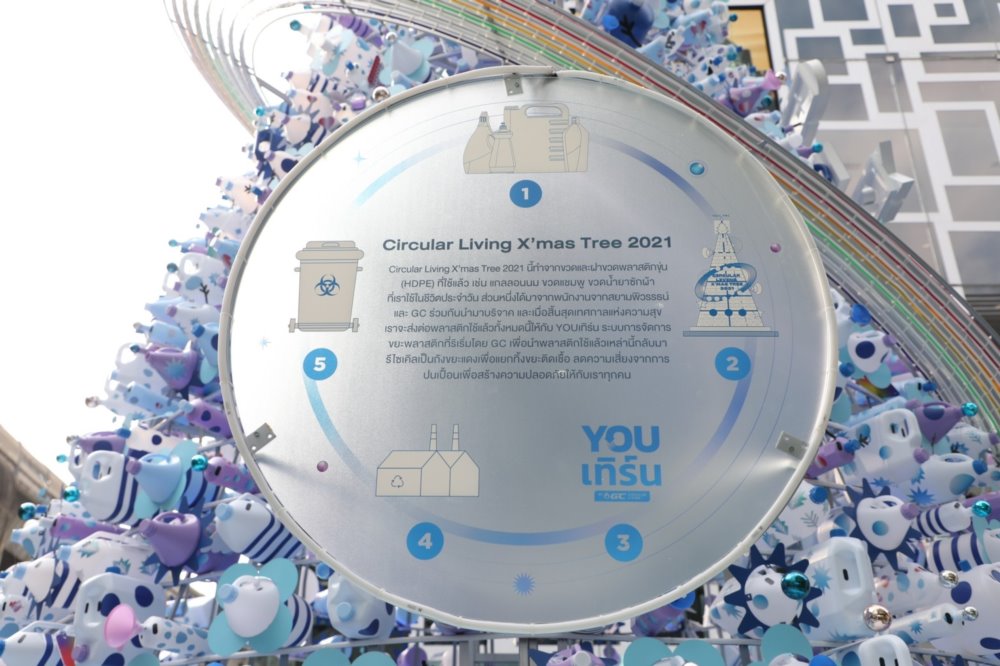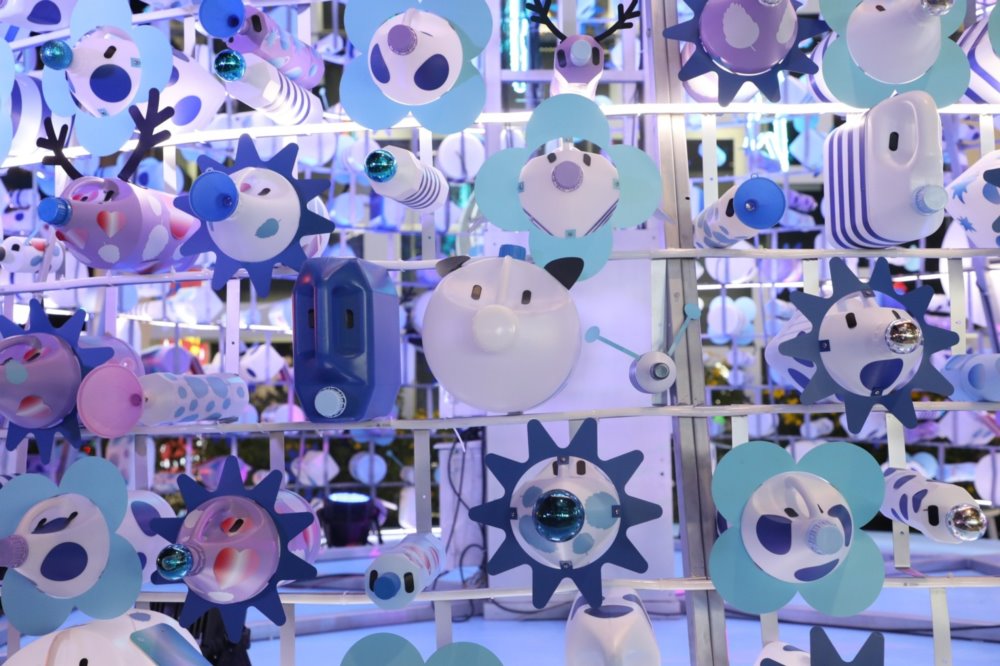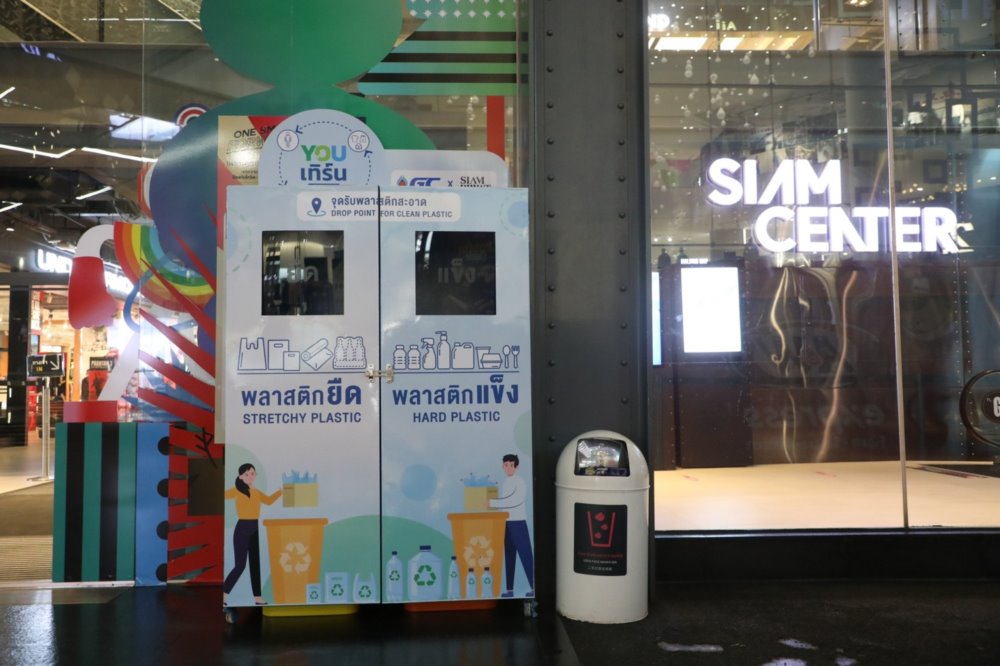 Dr. Kongkrapan Intarajang, Chief Executive Officer of PTT Global Chemical Public Company Limited, said that GC operates its business based on the circular economy principle that promotes the most efficient use of resources. "The company continues to segregate different types of plastic waste including HDPE plastic waste, PET drinking water bottles, and stretchable plastics such as plastic bags and food preservation film into the process of adding value from upstream to downstream to create new products while encouraging the public to adjust to a new lifestyle that contributes to better living for Thai people. Over the past four years, GC has partnered with Siam Piwat to create an eco-friendly Christmas tree to bring happiness to Thai people. This year, we offer something very special to Thai people during the festival of happiness while protecting the environment under the 'Magic from The Universe' concept. GC created an eco-friendly Christmas tree we call "Circular Living X'mas Tree 2021" made from HDPE plastic bottles, with many donated by both GC and Siam Piwat staff. After, the bottles will be delivered to YOU-Turn to be recycled into red bins for infectious waste. This is because we believe that if you want to change something, it should start with yourself and those around you before extending it to the public. GC sincerely hopes that the Christmas tree made from used plastic bottles will help make people aware of environmental protection and how it makes the world a better place," he said.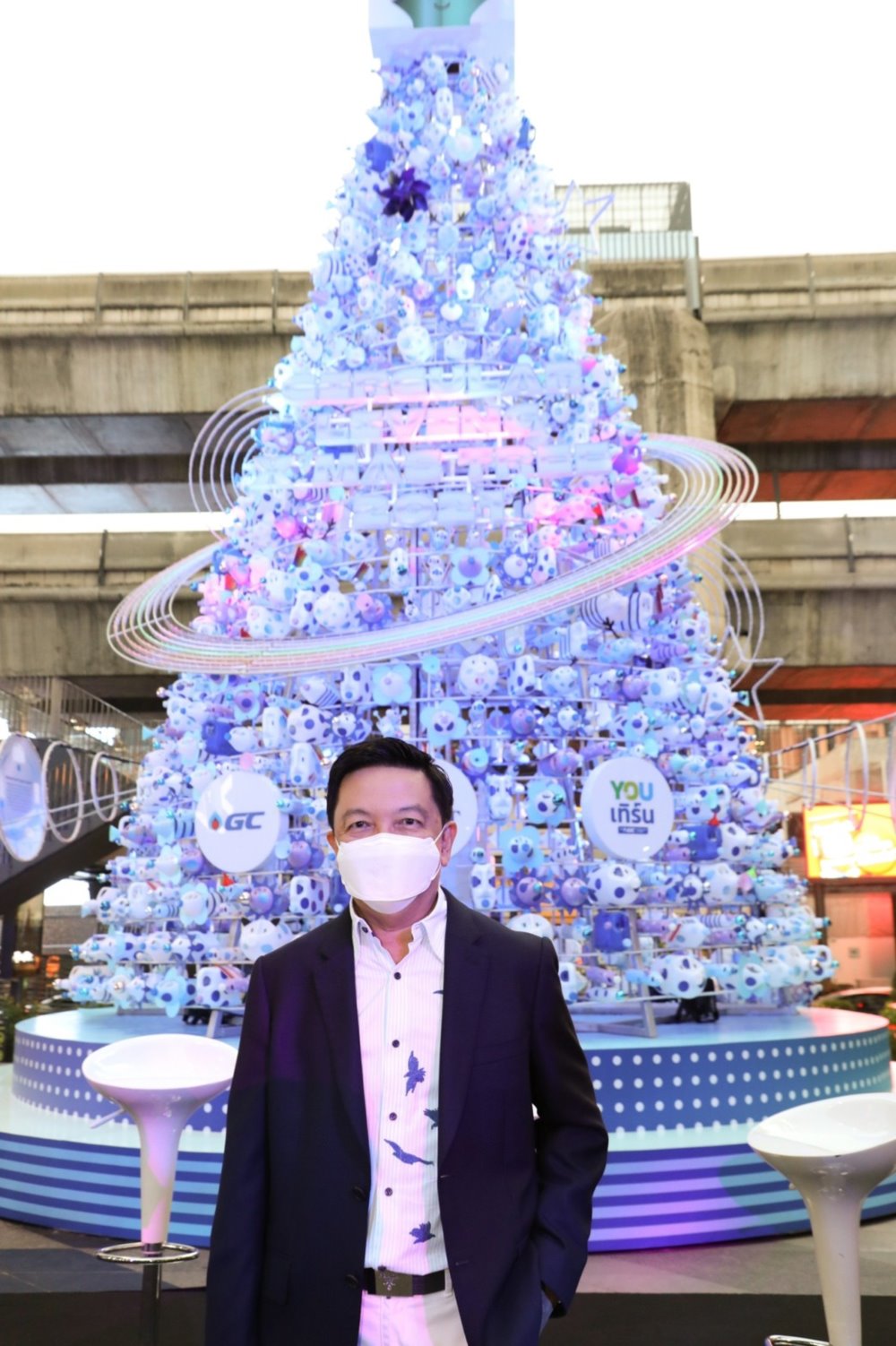 At this event, GC is also featuring TRASHPRESSO, Thailand's first mobile plastic waste recycling machine, to offer the unprecedented experience of upcycling plastic waste into value-added products such as plant pots and home decorations in only five minutes. Anyone who is interested can join in creating a green experience with TRASHPRESSO from 7 to 12 December, 2021.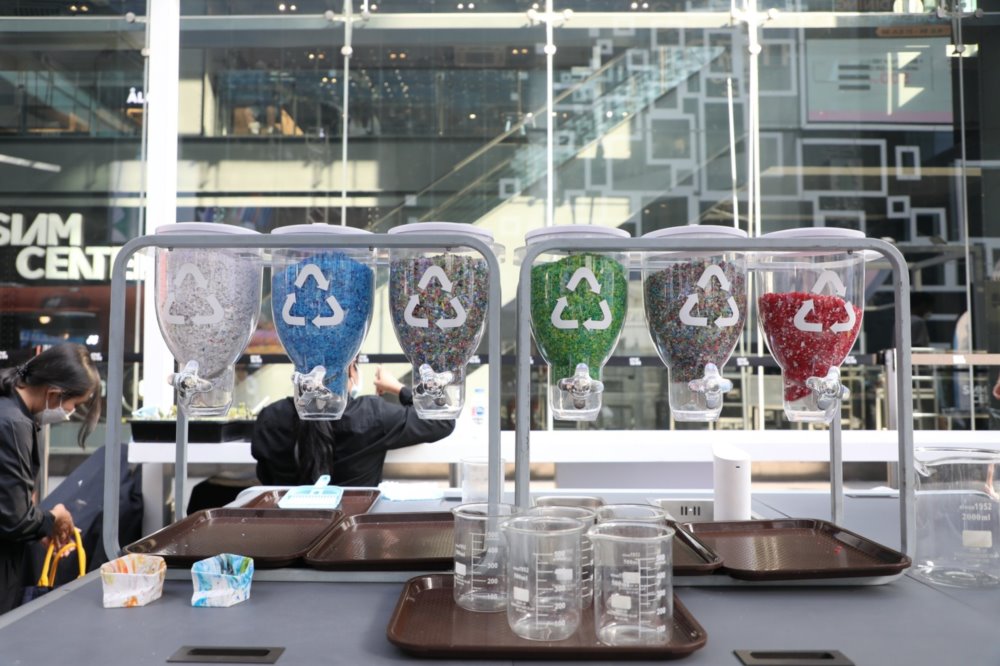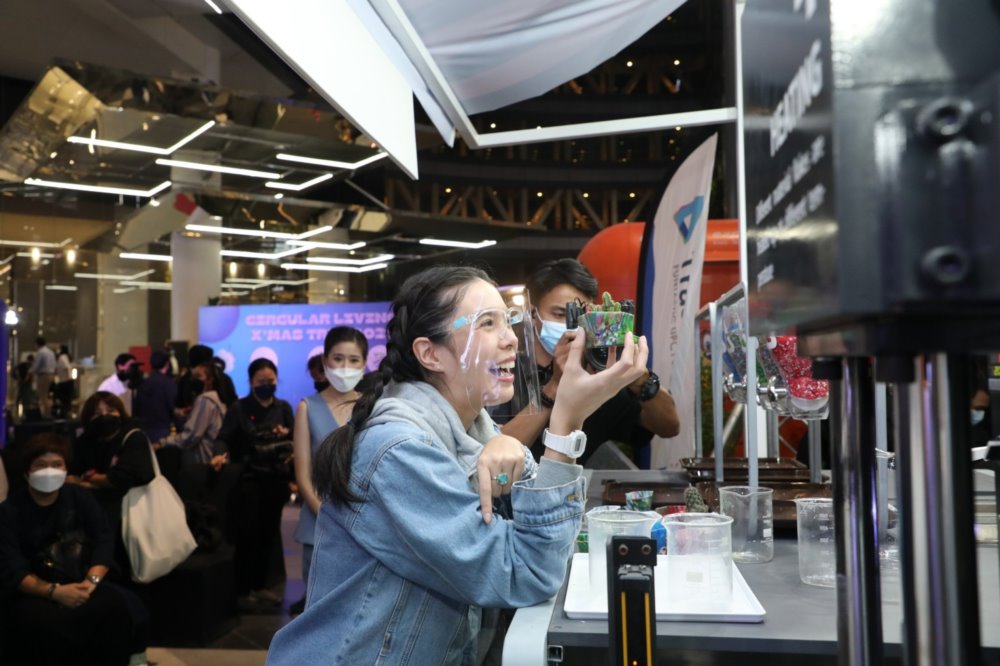 Ms. Narathip Rattapradit, Chief Operating Officer of Siam Piwat Company Limited, said that Siam Piwat has an important goal of environmentally sustainable development. Its aim is to expand environmental value creation in the retail sector to achieve retail development goals for sustainability by highlighting Siam Discovery as The Real ECO Lifestyle System, or a shopping center for living in response to the ecosystem. In addition, ECO in the style of Siam Discovery will not be limited to just one way of protecting the earth.
"We continually implement activities relating to ecosystems and environmental sustainability. For instance, we have ECOTOPIA, a best-in-class center offering a comprehensive set of eco products for a better world including health and organic products, open for the public to discover and choose items from among over 300 brands. It's a community for people into green living to indulge in an eco-friendly experience on the 3rd floor, Siam Discovery. We also have a Recycling Collection Center where everyone can discard their waste to help reduce plastic waste or recycle to create further benefits," said Ms. Usara.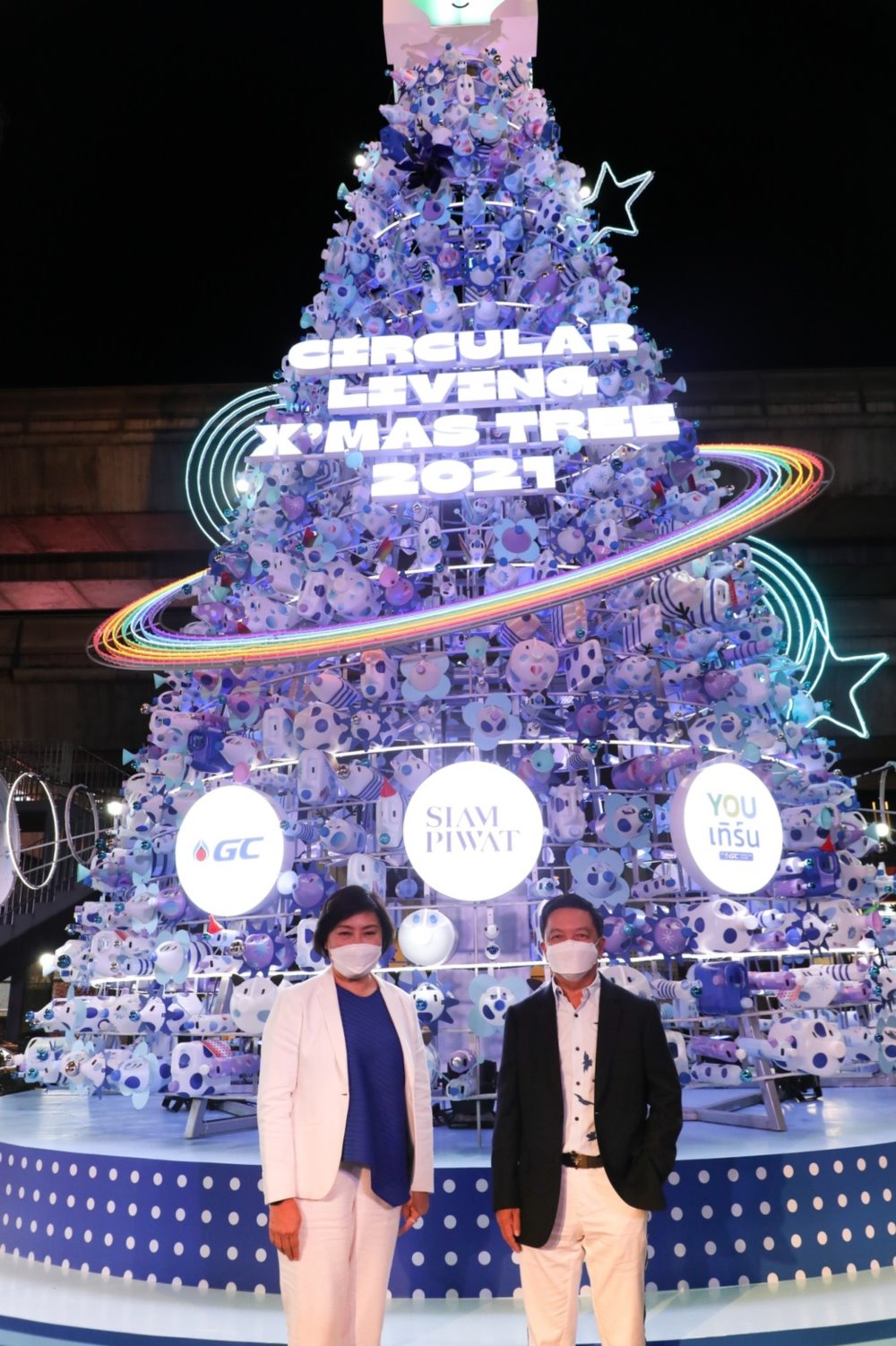 In addition, Siam Piwat is giving back to society in terms of happiness with its "Citizen Of Love" project, inviting everyone to share happiness through gifts to students at schools in remote areas. This will build a cycle of delivering sustainable happiness to society and communities. Siam Discovery makes it even more special. With a purchase of every 1,000 baht, Siam Discovery will extend happiness by providing stationery supplies and useful gifts to underprivileged children. The campaign runs from 25 November until 31 December 2021, at Siam Discovery. Everyone is invited to experience the miracle of happiness in a green way from today until 16 January 2022 at Discovery Plaza, Siam Discovery, The Exploratorium.
Tag: #GC #GCCircularLiving #ไลฟ์สไตล์เปลี่ยนโลก #GCChemistryforBetterLiving