09 February 2020
GC Announces its Operational Direction for 2020 to Analysts and the Media, Continuing to Strengthen the Thai Petrochemical Sector and Expand into a Sustainable Global Business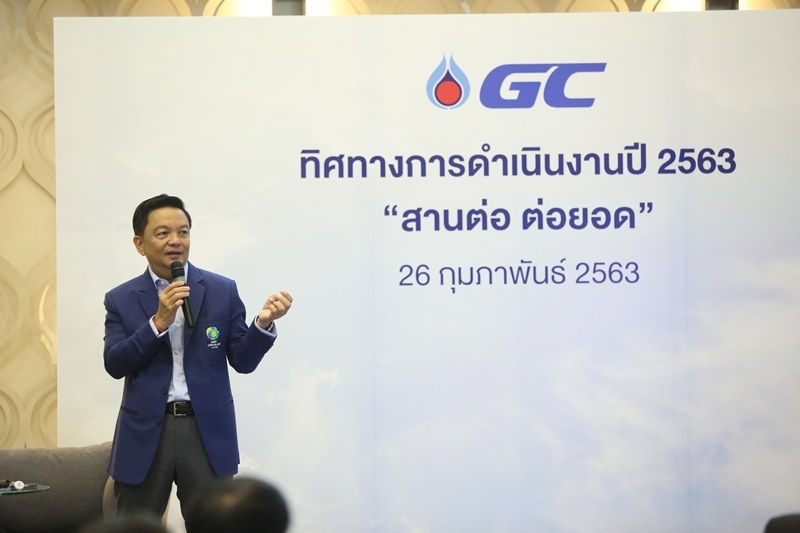 On the morning of February 26, 2020, Chief Executive Officer Dr. Kongkrapan Intarajang; Executive Vice President, Finance and Accounting Ms. Duangkamol Settanung; and Executive Vice President, Marketing, Commercial and Supply Mr. Saroj Putthammawong announced GC's operational performance as part of the Analyst Meeting 2019 to a group of analysts. It included a special discussion on the "Circular Economy-Recycle Project" hosted by Ms. Nattanan Sirirak, the Plastic Recycling Manager.
In the afternoon, Chief Executive Officer Dr. Kongkrapan Intarajang and President Mr. Patiparn Sukorndhaman, along with a team of executives, announced the company's operational direction 2020 to media representatives. The "Continue and Enhance" policy involves three strategic steps: Step Change, Step Out, and Step Up. This strategy will help GC become a leading global petrochemical company while improving people's quality of life by operating based on the principle of GC Circular Living as a lifestyle that changes the world, and becoming a more sustainable business. The event took place at the Executive Lounge, Energy Complex (EnCo) Building C.
In 2019, GC had a net profit of 11,682 million baht, a decrease of 71% from the previous year, largely due to a drop in average product prices and lower sales volumes. Average product prices decreased due to concerns about the global economic impact of US-China trade tensions throughout the year, while total sales volumes decreased because of the planned maintenance of major business units including the Aromatics and Refinery units, as well as the Thai baht's sustained strength throughout the year.