05 March 2021
GC partners with Suranaree University of Technology Highlighting Chemical Recycling, A Closed Loop Plastic Waste Management System from Source to Destination, and Adding Value to Contaminated Plastic Waste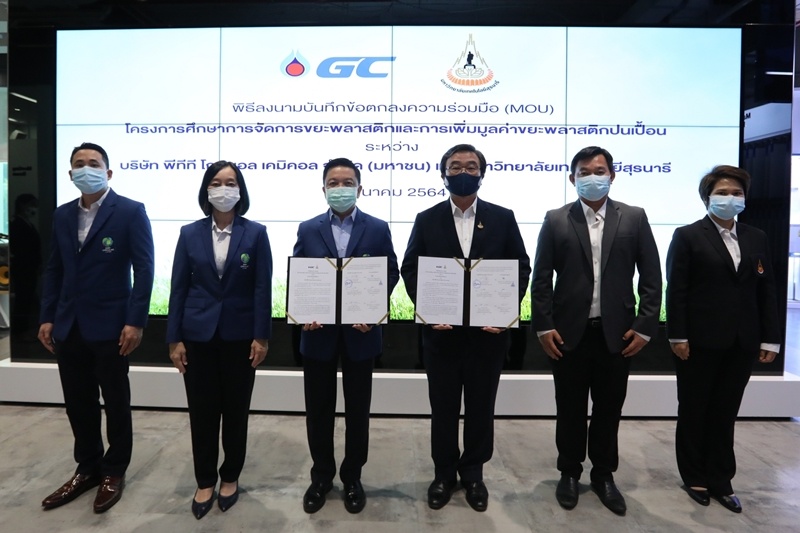 5 March 2021: Bangkok, Thailand – PTT Global Chemical Public Company Limited, or GC and Suranaree University of Technology teamed up to conduct a project study of a closed loop plastic waste management system from source to destination. This project study aims to add value to various types of contaminated plastic waste through chemical recycling to transform contaminated waste into fuel or feedstocks used in the chemicals industry. It also supports a connected ecosystem among all sectors using end-to-end waste management contributing to the United Nations Sustainable Development Goals (SDGs) and business operations based on Circular Economy.
Dr. Kongkrapan Intarajang, Chief Executive Officer of PTT Global Chemical Public Company Limited, said, "We are strongly committed to operating our business based on sustainable guidelines since sustainability provides balance and growth across economic, social, and environmental dimensions in support of the Sustainable Development Goals. (SDGs) One key factor which GC pays particular attention to is adapting to the Circular Economy to support resource efficiency in all our operational processes. The goal is to enhance our cooperation with partners by building a connecting loop to strengthen all related sectors across the ecosystem leading to further expansion and commercial benefits. To date, GC initiated the 'YOUTURN' project as an exemplary end-to-end waste management platform that brings back plastic waste into the recycling process. This is an integrated solution that tackles this pressing issue beginning with sorting and collecting plastic waste as a raw material from drop-off points before transferring it to recycling or upcycling plants. By the end of 2021, GC will begin operating Thailand's first integrated recycling plant for food-grade plastic."
"Today, GC is delighted to promote valuable Thai technology that is important for the country's development by partnering with Suranaree University of Technology (SUT), a partner in the academic sector, that developed innovations for plastic recycling. Together, we established a plastic waste sorting system from the source while promoting knowledge in plastic waste management and providing prototype waste bins to separate waste, in addition to public relations materials to promote waste separation on the university campus. This will lead to a more comprehensive model of plastic waste separation that is both practical and effective. Meanwhile, GC, through our group subsidiaries, will assist the university in promoting the project's expansion nationwide. GC also co-researched and provided financial support to test the transformation of contaminated waste into fuel and feedstocks used in the industry, providing another effective way to add value to various types of contaminated plastic waste," added Dr. Kongkrapan.
This cooperation enables GC to conduct end-to-end waste management which covers three aspects: 1) Bio-based Plastic: Utilizing eco-friendly bioplastic products that compost in landfills, making this suitable for single-use; 2) Fossil-based Plastic: Focusing on the responsible use of plastic products for recycling and upcycling, making this suitable for sorting and recycling through the mechanical recycling process; and 3) Chemical Recycling: Partnering with SUT to develop technologies and processes to transform contaminated plastic waste into fuel for feedstocks used in the chemicals industry and setting up a waste management system using other technologies for which GC and partners can support feedstocks produced for the chemical recycling process.
Assoc. Prof. Dr. Weerapong Pairsuwan, Rector of Suranaree University of Technology (SUT), said, "Since 2006, SUT has contributed to social and economic growth using science and technology along with the expertise of our teachers finding ways to better utilize technology for commercial benefits as well as conducting research and studies on waste management. Our approach focuses on sorting and transforming waste to produce different types of energy. This includes the development of a plastic waste transformation system to produce oil through the pyrolysis process, which is operated within the university with a production capacity of 5,000 liters of oil per day. SUT is now ready to extend our research to create an integrated waste management system."
"SUT is proud to partner with GC, Thailand's leading company in the petrochemical industry, in the 'Study Project for Plastic Waste Management and Contaminated Plastic Waste Value-Adding Initiative.' Together, we are utilizing our partnership, experience, and readiness using the university's campus and surroundings as a case study to establish an effective community waste management model from the source, conducting a study on separating plastic waste, and plastic transformation to produce fuel or feedstocks used in the chemicals industry. This cooperation is expected to lead to a waste management system that contributes to the principles of Circular Economy and guidelines to further reinforce Thailand's environmental and energy management approach in the future," concluded Assoc. Prof. Dr. Weerapong.
The ongoing partnership and innovation between the academic and private sectors is set to take cooperation to the next level improving the quality of life of students, university personnel as well as the Thai people. This partnership is also supporting Thailand's Roadmap on Plastic Waste Management which aims to return plastic waste to the Circular Economy and recycling process by 2027, with a goal of making Thailand a zero-waste society.
#GC #ChemistryforBetterLiving #GCCircularLiving #มหาวิทยาลัยเทคโนโลยีสุรนารี