22 May 2020
TikTok Challenge #อย่าหยุดแยก Let's continue the waste sorting campaign COVID-19 Cannot Deter us from our Eco-friendly Lifestyle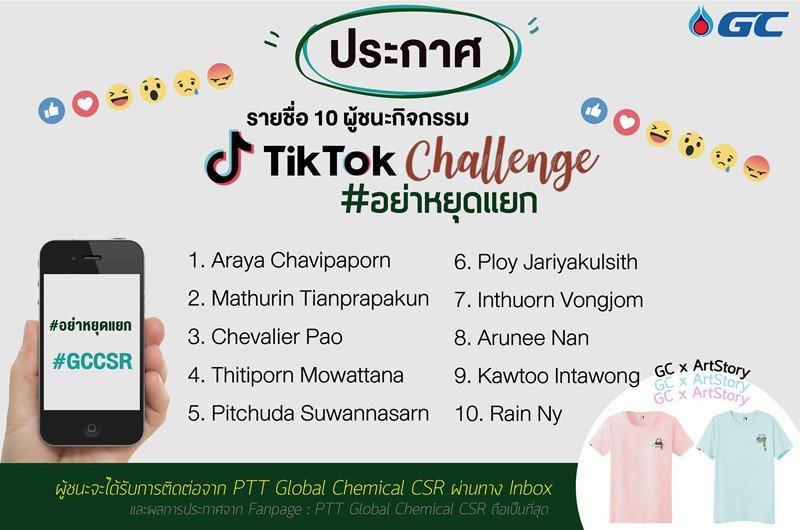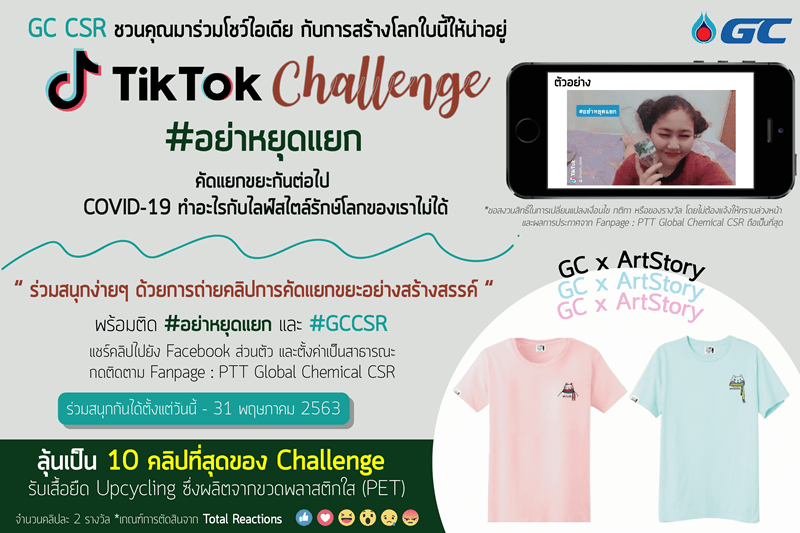 The COVID-19 pandemic has had an immediate and deep impact on people around the world. We are more concerned and distressed about our health and well-being. However, we must move forward, and our current lifestyles will continue to rely on the consumption of goods, food products, as well as the increasing use of food delivery services, which generates a large amount of waste from discarded packaging and food scraps, as well as used face masks.
GC CSR is therefore inviting everyone to join in creating a short video for the 'Creative Waste Sorting' theme to promote environmental awareness and amplify the need for increased cooperation during this critical period. It can also demonstrate that together, we can overcome this pandemic and help save the world, that COVID-19 cannot be an impediment to our eco-friendly lifestyle – and that we must continue to properly sort waste.
Rules
Create a short and catchy video clip under the 'Creative Waste Sorting' theme using the TikTok app.
Tag the video clip with the following hashtags: #อย่าหยุดแยก and #GCCSR
Share the clip on your Facebook and set to public
Follow our Facebook fan page: PTT Global Chemical CSR
The deadline for submissions is May 31, 2020
Selection is based on Facebook's total reactions
Conditions
The content of the VDO clip must be practical, engaging, and show the benefits of sorting waste.
The content of the VDO clip must be suitable for all ages and genders, with no foul language or violence.
The VDO clip must not violate the rights, copyrights or ownership of any organizations.
The ten VDO clips that receive the maximum amount of Facebook's total reactions will each receive a prize of two 'Upcycling' t-shirts (a t-shirt that is produced giving a new life to used PET bottles.
Each participant who sends a link of their VDO clip to the inbox of PTT Global Chemical CSR's fan page will each receive 10 Infectious Waste Sorting Stickers.
Any submitted VDO clip that does not follow the contest rules or contains inappropriate images will be disqualified.
Rules, conditions, and prizes are subject to change without prior notice. The results announced on PTT Global Chemical CSR's fan page are final.
The results will be announced on June 2, 2020 via Facebook fan page: Facebook Fanpage : PTT Global Chemical CSR.