09 August 2019
The power of goodness GC, together with the people of Rayong, planting a forest to honor King Rama X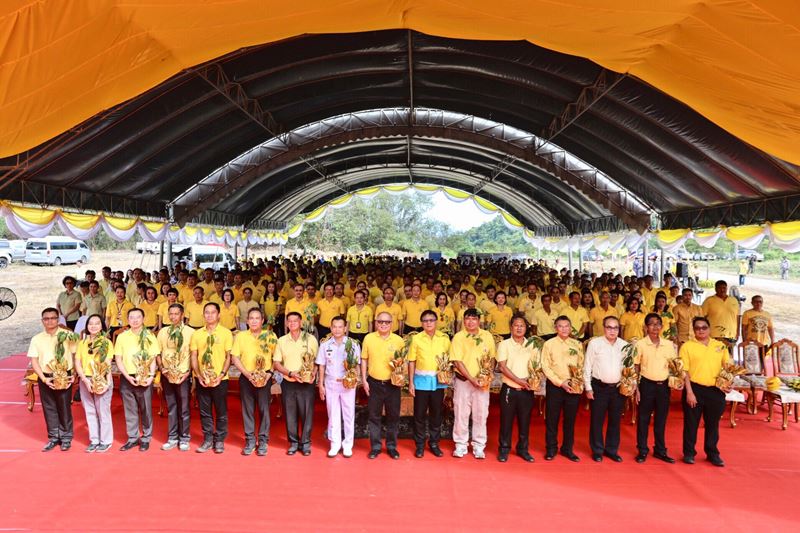 Healthy forests are crucial for the environment. They are vital in ensuring clean and abundant supplies of water, and provide habitats for animals and livelihoods for humans. Khao Huay Mahad, in Rayong province, is an example of the importance of forests in Thailand. It supports the region's biodiversity, plays a role in mitigating climate change, and protects the land and local sources of water.
Following the recent Royal Coronation Ceremony for His Majesty King Maha Vajiralongkorn Bodindradebayavarangkun (King Rama X) and the celebration of His Majesty's 67th birthday, PTT Global Chemical Public Company Limited, or GC, together with the Royal Thai Navy's Air and Coastal Defense Command, Kasetsart University, and the Chak Luk Ya community, organized a forest planting activity to honor King Rama X under the Khao Huay Mahad Forest and Water Conservation Project.
"We all joined together to do something positive in line with King Rama X's commitment to 'preserving and supporting our natural resources, and restoring and protecting the environment,' which led to this Royal Initiative," said Mr. Supattanapong Punmeechaow, President and Chief Executive Officer of PTT Global Chemical Public Company Limited.
People demonstrated the power of their goodness by planting a total of 1,010 trees along a road, covering more than three rai of Khao Huay Mahad. This "yellow journey" planting activity included the yellow star, the symbolic tree of His Majesty King Rama X, and other yellow trees such as the yellow trumpetbush and the golden shower. Once the trees are fully grown, this yellow trail will attract visitors and encourage eco-tourism. Another forest planting activity will restore a degraded area of over 400 rai in Khao Huay Mahad, and should be completed during 2019.
The Khao Huay Mahad Forest and Water Conservation Project has restored around 2,500 rai of forests since 2013. Even now, Khao Huay Mahad must deal with forest fires and concerns about encroachment. The forest planting activity provided an excellent opportunity to promote the importance of preserving nature, while forest restoration efforts will ensure that forests in Rayong remain vibrant.